19th March 2021
 New Release Round-up

,

  New Release Round-Up - 19th March 2021
Today's new releases include Rachmaninov's Symphony No. 2 from Sir Simon Rattle and the London Symphony Orchestra, an anthology of English song from illustrious alumni of King's College Cambridge, Rameau's Dardanus from György Vashegyi (with French tenor Cyrille Dubois in the title-role), and a Proustian recital from Théotime Langlois de Swarte and Tanguy de Williencourt.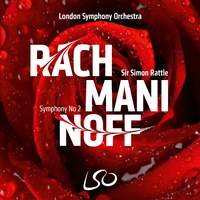 London Symphony Orchestra, Sir Simon Rattle
Rattle conducted the uncut version of Rachmaninov's Second Symphony from memory in this live performance at the Barbican in September 2019, with Classical Source declaring that 'his enthusiasm for the music was total as he engaged his players in his vision' and BachTrack observing that 'the frenzied build to the [final] coda was exhilarating'.
Available Formats: CD, MP3, FLAC, Hi-Res FLAC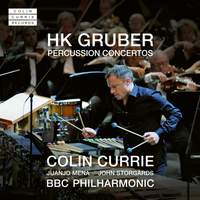 Colin Currie (percussion), BBC Philharmonic, Juanjo Mena
For the first concerto album on his own label (launched in 2018), the Scottish percussionist presents two works by the maverick composer, conductor and chansonnier, with whom he has been friends for many years. First up is Rough Music, composed in the early 1980s when percussion concertos were still a relative rarity; it's followed by into the open…, written for Currie and premiered at the BBC Proms in 2015.
Available Formats: CD, MP3, FLAC, Hi-Res FLAC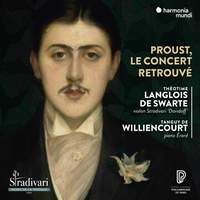 Theotime Langlois de Swart (violin), Tanguy de Williencourt (piano)
Hot on the heels of Steven Isserlis and Connie Shih's musical tribute to Marcel Proust earlier this month, the French pianist and violinist celebrate his 150th birthday with a programme inspired by a private concert which he hosted at The Ritz in Paris on 1st July 1907, featuring music by Fauré, Wagner, Schumann, Chopin and Couperin. Their recital also incorporates two transcriptions of songs by Proust's sometime lover Reynaldo Hahn, to whom he described the concert in a letter.
Available Formats: CD, MP3, FLAC, Hi-Res FLAC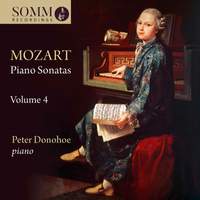 The first instalment of Donohoe's projected survey of the complete Mozart sonatas received a warm welcome in 2018, with BBC Music Magazine opining that 'it was high time someone blew the interpretive cobwebs off this still under-appreciated repertoire, and Donohue is clearly the person to do it.' This fourth volume features Sonatas Nos. 1, 5 and 12, plus the Minuet in D major K355 and Allegro einer Sonate K312.
Available Formats: CD, MP3, FLAC, Hi-Res FLAC
Born in Bologna in 1691, the virtuoso cellist-composer Antonio Vandini became a great friend of Giuseppe Tartini, with whom he performed regularly in Padua (his base for most of his career) and further afield. This recording gathers together his seven surviving works - six cello sonatas and a Cello Concerto in D - and was made at the Sala della Carita, just down the road from the Basilica where he spent much of his working life.
Available Formats: CD, MP3, FLAC, Hi-Res FLAC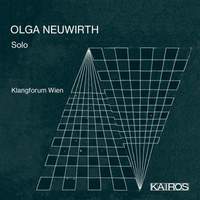 This album is part of a new series of recordings from Klangforum Wien, released in response to the ongoing restrictions on ensemble performance and exclusively featuring works for a single performer: the programme comprises CoronAtion I: Io Son Ferito Ahime (for percussion and sample), Weariness Heals Wounds I (for viola), Magic Flu-idity (for flute and Olivetti typewriter), Fumbling and Tumbling (for trumpet), and Incidendo / Fluido (for piano with CD).
Available Format: CD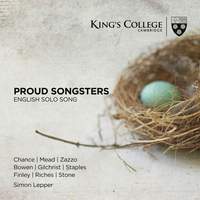 Gerald Finley, James Gilchrist, Michael Chance, Lawrence Zazzo, Tim Mead, Ruairi Bowen, Andrew Staples, Ashley Riches, Mark Stone, Simon Lepper
This programme of English solo song from alumni of the Choir of King's College Cambridge includes music by Vaughan Williams, Finzi, Bridge, Dove, Clarke, Gurney, Quilter, Britten, Howells and Warlock. The title-work is sung by Gerald Finley, who was a choral scholar at King's in the early 1980s.
Available Formats: CD, MP3, FLAC, Hi-Res FLAC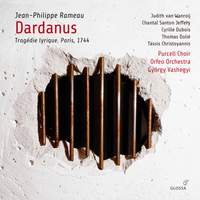 Judith van Wanroij (Iphise), Chantal Santon Jeffery (Venus), Cyrille Dubois (Dardanus), Thomas Dolié (Teucer/Magician), Tassis Christoyannis (Antenor) Orfeo Orchestra, Purcell Choir, György Vashegyi
Following widely acclaimed recordings of Rameau's Naïs, Les Fêtes de Polymnie and Les Indes galantes, Vashegyi & Company turn to the 1739 tragédie en musique Dardanus; Vashegyi conducts from a score prepared by the composer and his librettist in response to criticism received at the work's premiere, with the revisions strengthening the piece's dramatic impetus.
Available Formats: 3 CDs, MP3, FLAC, Hi-Res FLAC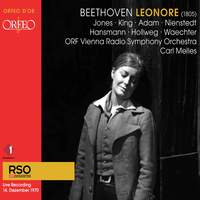 Gwyneth Jones (Leonore), James King (Florestan), Theo Adam (Pizarro), Gerd Nienstedt (Rocco), Rotraud Hansmann (Marzelline), Werner Hollweg (Jaquino), Eberhard Wächter (Don Fernando); Vienna Radio Symphony Orchestra, Carl Melles
This concert-performance of the three-act 1805 version of the opera was recorded in the 'Goldener Saal' of the Wiener Musikverein on 14th December 1970, with Melles opting for the Leonore Overture No. 2.
Available Formats: 2 CDs, MP3, FLAC, Hi-Res FLAC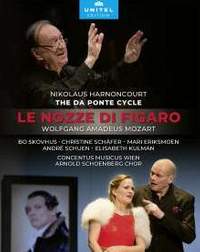 Mari Eriksmoen (Susanna, Andrè Schuen (Figaro), Christine Schäfer (Countess), Bo Skovhus (Count), Elisabeth Kulman (Cherubino); Concentus Musicus Wien, Arnold Schoenberg Chor, Nikolaus Harnoncourt
This is the second DVD instalment of Harnoncourt's semi-staged Mozart/Da Ponte Trilogy, filmed at Theater an der Wien in 2014; reviewing the live performance, BachTrack observed that '[Harnoncourt] drives the audience to discover colours and corners in the score that are often fleeted through in many of today's performances and recordings', singling out Eriksmoen's 'perfect Susanna' and Skovhus's 'sovereign and dashing' count for particular praise.
Available Format: 2 DVD Videos
Mari Eriksmoen (Susanna, Andrè Schuen (Figaro), Christine Schäfer (Countess), Bo Skovhus (Count), Elisabeth Kulman (Cherubino); Concentus Musicus Wien, Arnold Schoenberg Chor, Nikolaus Harnoncourt
Picture format: NTSC 16:9
Sound format: PCM Stereo / DTS 5.1 (Opera); DD 2.0 (documentary)
Available Format: Blu-ray