22nd January 2021
 New Release Round-up

,

  New Release Round-Up - 22nd January 2021
Today's new releases include Haydn's Farewell Symphony and Scena di Berenice from Il Giardino Armonico and Giovanni Antonini, Salieri's breakthrough opera Armida from Les Talens Lyriques and Christophe Rousset, Prokofiev from Nicholas Angelich, and world premiere recordings of three violin concertos by Andreas Romberg from Chouchane Siranossian and the Capriccio Barockorchester.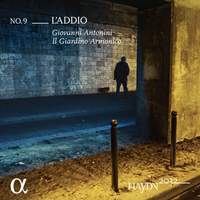 Sandrine Piau (soprano), Il Giardino Armonico, Giovanni Antonini
The ninth instalment of Antonini's mammoth series of the complete Haydn symphonies (which launched in 2014 and is scheduled to be completed in time for the composer's tercentenary) features symphonies Nos. 15, 35 and 45 (the 'Farewell'); French soprano Sandrine Piau joins Il Giardino Armonico for the 1795 cantata Berenice, che fai?. Reviewing the Italian ensemble's previous contributions to the cycle, Gramophone declared that 'the orchestral playing is breathtaking in its accuracy - the sort of Haydn playing you dream of'.
Available Formats: CD, MP3, FLAC, Hi-Res FLAC, Hi-Res+ FLAC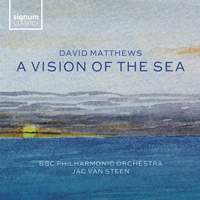 BBC Philharmonic Orchestra, Jac van Steen
This album takes its title from a twenty-minute tone-poem premiered in 2013, which was inspired by the composer's views of the English Channel from his home in Deal. The programme also includes the Symphony No. 8 from 2014, Sinfonia from the mid-1990s, and Toward Sunrise, which takes its cue from a Sheffield University research project on the sound of the sun.
Available Formats: CD, MP3, FLAC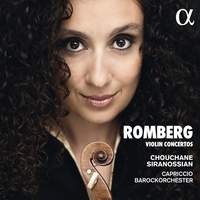 Chouchane Siranossian (violin), Capriccio Barockorchester
The French violinist (who won an International Classical Music Award yesterday for her album of Tartini concertos with the Venice Baroque Orchestra) gives the world premiere recordings of three virtuoso works by the prolific German violinist-composer Andreas Romberg (1767-1821): No. 4 in C major, No. 9 in A major, and No. 12 in G minor.
Available Formats: CD, MP3, FLAC, Hi-Res FLAC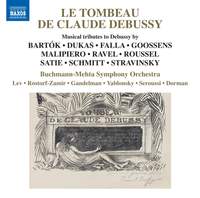 Tomer Lev (piano), Buchan-Mehta Symphony Orchestra, Zeev Dorman
This is the first complete commercial recording of the musical tribute for Debussy which was commissioned by the French magazine La revue musicale for a special commemorative issue in December 1920, two years after the composer's death; the score was included in the publication as an appendix, with contributions from Bartók, Dukas, Falla, Goossens, Malipiero, Ravel, Roussel, Satie, Schmitt, and Stravinsky.
Available Formats: CD, MP3, FLAC, Hi-Res FLAC
Nicholas Angelich (piano)
The American pianist's programme comprises the Visions Fugitives, Piano Sonata No. 8 and Ten Pieces from Romeo & Juliet.
Available Formats: CD, MP3, FLAC, Hi-Res FLAC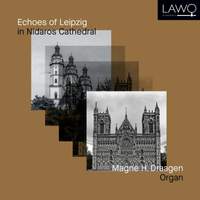 The director of music at the Norwegian cathedral performs a programme of organ works by his compatriots Fridthjov Anderssen, Leif Solberg, Sigurd Islandsmoen, Thomas Salvesen, Frithjof Spalder, Ludwig Nielsen, and Arild Sandvold. The Nidaros organ was built by Steinmeyer in 1930, and underwent a full restoration in 2014.
Available Formats: CD, MP3, FLAC, Hi-Res FLAC, Hi-Res+ FLAC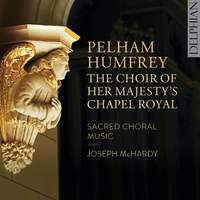 The Choir of Her Majesty's Chapel Royal, Joseph McHardy
Recorded at St James's Palace (with an ensemble led by Presto award-winning Croatian violinist Bojan Čičić), this album features what this week's Sunday Times described as 'luxuriously ornamented' accounts of the verse anthems By the waters of Babylon, O give thanks unto the Lord and O Lord my God, plus the Evening Service in E minor.
Available Formats: CD, MP3, FLAC, Hi-Res FLAC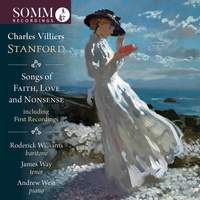 Roderick Williams (baritone), James Way (tenor), Andrew West (piano)
The Three Songs of Robert Bridges from 1891receive their world premiere recordings here; the album also includes the first complete recording of the Walt Whitman and Tennyson settings Songs of Faith (1906), The Triumph of Love from 1903 (which sets sonnets by the composer's cousin Edmond Gore Alexander Holmes), plus the posthumously published Nonsense Songs (on texts by Edward Lear), and four songs from the opera Shamus O'Brien.
Available Formats: CD, MP3, FLAC, Hi-Res FLAC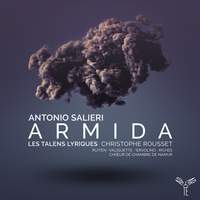 Lenneke Ruiten (Armida), Teresa Iervolino (Ismene), Florie Valiquette (Rinaldo), Ashley Riches (Ubaldo); Les Talens Lyriques, Chœur de Chambre de Namur, Christophe Rousset
Premiered in Vienna in 1771 and based on an episode in Torquato Tasso's Gerusalemme liberata, this Gluck-inspired three-act dramma per musica was Salieri's first major operatic success; following their acclaimed recordings of the composer's Tarare, Les Danaïdes, Les Horaces and La Grotta di Trofonio, Rousset and Les Talens Lyriques give the work its world premiere recording
Available Formats: 2 CDs, MP3, FLAC, Hi-Res FLAC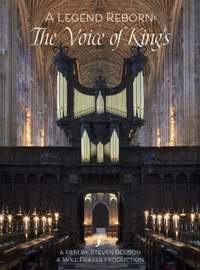 David Briggs, Dónal McCann, Henry Websdale, Richard Gowers, Tom Winpenny, Ashley Grote, Robert Quinney (organ)
Narrated and presented by David Briggs (the college's organ scholar from 1981-84), this documentary chronicles the restoration of the 1934 Harrison and Harrison organ of King's College, Cambridge and also includes filmed performances of works by composers including Messiaen, Bingham, Howells, Dupré, Bridge, Vierne and Reger by former King's organ scholars. The performances are duplicated on two bonus CDs.
Available Format: 2 CDs + 2 DVD Videos
Orchestra Gli Originali, Coro Donizetti, Rinaldo Alessandrini
This production of Donizetti's rarely-performed second opera (composed when he was just 22) was filmed at the Bergamo Festival in 2019 to mark the bicentenary of the work's premiere; also known as Il falegname di Livonia, this two-act melodramma burlesco was rediscovered in 2003, and centres on a Livonian carpenter who discovers that he is in fact the brother-in-law of Peter the Great. Reviewing the performance, BachTrack praised Alessandrini's 'expert' direction and the Rossinian 'effervescence' of the score.
Available Format: 2 DVD Videos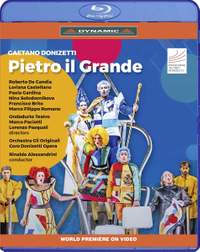 Orchestra Gli Originali, Coro Donizetti, Rinaldo Alessandrini
Picture format: 1080i60
Sound format: PCM stereo 2.0 & DTS-MA 5.1
Available Format: Blu-ray