1st January 2021
 Recording of the Week

,

  Verklärte Nacht from Edward Gardner and the BBC Symphony Orchestra
I've been hoping Edward Gardner might get round to Schoenberg's Verklärte Nacht for a while now, having revisited his superb accounts of Gurrelieder, Pelleas und Melisande and Erwartung from Bergen on a regular basis over the past few months, and am pleased to report that this new recording with the BBC Symphony Orchestra (out next week on Chandos) surpasses expectations on several levels.
First up is the programming, which genuinely throws new light on Schoenberg's masterpiece by surrounding it with relatively little-known song-cycles on the theme of 'transfigured night' by his contemporaries, for which the BBC players are joined by tenor Stuart Skelton and mezzo Christine Rice. The biggest revelation (to me, at least) is the opening work, Fieber ('Fever'), a twelve-minute symphonic poem for tenor and orchestra which depicts the deathbed hallucinations of a young soldier in a field hospital during World War One with a terrible beauty that put me very much in mind of the darkest songs in Mahler's Des Knaben Wunderhorn. Asked to hazard a guess at the identity of the composer without the help of the cover or booklet-notes, I think I'd have gone with Berg or Zemlinsky – never in the proverbial month of Sundays would the man who wrote The Merry Widow have crossed my mind. But this is indeed Franz Lehár, writing a decade after the premiere of his most famous operetta and shortly after his younger brother Anton was seriously injured in the conflict (Anton would eventually recover, and devote the latter part of his life to promoting Franz's music).
Like Mahler, Lehár grew up surrounded by military music – his father was a bandmaster in the Austro-Hungarian army, a role which Franz eventually took on himself for a brief spell in the early 1890s – and as in songs like Revelge, Wo die schönen Trompeten blasen and Der Tamboursg'sell fanfares are deployed to uncanny effect as the stricken cadet experiences vivid flashbacks of the battlefield and route-marches. There are whispers of the gilded ballrooms so familiar from the composer's operettas, too, when the dying man slips into a feverish reverie about his beloved, as well as chilling direct quotations of the Radetzky and Rákóczi marches (which I'm sure many readers will be enjoying in a rather less bleak context from Vienna today). As his recent recording of Peter Grimes with Gardner attested, Skelton does anguished delirium very well, though if anything he sounds in healthier voice here: the tender pianissimo passages are notably more focused and controlled, and the impact of the final, spoken line is shattering.
Fieber is followed by another rarity, Oskar Fried's Verklärte Nacht, composed at around the same time as Schoenberg's much better-known work: unlike Schoenberg, who drew inspiration from Richard Dehmel's eponymous poem without setting the text directly, Fried presents the story of a woman confiding in her lover about a clandestine pregnancy as a lush post-Wagnerian dialogue for mezzo and tenor, with Skelton and Christine Rice bringing real sincerity and nuance to their respective roles and blending quite magically as the narrator. Hearing the text in full (especially when it's delivered with such commitment as it is here) certainly made me listen with fresh ears to the Schoenberg which follows, and in both works the depth and intensity of the string sound yields nothing to the Bergen orchestra on those two earlier recordings. Gardner's pacing of the big climaxes is once again absolutely spot-on, and the Chandos engineers work their usual wonders in providing ample space for the sound to glow or blaze as required.
Korngold's Songs of Farewell (composed a couple of years after Parry's cycle of the same name, and not long after the premiere of Die tote Stadt) round off the album in luminous style; Skelton is especially affecting in the lovely barcarolle Mond, so gehst du wieder auf and the closing Gefasster Abschied, which has more than a little in common with Mahler's Das Himmlische Leben. An evening spent in the company of this fascinatingly-programmed and superbly performed disc is a transfigured night indeed.
Read my June interview with Edward Gardner about his relationship with Schoenberg's music here.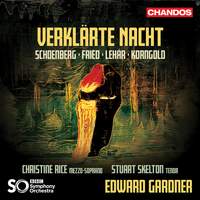 Schoenberg - Fried - Lehár - Korngold
Christine Rice (mezzo), Stuart Skelton (tenor), BBC Symphony Orchestra, Edward Gardner
Available Formats: SACD, MP3, FLAC, Hi-Res FLAC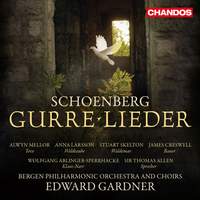 Alwyn Mellor (soprano), Anna Larsson (mezzo-soprano), Stuart Skelton (tenor), Wolfgang Ablinger-Sperrhacke (tenor), James Creswell (bass) & Sir Thomas Allen (speaker)
Bergen Philharmonic Orchestra & Choir, Edward Gardner
Available Formats: 2 SACDs, MP3, FLAC, Hi-Res FLAC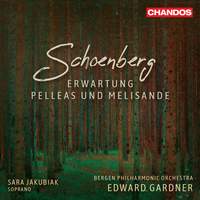 Sara Jakubiak (soprano), Bergen Philharmonic Orchestra, Edward Gardner
Available Formats: SACD, MP3, FLAC, Hi-Res FLAC