31st August 2020
 Presto Editor's Choices

,

  Presto Editor's Choices - August 2020
Some new discoveries for me this August have included operas by Saint-Saëns and Missy Mazzoli (both with a supernatural element), a Macedonian odyssey with Simon Trpčeski and friends, and two very different new works inspired by the shifting relationship between man and nature: Fazil Say's coruscating Mount Ida Sonata and Outi Tarkiainen's orchestral song-cycle The Earth, Spring's Daughter.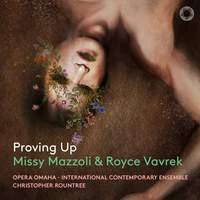 Michael Slattery (Miles), Talise Trevigne (Ma Zegner), John Moore (Pa Zegner), Andrew Harris (The Sodbuster); Opera Omaha, International Contemporary Ensemble, Christopher Rountree
An unsettling tale of Nebraskan settlers chasing the American Dream, Mazzoli's taut one-act opera is as bleak as it is beautiful, its soundworld echoing the uncanny chill of Britten's The Turn of the Screw and the American pastoral of Copland's The Tender Land; the writing for the symbiotic two young daughters of the struggling Zegner family (shades of the Nieces in Peter Grimes here) is especially memorable, and Michael Slattery is wonderfully wide-eyed and plangent in the pivotal role of their brother Miles.
Available Formats: CD, MP3, FLAC, Hi-Res FLAC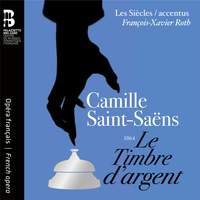 Edgaras Montvidas (Conrad), Tassis Christoyannis (Spiridion), Jodie Devos (Rosa), Hélène Guilmette (Hélène), Yu Shao (Benedict), Raphaëlle Delaunay (Circée); Les Siècles, Accentus, François-Xavier Roth
Gothic goings-on of a more extravagant nature also abound in Saint-Saëns's first opera (given here in its final, 1914 version), and Roth and his period band rise to the occasion with just the right amount of Grand Guignol roughness around the edges; the plot may look forward to Offenbach's Les contes d'Hoffmann, but the manic energy of the score has more than a whiff of Berlioz, and in particular the Symphonie fantastique. Montvidas, also a fine Hoffmann, is superb as the feverish artist who strikes a devilish bargain…or does he?
Available Formats: 2 CDs + Book, MP3, FLAC, Hi-Res FLAC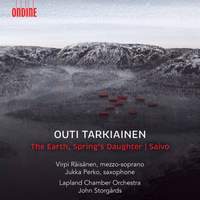 Virpi Räisänen (mezzo), Jukka Perko (soprano saxophone), Lapland Chamber Orchestra, John Storgårds
This young Finnish composer's depiction of her native landscape yields nothing to Sibelius or Kaija Saariaho for atmosphere and colour, making particularly evocative use of high tuned percussion, glassy ponticello/col legno strings and cor anglais in this remarkable song-cycle on Sámi texts - given equally remarkable voice here by the Finnish mezzo Virpi Räisänen, who's as compelling in the spoken sections as in the near-Wagnerian outbursts of the fierce storm and lament at the heart of the work.
Available Formats: CD, MP3, FLAC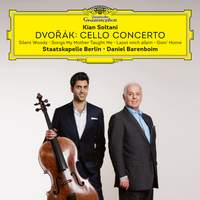 Kian Soltani (cello), Staatskapelle Berlin, Daniel Barenboim
As well as playing in the West-Eastern Divan Orchestra, the young Iranian cellist performs regularly in recital with Barenboim, and it shows: the Concerto comes across here as chamber music writ large, with some especially delicious, almost improvisatory interplay with the Berlin horn and clarinet (both excellent). Soltani's own arrangements of several Dvořák evergreens for cello ensemble are attractive and unhackneyed, though Stephan Koncz's transcription of the 'New World' Largo takes the palm.
Available Formats: CD, MP3, FLAC, Hi-Res FLAC
Tabea Debus (recorders), Jonathan Rees (viola da gamba), Alex McCartney (theorbo/guitar)
There's a lovely sense of affectionate irreverence about this German recorder-player's debut recording which rather put me in mind of her fellow Delphian artist Ed Lyon's Seventeenth-Century Playlist last year – as on that album, Renaissance and baroque works are despatched with an almost folky exuberance, and it's a toe-tapping joy. Of the new works, Freya Waley-Cohen's suitably hyperactive Caffeine stands out as a peppy wake-up call.
Available Format: CD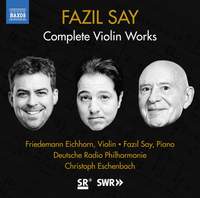 Friedemann Eichhorn (violin), Fazıl Say (piano), Deutsche Radio Philharmonie Saarbrücken Kaiserslautern, Christoph Eschenbach
This was my first encounter with the Turkish composer-pianist's writing for violin, and he's certainly availed himself of every sonic possibility which the instrument offers, particularly in the Second Sonata - an angry but often strikingly beautiful response to the destruction of Mount Ida, which incorporates an array of extended techniques such as striking the body of the instrument. Cleopatra (for solo violin) has all the infinite variety which the name suggests, while the concerto 1001 Nights in the Harem could easily be the soundtrack for a big-budget, old-school Hollywood epic.
Available Formats: CD, MP3, FLAC, Hi-Res FLAC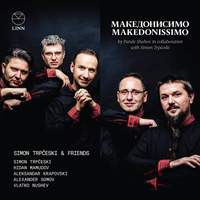 Simon Trpčeski (piano), Hidan Mamudov (clarinet/saxophone), kaval Aleksandar Krapovski (violin), Alexander Somov (cello), Vlatko Nushev (percussion)
Listening to this joyous, madcap album from the Macedonian pianist and friends feels like eavesdropping on an uproarious late-night jam-session, but in fact almost everything here is composed by Trpčeski's compatriot Pande Shahov, and it's life-affirming stuff, fusing elements of Macedonian folk music, klezmer and jazz with a few gestures toward Prokofiev and Shostakovich in film-music mode along the way. (I've found it also happens to be the ideal soundtrack for a long run – the energy is infectious, even for a sluggard like myself).
Available Format: CD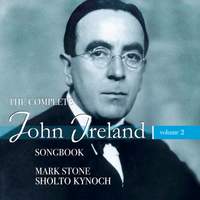 Mark Stone (baritone), Sholto Kynoch (piano)
For my more sedate rambles around Warwickshire, this long-awaited second instalment of Stone and Kynoch's Ireland series (Volume One was released in 2013) has proved a most congenial companion, from the lusty ardour of 'When lights go rolling' to the melancholy, twilit 'Friendship in Misfortune'. Stone's robust baritone never sounds overly manicured (there's the odd raw spot here and there, but it scarcely matters), and Kynoch conjures the oft-referenced birds and breezes from the keyboard with airy fluency. Ear-worms aplenty here too.
Available Formats: CD, MP3, FLAC