UPDATE: Royal Mail have now resumed shipments on their TRACKED, TRACKED & SIGNED and SIGNED services but delays should be expected, please choose these services if available to you or FEDEX if your order is urgent.
14th November 2019
 Interview

,

  Christophe Rousset on Lully and Gounod
With eight complete opera recordings under his belt, the French harpsichordist and conductor Christophe Rousset has been championing the music of Jean-Baptiste Lully for several decades now and has firmly established himself as the composer's greatest modern ambassador – reviewing his Grammy-nominated Alceste last year, Gramophone observed that 'few if any conductors match his understanding of Lullian style and rhetoric', whilst The Sunday Times described him as 'a state-of-the-art Lulliste' following his 2017 recording of Armide.
For his latest recording on Aparté (released at the beginning of the month), he brings the controversial 1677 opera Isis to life in all its weird and wonderful glory, with a cast including Edwin Crossley-Mercer as the philandering Jupiter and Ève-Maud Hubeaux as his current object of desire Io, who is eventually transformed into the Egyptian goddess Isis after enduring many and varied tribulations courtesy of the jealous Juno. I spoke to Christophe last month about how the scandal surrounding the work's early performances has eclipsed the enormous inventiveness of the score, why he feels Francophone singers are essential for Lully's operas, and his recent recording of Gounod's Faust in its original opéra comique incarnation from 1859…
Although Isis is based on Classical myth, its contemporary subtext was subversive enough to get the librettist Philippe Quinault exiled from the French court for two years: could you talk me through the controversy surrounding the piece?
It was really a mirror of the situation at the court of Louis XIV: the king had turned away from his mistress Madame de Montespan in order to seduce a new conquest, Madame de Ludres. De Ludres is actually depicted in the opera as Io (the nymph who becomes Isis at the end of the piece), and obviously Juno is Madame de Montespan and Jupiter is Louis XIV. Strangely enough at the premiere people didn't seem to recognise that and react right away, but after a special performance they realised that it was a representation of what was going on at court, and it became a big scandal. But anecdotes aside, the opera itself is an absolute masterpiece.
Weren't Lully and Quinault sailing quite close to the wind by mounting something like this at court?
I guess they felt free enough to do so, but there was certainly some element of risk. Sometimes it's hard to really understand why some pieces were forbidden and others weren't…Another case in point is Salieri's Tarare, which we released a few months ago and which sets a libretto by Beaumarchais; Beaumarchais's Le mariage de Figaro had been censored in France by Louis XVI because of its subversive political content, but when he produced the libretto for Tarare a few years later there was apparently no problem. I was really surprised by that because it's very revolutionary, all about overthrowing tyrants and fighting for freedom.
Isis has been described as "the musicians' opera" – what marks it out as special in this respect?
The music's extremely creative – it seduces at every corner. Everything about the score is astonishing: the contrasts, the different atmospheres, and the wit (it's really quite funny in places!). The tortures of the nymph in the Fourth Act are really incredible: she travels from a very cold place to a very hot place, and endures plagues, famine and flood. It's the eighth Lully opera I've conducted and recorded, and I must say I'm always surprised by how inventive and versatile he is.
Lully has been something of an obsession of yours for several decades: how did your fascination with his music begin?
It was all part of the Atys adventure in 1986, when I was William Christie's assistant – I reacted so strongly to that opera, and I immediately realised Lully was a genius. The first comparison that came to mind for me was Monteverdi: Monteverdi can be so dull and boring sometimes, but if you do it in the right way, introducing drama and breathing real life into the characters, it becomes something really fantastic. It's very fluid and detailed material, and I find those same qualities in Lully.
Your 2019/20 season 'The Nations' explores the diversity of musical styles which proliferated across Europe in the seventeenth and eighteenth centuries – why did you choose this particular opera as one of the milestones on that journey?
French music really began with Lully: he was certainly an Italian by birth, but he was almost single-handedly responsible for creating the distinctively French sound that endured for well over a century. Couperin and Rameau and all the big names followed in his footsteps, and it wasn't really until Gluck that anyone dared to challenge the myth of Lully or break the mould! His legacy dominated Parisian opera right through the eighteenth century, and for me this piece epitomises that French style at its most refined; there's also a lot of travel between different countries in the opera itself, so that fits too!
What qualities do you look for in a singer when casting these works?
Sometimes in the past I've been disappointed by the accents of foreign singers, so this time I wanted native French speakers, just to avoid problems in the conversational exchanges because that element of things is so prominent in this piece. With Lully, the music of the language itself is absolutely fundamental and it's mostly declamation, so I went for an all-Francophone cast who were flexible enough to respond to my idea of the drama: as this was just a concert-version with me essentially acting as the stage-director, it was really up to me to make the dramaturgy of the whole thing work, and to do that I needed my singers to react and be as responsive as possible.
You've also recently given the original 1859 version of Gounod's Faust its world premiere recording – why do you think this early incarnation of the work is so rarely heard today?
Probably because Gounod himself viewed the later one as an improvement: the version we've just recorded was meant for a small theatre, whereas the final version was written for the Paris Opera. That was something incredibly important for him, almost a sort of consecration. He changed the form from an opéra comique with spoken dialogues to something more straightforwardly tragic and through-composed; the comic aspects are much clearer in the first version, and that throws quite a different light on the whole piece.
Several of the most popular highlights from the opera are absent in the first version - we miss Valentin's aria, and the Soldiers' Chorus and Méphistophélès's first aria are also quite different…What are the main trade-offs in the original version?
It's true that some of the music for Méphistophélès and especially Valentin is missing, but what I really like about the earlier version is the melodrama – Gounod sets several spoken passages over orchestral accompaniment, and the effect is very exciting. Conducting this version was full of surprises: for one thing, I was expecting a shorter score, but actually it's much longer! We cut a little of the dialogue for the recording, but it's still very long.
I also loved that wonderful duet for Marguerite and Valentin, who have significantly less direct interaction in the later version…
Exactly – and the odd thing is that the music from that duet is actually part of the overture, even though it's missing in the final version of the opera! If a theme starts off the overture then you tend to assume it's going to play an important role later on in the piece…
You used the same orchestra, Les Talens Lyriques, for both Isis and Faust: what special qualities do period instruments bring to nineteenth-century French music, and to this opera in particular?
It makes the whole thing crisper, more transparent: the orchestral colours become more obvious and vivid, so when things start to get freaky with Méphistophélès singing about hell and devils it really is incredibly striking.
Do you have plans to record earlier versions of any other nineteenth-century French operas?
Carmen could be very interesting…! I hope we'll be able to do more recordings like this, but Faust was a very audacious project for Les Talens Lyriques and of course it was also quite expensive. (It was really only possible because of the amazing support we had from the Palazzetto Bru Zane). We are hoping that more discoveries like this might be around the corner - having a masterpiece to work with helps, and finding a new way to project it is very exciting.
Eve-Maud Hubeaux, Ambroisine Bré, Cyril Auvity, Edwin Crossley-Mercer, Fabien Hyon, Aimery Lefèvre, Bénédicte Tauran, Philippe Estèph
Chamber Choir of Namur, Les Talens Lyriques, Christophe Rousset
Available Formats: MP3, FLAC, Hi-Res FLAC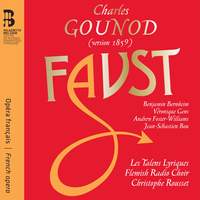 Benjamin Bernheim (Faust), Véronique Gens (Marguerite), Andrew Foster-Williams (Méphistophélès), Jean-Sébastien Bou (Valentin), Juliette Mars (Siebel), Ingrid Perruche (Marthe), Anas Séguin (Wagner/Un mendiant)
Les Talens Lyriques, Flemish Radio Choir, Christophe Rousset
Available Formats: 3 CDs + Book, MP3, FLAC, Hi-Res FLAC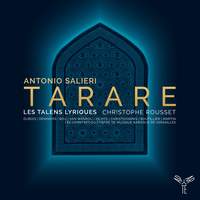 Cyrille Dubois (Tarare), Jean-Sebastian Bou (Sultan Altar), Karine Deshayes (Astasie)
Les Talens Lyriques, Christophe Rousset
Available Formats: 3 CDs, MP3, FLAC, Hi-Res FLAC
Christophe Rousset Lully Operas
Beginning with Persée back in 2001, Rousset's Lully series with Les Talens Lyriques also includes Alceste ('among the great rediscoveries of our time' - The Observer), Bellérophon ('a feast of baroque that will make you want to dance' - The Sunday Times), Amadis ('one of those true rarities – a near-perfect opera recording' - Opera Magazine), Phaéton, Armide and Roland.