30th September 2018
Presto Editor's Choices

,

Presto Editor's Choices - September 2018
My September discoveries have included two arresting recent concertos by Huw Watkins, a witty and wry set of fugal etudes (bear with me, I promise that's not a contradiction-in-terms) by Antoine Reicha, a meaty Octet of near-orchestral proportions performed with panache by Vilde Frang and friends, and a compelling profile of the prolific British composer Ruth Gipps – a student of Vaughan Williams who had a work premiered at the Last Night of the Proms at the tender age of 21.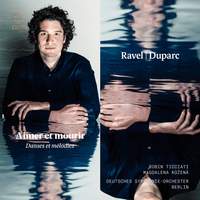 Magdalena Kožená (mezzo), Deutsches Symphonie-Orchester Berlin, Robin Ticciati
The honeymoon-period certainly hasn't worn off on this second all-French album from Ticciati and his new Berlin orchestra (he's just begun his second season as music director): the balance and clarity he achieves throughout is something to marvel at, and the sunrise in the second Daphnis suite is all the more glorious for the slow build-up, which is strung out for all its worth. Kožená is on languorous, pellucid form in four orchestrations of Duparc songs.
Available Formats: CD, MP3, FLAC, Hi-Res FLAC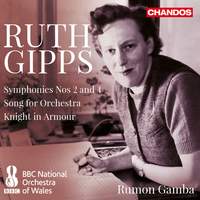 BBC National Orchestra of Wales, Rumon Gamba
The name of Ruth Gipps (1921-99) was entirely new to me before this intriguing collection landed on my desk, but the two symphonies here testify to a strikingly original voice: the slow movements of each are especially interesting, owing as much to Shostakovich and Ravel respectively as to Gipps's mentor Vaughan Williams. The cod-medievalism of Knight in Armour (premiered at the Last Night of the Proms in 1942, and studded with modal brass and shawm-like cor anglais solos) is great fun.
Available Formats: CD, MP3, FLAC, Hi-Res FLAC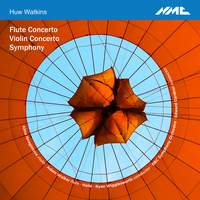 Adam Walker (flute), Alina Ibragimova (violin). Hallé, BBC Symphony Orchestra, Ryan Wigglesworth, Edward Gardner
One of the most fascinating aspects of this album for me is Watkins's ingenious approaches to writing for flute and large orchestra, allowing Adam Walker to hover miles above low brass and contrabassoon in some passages, and setting him against muted high strings and/or solo violin in others. The Violin Concerto, despatched with fearless panache by Ibragimova, is more abrasive and overtly virtuosic, but equally worth hearing.
Available Formats: CD, MP3, FLAC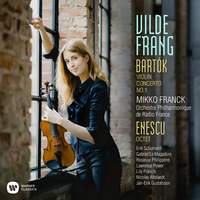 Vilde Frang (violin) et al; Orchestre de Radio France, Mikko Franck
Frang and friends make a gutsy, quasi-orchestral sound in Enescu's Octet of 1900 (so much so that I had to check that the recording didn't use the version which the composer sanctioned for full string-section), with plenty of gypsy dash in the outer movements in particular; an entirely persuasive bit of advocacy for a piece that really deserves to be recorded and performed more often.
Available Formats: CD, MP3, FLAC, Hi-Res FLAC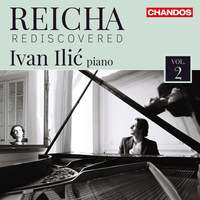 Don't be put off by the dry-sounding title of the main work on this second instalment of Ilic's survey of the piano music of Antoine Reicha (1770-1836): 34 'Études dans le genre fugué' struck me as a fairly forbidding prospect, but I was hooked from the second track onwards thanks to Reicha's own powers of pastiche and invention (more than once I was put in mind of the Diabelli Variations, written around the same time), and the incredible variety of timbre which Ilic summons to characterise each miniature.
Available Formats: CD, MP3, FLAC, Hi-Res FLAC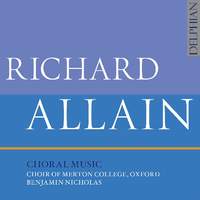 Choir Of Merton College Oxford, Benjamin Nicholas
I'll admit to a slight vested interest in this album of choral music by the British composer (b.1965), as the anthem 'God be in my head' was commissioned by myself and a group of fellow singers as a wedding-present for two close friends; all of the qualities which attracted us to Allain in the first place are on display here, including luminous textures, subtle word-painting, and a predominantly tonal idiom spiked with unexpected dissonances.
Available Formats: CD, MP3, FLAC, Hi-Res FLAC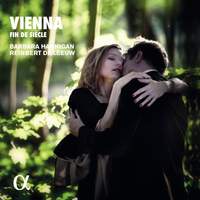 Barbara Hannigan (soprano), Reinbert De Leeuw (piano)
I'm used to slightly bigger, more substantial voices in the songs of Berg and Schoenberg, but no-one could accuse the magnetic Canadian soprano of lacking in sensuality: her supple, slender soprano has its own unique colour-palette (she specialises in shimmery golds and creams which put me in mind of Gustav Klimt), and she's supremely alive to the strange beauty of the poetry. It may look like a slightly forbidding programme on paper, but it's sheer voluptuous delight from start to finish.
Available Formats: CD, MP3, FLAC, Hi-Res FLAC, Hi-Res FLAC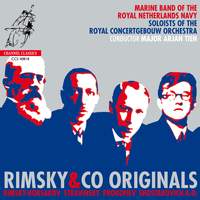 Marine Band of the Royal Netherlands Navy & Soloists of the Royal Concertgebouw Orchestra, Arjan Tien
I have my brass-playing colleague David to thank for pointing me in the direction of this rip-roaring album of Russian marches from the likes of Stravinsky, Shostakovich, Khachaturian and Glière. The Dutch brass are on dazzling form throughout, with some superb cameo appearances from the principals of the Royal Concertgebouw Orchestra in Rimsky Korsakov's concertos for trombone, clarinet and oboe with military band.
Available Formats: CD, MP3, FLAC, Hi-Res FLAC, Hi-Res+ FLAC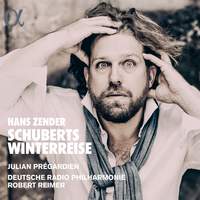 Julian Prégardien (tenor) Deutsche Radio Philharmonie, Robert Reimer
I've been fascinated by Hans Zender's expressionist re-imagining of Winterreise (which orchestrates and occasionally fragments Schubert's original) since seeing Ian Bostridge's Cabaret-esque performance at the Barbican two years ago; making his debut on Alpha, the German lyric tenor Julian Prégardien plays it far straighter but is every bit as compelling, particularly in more lyrical songs such as Der Lindenbaum and Die Nebensonnen. Look out for my interview with him about the recording next month.
Available Formats: CD, MP3, FLAC, Hi-Res FLAC