28th July 2015
 Interview

,

  Pablo Heras-Casado on 'Praetorius'
Spanish conductor Pablo Heras-Casado launched his DG recording career with an exploration of relatively unknown German repertoire - a collection of Magnificats and motets on texts from the Song of Songs by Michael, Hieronymus and Jakob Praetorius. Combining sound-worlds reminiscent of Giovanni Gabrieli, Heinrich Schütz and others, they represent a little-heard period of transition in the history of German sacred music.
I asked Pablo about how he approached this music, especially in the light of his mostly orchestral discography to date.
Your 'repertoire' as a conductor is very broad – from your recent Mendelssohn and Schumann to Verdi and Weill, as well as this much earlier music. Would you say your experience with larger symphonic repertoire affected your approach to these motets?
I would say first that having done the earlier stuff, the polyphonic stuff for many, many years at the beginning of my musical life has very much affected the way I conduct symphonies – the way I conduct Mendelssohn, Schumann, Schubert… So first of all I'd say it's the other way round, because Schubert, Mendelssohn and Schumann inherit the polyphonic tradition from the Baroque, and the Classical composers continued it, and for Schumann the polyphonic element is essential, just as it is for Mendelssohn.
So once I had all that strong background in my life, that polyphonic experience, and having done now for many, many years all the symphonic repertoire, then going back to that early-music world and to polyphony, of course I take with me a broader experience and a broader imagination – colours, textures, contours of dynamics, the different layers. You have to take care with the instrumentation in all that repertoire; you have to weave the instruments together with the voices. So definitely, this experience affects it a lot.
And at the same time on this CD the two Magnificats are long pieces – especially the Michael Praetorius, it's almost a twenty-minute piece – which you have to articulate in a very intelligent way and you have to create a whole structure and take a position in terms of the instrumentation – which colours do you choose, which instruments, soli or tutti, etc. So definitely that experience in the symphonic world helps you to have this perspective of the structure.
The accompanying notes suggest that setting texts from the Song of Songs was an outlet for musical impulses that might elsewhere have given rise to madrigals. Do you think there's a madrigal-like feeling to these pieces, despite their superficially sacred nature?
Absolutely. I think it's the first attempt in German polyphony to bring all that sensual and more madrigalistic freedom to express sensuality and even eroticism, and all the imagery. It's the first attempt from that first generation of composers who were fascinated by the Italian revolution that came particularly from Venice, from Gabrieli and others. And we know that these composers were already in contact with that music and they definitely used dissonance in a different way – they used the words in a more symbolic way, and they also started to play with the textures. There are some motets written for six voices which they play with – sometimes they use all six as a whole, and sometimes three plus three, so like the cori spezzati style that was so important in the Venetian tradition, or sometimes they combine one voice with the three from the other choir.
So clearly there's a very strong wish for experimentation and transgression. And it's something really wonderful to feel in that music, that they of course keep a very strong structure and knowledge and the tradition of the counterpoint of the old school, but they start adding this new use of the text that is so close to the madrigal.
A lot of this music, in its sheer theatricality and antiphonality, seems very Italian in style. Michael Praetorius' Magnificat, in particular, sounds like it could easily have been written by Gabrieli for San Marco. Do you think there's a uniquely German voice to be heard in these works, or are they simply, so to speak, German words poured into an Italian mould?
That's an interesting question… I think there is a severe aspect to the music – it doesn't feel completely Italian in the sense of Monteverdi. I don't think they lose their roots – they combine this new experimentation with a very strong sense of a more restricted and severe counterpoint, in terms of the textures and even the texts – so I think the combination of both. It's like what you hear in Buxtehude, for instance, though that's much later. Or another composer who's very interesting, Bruhns – this early Baroque school before Bach, because they develop the instrumental techniques and the textures and the harmonies, moving towards greater freedom – but they never abandon the German tradition. And in Praetorius I feel it's the same. That little tension between the two traditions is actually very interesting and very unique.
These three composers collectively help to bridge the gap between Renaissance and Baroque in Germany. How different do you think they are from each other in stylistic terms?
Definitely different. Michael Praetorius was a very interesting man – a Renaissance artist. He wrote this huge treatise on instrumentation and organology, describing all the different instruments with their qualities – it was the first important treatise on orchestration, and it says a lot not only about music but also about the colours and the possibilities. So he was a very original, very modern-thinking man, but still in his music there is a very strong connection with the Lutheran chorale and the German church tradition. Although all his works on this CD are in Latin, he wrote mainly for German texts, and you feel more archaism in his music.
Hieronymus and Jakob are in a sense the other branch – with Hieronymus there is of course the most virtuosity in the contrapuntal writing, that gives much more freedom in the individual lines horizontally, but also vertically there is a sense of the new harmonies, and the use of the words – he has a closer sense of the Italian texture and rhythmic freedom, etc. So he makes a big step forward in the modern direction.
And with Jakob his son, in Jakob you feel that another thirty years have happened – he's a younger composer, composing at the beginning of the 17th century and the early 20s and 30s, and his music is already fully Baroque, using the continuo and you see also the virtuosity of the individual voices – he writes in the style that Monteverdi was developing, with the virtuoso lines. So he has stronger requirements of the voice in terms of technique. And he has a very individual voice, it's very distinctive – he's a composer of his time. The gap between Hieronymus and Jakob was only about twenty or twenty-five years, but you see a strong difference.
Can you tell us anything about your plans for future projects?
Well, next will be the release of another Schumann chapter – this one will be with the piano concerto with Sasha Melnikov. And on the early music side, we're preparing a big Monteverdi project for Deutsche Grammophon focusing on his Selva Morale e Spirituale, which is very fascinating, because this collection is surely one of the most important collections of sacred music – together with Bach's oratorios and cantatas, Mendelssohn's oratorios. But they haven't been recorded so much – there are about three or four recordings of the complete edition, and they're old ones! And I think this is the first project of a major label like DG to focus on the Selva Morale. I think it's a wonderful piece, and I'm very happy to have this in the pipeline.
The whole set has been done only a couple of times, and I think it needs a new input, a new edition, with an ensemble like Balthasar-Neumann (who did this Praetorius recording). I think it's something very exciting.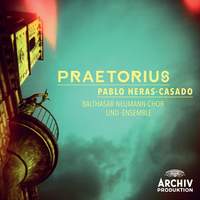 Pablo Heras-Casado's 'Praetorius' was released at the beginning of June on DG Archiv.
Available Formats: MP3, FLAC, Hi-Res FLAC
Other recordings by Pablo Heras-Casado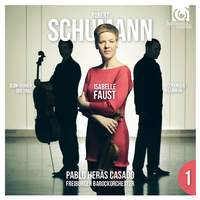 The first in a Schumann triptych from Heras-Casado, featuring Isabelle Faust as the soloist in Schumann's powerful but long-neglected Violin Concerto.
Available Formats: CD + DVD Video, MP3, FLAC, Hi-Res FLAC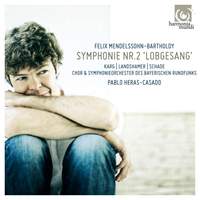 Mendelssohn's well-loved Lobgesang receives a new lease of life at the hands of Pablo Heras-Casado and the Bavarian Radio Orchestra.
Available Formats: MP3, FLAC, Hi-Res FLAC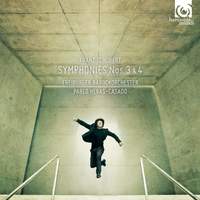 Heras-Casado's Harmonia Mundi debut - a double-bill of youthful symphonies from the teenaged Schubert. The light-hearted third is set against the darker background of the 'Tragic' fourth.
Available Formats: CD, MP3, FLAC, Hi-Res FLAC