21st November 2014
 Favourites

,

  Francis Poulenc
Poulenc has always been pretty well represented on disc and there is a wealth of wonderful recordings out there, both from artists who had direct contact with the composer (such as soprano Denise Duval, baritone Pierre Bernac and conductor Georges Prêtre) and from later generations (pianist Pascal Rogé, conductor/harpsichordist Jos van Immerseel and soprano Felicity Lott in particular spring to mind). The composer had (and indeed continues to have) some superb champions amongst his compatriots, but there are also some fabulous advocates from elsewhere in Europe and from the US - again Lott springs to mind, along with the English song-pianist Graham Johnson.
As with so many composers, it's tempting to let some of these leading interpreters dominate my choices, but in the interests of variety I've endeavoured to be as even-handed as possible and open things up a little - discovering some new 'favourites' myself along the way!
Orchestral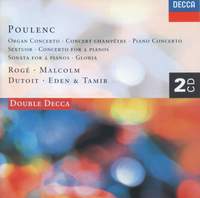 Unsurpassable, panache-filled accounts of the Piano and Organ Concertos from George Malcolm and Pascal Rogé respectively, under Charles Dutoit and Iona Brown; a classy performance of the Gloria from the Suisse Romande forces is much more than a makeweight.
Available Formats: MP3, FLAC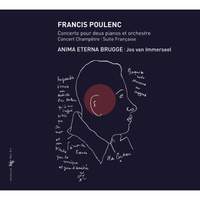 The period sonorities of Jos van Immerseel's Anima Eterna Brugge throw the quirky Neoclassicism of the Concert champêtre (with Immerseel himself as soloist) and the baroque pastiche of the Suite Française into relief, with the use of Erard pianos paying dividends in the Double Concerto.
Available Formats: MP3, FLAC, Hi-Res FLAC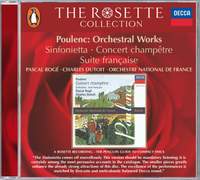 I chose this disc from our Presto Print-On-Demand range primarily for the sparkling account of the 1947 Sinfonietta, which isn't desperately well represented on disc - but Charles Dutoit's take on the variations Bucolique, Hommage à Albert Roussel and several other short works are equally deserving of attention.
Available Format: Presto CD
Chamber and instrumental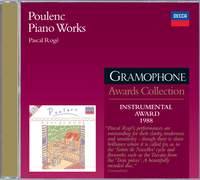 One of my more personal choices - the first time I ever heard any of Poulenc's music was in a live performance by Pascal Rogé, making a rare appearance in Middlesbrough where I grew up, and it was only much later that I realised his widespread renown as one of the leading interpreters of this music.
Available Formats: Presto CD, MP3, FLAC
A superb two-disc overview of the sonatas and larger ensemble-works from The Nash Ensemble here, with pianist Ian Brown doing particularly sterling work; Philippa Davies's pellucid account of the Flute Sonata is an especial highlight.
Available Formats: 2 CDs, MP3, FLAC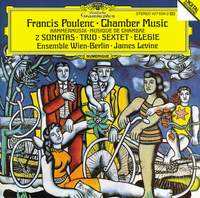 If you're after a single disc sampler of the main chamber works, James Levine's collaboration with the Ensemble Wien-Berlin offers eloquent and chic accounts of the Sextet, flute and clarinet sonatas and the wonderful late Elégie for horn and piano.
Available Formats: Presto CD, MP3, FLAC
Opera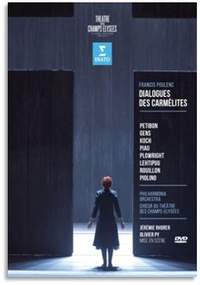 Filmed at the Théâtre des Champs-Elysées last year, Olivier Py's austere 1930s production boasts a distinguished, largely Francophone cast, headed by Poulenc specialist Patricia Petibon as Blanche, Sophie Koch as the fanatical Mère Marie, and British mezzo Rosalind Plowright as the tortured Old Prioress.
Available Format: 2 DVD Videos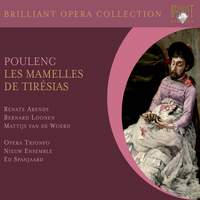 It's Hobson's Choice - and download-only - for a stand-alone recording this surreal 1940s exploration of gender ambiguity and fertility, but happily Ed Spanjaard's recording with Renata Arends as Thérèse/Tiresias brings out all of the score's phantasmagorical joie de vivre.
Available Formats: MP3, FLAC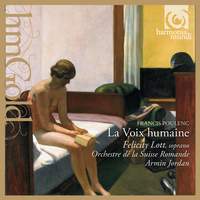 One of my favourite recordings of all time, this - not just for Francophile soprano Felicity Lott's blistering portrayal of a woman being slowly driven towards suicide as a lover breaks up with her over the phone, but also for the lesser-known monodrama La Dame de Monte Carlo, in which a glamorous gambler makes the same tragic journey.
Available Formats: MP3, FLAC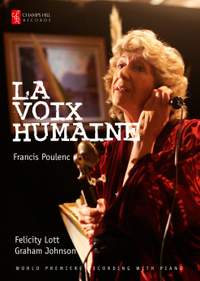 My apologies for doubling up on an artist and a work here, but I couldn't omit this film-version with a clear conscience: a) because the piano version only serves to intensify the spare drama and b) because Lott's late-career revisitation of the score is if anything even more searing than the earlier audio recording.
Available Format: Blu-ray
Choral and vocal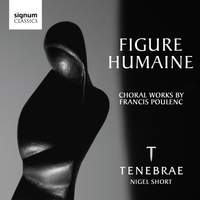 An absolute tour de force from the British chamber choir Tenebrae here, singing in idiomatic French and with absolute technical assurance, even in the face of the fearsome challenges presented by the centrepiece, Figure Humaine (top E for the sopranos and all!). The Mass in G , Litanies for the 'Black Virgin' and other works also come off with aplomb.
Available Formats: CD, MP3, FLAC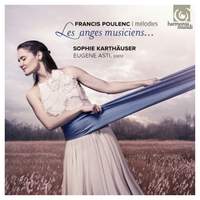 Perhaps best known as a Mozart soprano, the Belgian soprano Sophie Karthäuser is a beguiling advocate for Poulenc's songs on this disc which includes the great cycle Tel jour, tel nuit and Fiançailles pour rire, FP101.
Available Formats: MP3, FLAC, Hi-Res FLAC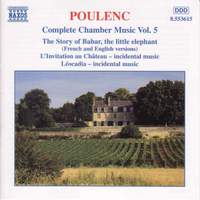 Set for narrator and small ensemble and originally improvised to please the composer's three-year old cousin, the tale of Babar the Elephant receives a charming performance from Alexandre Tharaud and friends with child narrators on this fifth instalment of Naxos's chamber-music series.
Available Formats: MP3, FLAC
Boxed sets
Prepared for the fiftieth anniversary of the composer's death last year and curated by pianist and French music expert Graham Johnson, Hyperion's gorgeous 4-CD set divides the complete songs between seasoned performers such as Felicity Lott and Johnson himself, and stylish newcomers including soprano Ailish Tynan and tenor Robin Tritschler.
Available Formats: 4 CDs, MP3, FLAC