Favourites

,

  Music to commemorate the First World War
The First World War is generally considered to have started with the declaration of war by Austria-Hungary on Serbia on 28th July 1914. This unprecedentedly destructive conflict had a profound impact on composers and artists of all kinds, both directly (as many served in their respective militaries during the fighting) and indirectly as the sociological and psychological implications of the war sank in.
The full extent of the War's musical resonances is hard to gauge (many consider that the traumatic nature of the upheaval in Europe was a major cause of the new currents in Western composition that arose in the 1920s and 30s), but there are certainly some works that can be tied to it in a more definite and direct way - some written in response to the war by those who witnessed it and survived, others forming the legacy of composers or artists whose lives were cut short.
Below we list recordings of some works with a particularly strong link to the War.
Bliss: Morning Heroes
Schoenberg: Friede auf Erden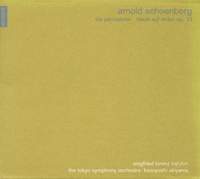 Schoenberg's Friede auf Erden is one of the most difficult, emotionally draining yet rewarding choral works in existence - an unaccompanied piece that strains at the boundaries of tonality in a similar manner to Verklärte Nacht, setting words by Conrad Meyer that contrast the message of the angels of the Nativity with the violent reality of earthly life. Although Friede auf Erden was written in 1907, a depressing postscript to its composition is Schoenberg's observation in 1923 that, in the wake of the First World War, he no longer believed its title (''Peace on Earth'') was anything more than an impossible illusion.
Available Formats: MP3, FLAC
Ravel: Piano Concerto in D major for the Left Hand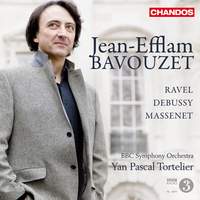 There can be few more poignant examples of an artist affected by war than the fate of the Austrian concert pianist Paul Wittgenstein, whose right arm was amputated as a result of an injury sustained during his service in the First World War. After the Armistice, Wittgenstein both commissioned, and was dedicated, numerous works for the left hand alone. Ravel's jazz-influenced Concerto is the best-known of these works today, and is here dazzlingly performed by Jean-Efflam Bavouzet with the BBC Symphony Orchestra under Yan Pascal Tortelier.
Available Formats: SACD, MP3, FLAC, Hi-Res FLAC
Gurney: Ludlow and Teme & other English songs
Butterworth: A Shropshire Lad & other song-cycles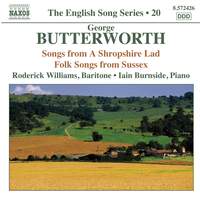 George Butterworth is, unfortunately, primarily remembered as the friend of Vaughan Williams whose death on the Somme inspired the dedication of the latter's London Symphony. Yet he was a composer of great originality in his own right, writing numerous song cycles of simple and melodious appeal; they seem to capture something of the English idyll that the war brought to an end for so many. Roderick Williams's eloquent baritone and Iain Burnside's sensitive accompaniment are the perfect combination.
Available Formats: CD, MP3, FLAC
Vaughan Williams: Symphony No. 3 ('A Pastoral Symphony')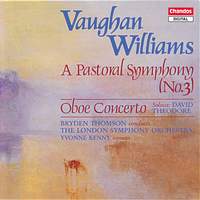 Its title may evoke a comfortable, placid rural scene, but the fields Vaughan Williams had in mind when he wrote his Pastoral Symphony were those of France and Macedonia, where he served with the Royal Army Medical Corps. It is a subdued piece with few lively sections, and can be seen as an elegy for those who died in the war. The wordless soprano vocalise that closes the work is a particularly haunting moment.
Available Formats: MP3, FLAC
Choral Music for Remembrance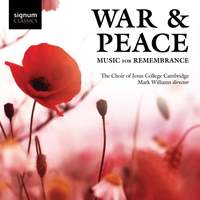 A collection of choral works on the subject of war and remembrance, including Douglas Guest's simple, yet moving, setting of Binyon's immortal tribute to the war dead, For the Fallen, and Geraint Lewis's meditative Iustorum animae - alongside such more familiar works as Brahms's Geistliches Lied, Ireland's Greater Love and Parry's Crossing the Bar. It's all sung with characteristic sensitivity by the choir of Jesus College, Cambridge under their Director of Music, Mark Williams.
Available Formats: CD, MP3, FLAC
Foulds: A World Requiem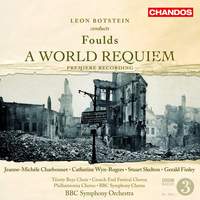 John Foulds's A World Requiem was written to act as a musical counterpart to the Cenotaph memorial in London (which was designed by the composer's friend Edwin Lutyens), to commemorate the dead of all the nations who had fought in the First World War. Although a successful and popular work at the time, garnering overwhelmingly positive critical responses, it subsequently dropped out of the repertoire until it was revived by the BBC in association with the Royal British Legion in 2007. It is a profound and moving work; the BBC Symphony Orchestra and Chorus give an excellent account in this recording.
Available Formats: 2 SACDs, MP3, FLAC
Berg: Wozzeck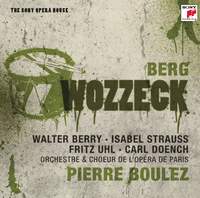 Wozzeck's music, employing as it does a wide range of innovative techniques such as Sprechgesang and character-specific Leitmotifs, is easily dramatic enough to stand on its own in the absence of the visual element. Pierre Boulez, at the helm of the Orchestra and Choir of the Paris Opera, brings his customary fire and brimstone to this performance.
Available Formats: 2 CDs, MP3, FLAC