UPDATE: Royal Mail have now resumed shipments on their TRACKED & SIGNED and SIGNED services but delays should be expected, please choose these services if available to you or FEDEX if your order is urgent.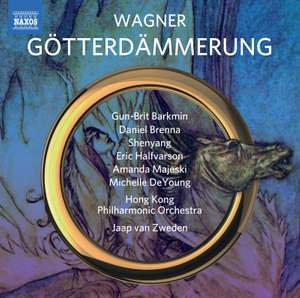 Wagner: Götterdämmerung
Gun-Brit Barkmin (Brünnhilde), Daniel Brenna (Siegfried), Eric Halfvarson (Hagen), Shenyang (Gunther), Amanda Majeski (Gutrune), Peter Kálmán (Alberich), Michelle DeYoung (Waltraute)
Hong Kong Philharmonic Chorus & Orchestra, Jaap van Zweden
Barkmin brings imagination and flair. It's quite a 'white' voice and not a huge one but she's a committed projector of the drama. Brenna's voice, again not heavy but well focused, certainly records...

— More…
Contents
Sarah Castle (mezzo-soprano), Stephanie Houtzeel (mezzo-soprano), Jenufa Gleich (soprano), Gun Brit Barkmin (soprano), Daniel Brenna (tenor)
Hong Kong Philharmonic Orchestra
Jaap van Zweden
Recorded: 18 and 21 January 2018
Recording Venue: Concert Hall, Hong Kong Cultural Centre, Hong Kong
Prologue: Welch Licht leuchtet dort?
Prologue: Orchesterzwischenspiel "Tagesgrauen"
Prologue: Zu neuen Taten, teurer Helde
Prologue: Mehr gabst du, Wunderfrau
Prologue: Siegfrieds Rheinfahrt
Act I: Nun hör', Hagen, sage mir, Held
Act I: Was weckst du Zweifel und Zwist?
Act I: Vom Rhein her tönt das Horn
Act I: Wer ist Gibichs Sohn?
Act I: Begrüsse froh, o Held
Act I: Willkommen, Gast, in Gibichs Haus!
Act I: Hast du, Gunther, ein Weib?
Act I: Blut-Brüderschaft schwöre ein Eid!
Act I: Hier sitz' ich zur Wacht, wahre den Hof
Act I: Orchesterzwischenspiel
Act I: Altgewohntes Geräusch
Act I: Seit er von dir geschieden
Act I: Da sann ich nach. von seiner Seite
Act I: Jetzt bist du mein
Act II: Schläfst du, Hagen, mein Sohn?
Act II: Orchesterzwischenspiel
Act II: Hoiho, Hagen! Müder Mann!
Act II: Hoiho! Hoihohoho!
Act II: Heil dir, Gunther!
Act II: Brünnhild', die hehrste Frau
Act II: Was ist ihr? Ist sie entrückt?
Act II: Achtest du so der eignen Ehre?
Act II: Helle Wehr! Heilige Waffe!
Act II: Welches Unholds List liegt hier verhohlen?
Act II: Dir hilft kein Hirn
Act III: Frau Sonne sendet lichte Strahlen
Act III: Ich höre sein Horn
Act III: Was leid' ich doch das karge Lob?
Act III: Mime hiess ein mürrischer Zwerg
Act III: Brünnhilde! Heilige Braut!
Act III: Siegfrieds Trauermarsch
Act III: War das sein Horn?
Act III: Schweigt eures Jammers
Act III: Starke Scheite schichtet mir dort
Act III: Mein Erbe nun nehm' ich zu eigen
Act III: Fliegt heim, ihr Raben!