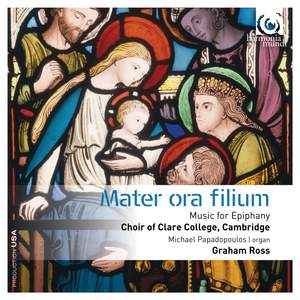 Offer

,

 Mater ora filium: Music for Epiphany
Choir of Clare College, Cambridge and Graham Ross, Graham Ross, Cambridge, Michael Papadopoulos and Graham Ross, Alexander Porteous and Graham Ross, Graham Ross and Laurence Harris, Graham Ross and Michael Papadopoulos
every bit as successful as its predecessors … Judith Weir's Illuminare, Jerusalem…is given a superb rendering, as is Bax's Mater ora filium … An exceptionally satisfying CD.

— More…
Contents
trad.: O worship the Lord in the beauty of holiness!
3:09
Sheppard, J: Reges Tharsis et insulae
4:43
Byrd: Ecce advenit dominator Dominus
2:25
Palestrina: Tribus miraculis ornatum
3:26
Clemens: Magi veniunt ab oriente
2:33
Mouton, J: Nesciens Mater
5:40
Poulenc: Videntes stellam (No. 3 from Quatre Motets pour le temps de Noël, Op.152)
2:48
Howard Howells: Long, long ago
4:39
trad.: Hail to the Lord's Anointed!
3:49
Weir: Illuminare, Jerusalem
2:07
Niles: I wonder as I wander
3:01
Howard Howells: Here is the little door
3:19
Cornelius: The Three Kings
2:15
Berkeley, L: I sing of a maiden
2:51
Warlock: Benedicamus Domino
1:24
trad.: As with gladness men of old
3:07