UPDATE: Royal Mail have now resumed shipments on their TRACKED & SIGNED and SIGNED services but delays should be expected, please choose these services if available to you or FEDEX if your order is urgent.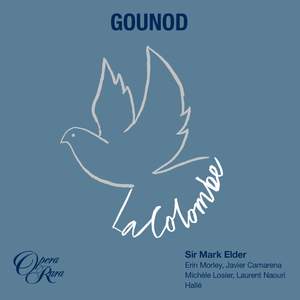 Gounod: La Colombe
Erin Morley (Sylvie), Javier Camarena (Horace), Michèle Losier (Mazet), Laurent Naouri (Maître Jean)
Hallé Orchestra, Sir Mark Elder
One hero of this admirable Opera Rara release is Mark Elder, utterly committed to Gounod's score and coaxing elegant music-making from the Hallé. There's also some properly idiomatic singing,...

— More…
Contents
Erin Morley, Javier Camarena, Michèle Losier, Laurent Naouri
Hallé Orchestra
Mark Elder
Sylvie, Sylvie! Venez-la ma mignonne!
Voyons, seigneur, ecoutez un moment la raison
Allons retrouver madame la comtesse
Je veux interroger ce jeune homme
Ah! Les femmes! Les femmes
Bref, cher seigneur, je suis tout a fait ravie
Les fournisseurs refusent
Il faut d'abord dresser la table!
Me voila retombee dans une etrange reverie!
Que de reves charmants emportes sans retour!
Je vous cherche depuis une heure
Ces attraits que chacun admire
La deesse aujourd'hui se nomme Amynte
Mais non, quand nous aurons dine
Helas, seigneur, pardonnez-moi