Business update: Our website remains open for orders. However, delays in postal and courier services mean that deliveries are currently taking longer than usual
Opera Rara
recording the world's rarest operas.
Opera Rara, the brainchild of Patric Schmid and Don White, has been in the business of bringing back forgotten operatic repertoire of the nineteenth century for the last thirty-five years. Operas once threatened with extinction have now been brought vividly back to life through the Opera Rara recordings: the catalogue includes complete operas as well as highlights and compilations, anthologies and recordings featuring outstanding soloists.
Further Reading:
Opera Rara
19th September 2019
The Albanian soprano talks to Katherine about singing the role of Anna on Sir Mark Elder's recording of Puccini's first opera in its original one-act incarnation, released tomorrow on Opera Rara.
22nd March 2019
Sir Mark Elder conducts the world premiere of Donizetti's opera semiseria from 1839, composed for a theatre which closed down before the opening night, but subsequently heavily revised as La favorite.
Recent Best Sellers:
Opera Rara
Future Releases:
Opera Rara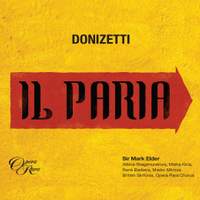 Series & Collections:
Opera Rara