US Airmail Charges: As a knock on of effect of COVID-19 airfreight prices around the world have soared. Reluctantly, we have had to pass on some of this increase in our standard airmail prices. We'll bring them down again as soon as we can!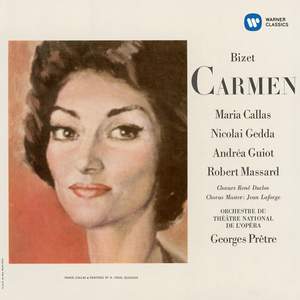 Bizet: Carmen
Maria Callas (Carmen), Nicolai Gedda (Don José), Andréa Guiot (Micaëla), Robert Massard (Escamillo), Nadine Sautereau (Frasquita), Jane Berbié (Mercédès), Jean-Paul Vauquelin (Le Dancaïre), Jacques Pruvost (Le Remendado), Claude Cales (Moralès), Jacques Mars (Zuniga)
Orchestre du Théâtre National...
Contents
Maria Callas (soprano), Nicolai Gedda (tenor), Jean Laforge (director), Jane Berbié (mezzo-soprano), Jean-Paul Vauquelin (baritone), Maurice Maievski (baritone), Maurice Maievski (tenor), Nadine Sautereau (soprano), Robert Massard (baritone), Claude Cales (baritone), Jacques Mars (bass), Andrea Guiot (soprano), Jacques Pruvost (tenor)
Orchestre de l'Opéra National de Paris, Choeurs d'enfants Jean Pesneaud, Choeurs Rene Duclos
Georges Prêtre
"Sur la place" (Chorus, Moralès, Micaela)
7:22
"Avec la garde montante" (Children's Chorus, Moralès, José)
3:54
"C'est bien là, n'est-ce pas?" (José, Zuñiga)
1:13
"La cloche a sonné....Dans l'air" (Chorus)
4:34
"L'amour est un oiseau rebelle" (Carmen, Chorus) [Habanera]
4:18
"Carmen! sur tes pas" (Chorus, Carmen, José)
1:29
"Quels regardes! Quelle effronterie!" (Carmen, José)
0:55
"Parle-moi de ma mère!" (José, Micaela)
8:56
"Reste là, maintenant, pendant que je lirai" (José, Micaela)
1:31
"Que se passe-t-il donc là-bas?...Au secours!" (Zuñiga, Chorus)
3:00
"Mon officier, c'était une querelle" (José, Zuñiga, Carmen)
3:44
"Près des remparts de Séville" (Carmen, José)
4:32
"Voici l'ordre; partez" (Zuñiga, Carmen)
2:06
"Les tringles des sistres tintaient" (Camen, Frasquita, Mercédès)
4:17
"Messieurs, Pastia me dit" (Frasquita, Zuñiga, Camen, Mercédès)
0:57
"Vivat! vivat le Toréro!" (Chorus, Zuñiga)
1:09
"Votre toast, je peux vous le rendre" (Escamillo, Chorus)
4:48
"La belle, un mot" (Escamillo, Carmen, Zuñiga)
1:34
"Eh bien! vite, quelles nouvelles?.....Nous avons en tête un affaire" (Carmen, Frasquita, Mercédès, Dancaïre, Remendado, Chorus)
4:44
"Mais qui donc attends-tu?" (Dancaïre, Carmen, Remendado)
0:24
"Halte là!" (José, Carmen, Frasquita, Mercédès, Dancaïre, Remendado)
1:32
"Enfin c'est toi!...Tout doux, Monsieur" (Carmen, José)
5:51
"La fleur que tu m'avais jetée...Non, tu ne m'aimes pas" (Carmen, José)
7:48
"Holà Carmen!" (Zuñiga, José, Carmen, Dancaïre, Remendado)
4:58
"Ecoute, écoute, compagnon, écoute" (Chorus, Dancaïre, Remendado, José, Carmen, Mercédès, Frasquita)
4:01
"Reposons-nous une heure ici, mes camarades" (Dancaïre, Carmen, José)
2:15
"Mêlons! Coupons!" (Frasquita, Mercédès, Carmen)
6:51
"Eh bien?" (Carmen, Dancaïre, Frasquita)
0:37
"Quant au douanier, c'est notre affaire" (Carmen, Mercédès, Frasquita)
2:49
"C'est des contrebandiers....Je dis, que rien ne m'épouvante" (Micaëla)
5:49
"Je ne me trompe pas" (Micaëla)
0:28
"Quelques lignes plus bas" (Escamillo, José, Carmen, Dancaïre, Micaëla, Frasquita, Mercédès, Remendado, Chorus)
11:31
"A deux cuartos!" (Chorus, Zuñiga)
1:55
"Les voici! voici la quadrille!" (Chorus, Escamillo, Carmen, Frasquita)
6:51
"C'est toi!...Viva! viva! la course est belle!" (Carmen, José, Chorus)
8:48