UPDATE: Royal Mail have now resumed shipments on ALL International services but delays should be expected, please choose FEDEX if your order is urgent.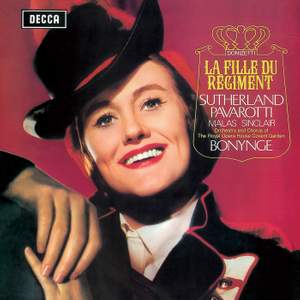 Donizetti: La Fille du Régiment
Luciano Pavarotti (Tonio), Joan Sutherland (Marie), Spiro Malas (Sulpice), Monica Sinclair (La Marquise), Jules Bruyère (Hortensius), Eric Garrett (Caporale), Edith Coates (La Duchesse)
Royal Opera House Orchestra, Richard Bonynge
The comic role of Marie might not seem the most obvious vehicle for Joan Sutherland, but she sparkles and delights on this 1967 studio recording with her husband Richard Bonynge at the helm and...

— More…
Contents
Donizetti: La Fille du Régiment
Spiro Malas (bass), Eric Garrett (baritone), Jules Bruyere (bass), Dame Joan Sutherland (soprano), Edith Coates (soprano), Monica Sinclair (mezzo-soprano), Luciano Pavarotti (tenor), Alan Jones (tenor)
Royal Opera House Covent Garden, Chorus of the Royal Opera House, Covent Garden
Richard Bonynge
Recorded: 1967-07-17
Recording Venue: Kingsway Hall, London
"L'ennemi s'avance, amis, armons-nous!"
"Pour une femme de mon nom, quel temps, hélas, le temps de guerre!"
"Allons, allons, march', march' à l'instant"
"La la la ...chacum le sait, chacun le dit"
"Ils l'ont emmené brutalement"
"Rataplan, rataplan, rataplan"
"Ah! mes amis, quel jour de fête!"
"Le camarade est amoureux!"
Entr'acte ... "Enfin la voilà"
"La romance perdue, on la retrouvée"
"Le jour naissait dans le bocage..."
"C'en est donc fait, en mon sort va changer"
"Tous les trois réunis, quel plaisir mes amis!"
"Oui! Quand le destin, au milieu de la guerre, enfant, me jeta dans leurs bras"