UPDATE: Royal Mail have now resumed shipments on ALL International services but delays should be expected, please choose FEDEX if your order is urgent.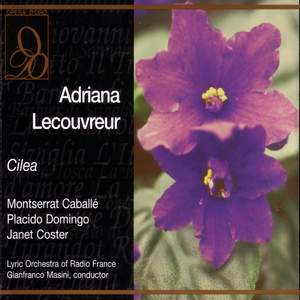 Cilea: Adriana Lecouvreur
Montserrat Caballé (Adriana Lecouvreur), Plácido Domingo (Maurizio), Orazio Mori (Principe di Bouillon), Janet Coster (Principessa di Bouillon), Attilio D'Orazi (Michonnet), Jacques Villisech (Quinault), Gérard Friedman (Poisson), Claudie Saneva (Mlle. Jouvenot), Emmy Greger (Mlle. Dangeville), Piero...
Contents
Cilea: Adriana Lecouvreur
Orazio Mori, Janet Coster, Piero de Palma, Orchestra, Quartet, Claudie Saneva, Montserrat Caballé, Attilio d'Orazzi, Plácido Domingo
Gianfranco Masini
O vagabonda stella d'Oriente
Vi cogliam, Conte, sul fatto
Commossa io sono per si grande ono