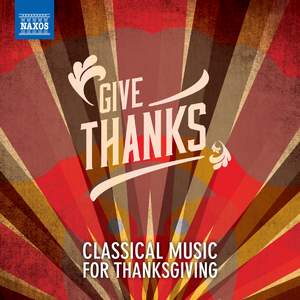 Give Thanks: Classical Music for Thanksgiving
Einar Steen-Nokleberg (piano), Ashley Wass (piano), Takako Nishizaki (violin), Jennifer Casey Cabot (soprano), Frederick Teardo (organ), Francine van der Heijden (soprano), Kenneth Boulton (piano)
Seattle Symphony Orchestra, Slovak Radio Symphony Orchestra, RTE Concert Orchestra, Elora Festival...
Contents
Stravinsky: The Firebird, Scene 2
Seattle Symphony Orchestra
Gerard Schwarz
Kastchei's Spell Is Broken, His Palace Disappears, and the Petrified Knights Return to Life. General Thanksgiving …
Excerpt, Beethoven: Symphony No. 6 in F major, Op. 68 'Pastoral'
Slovak Radio Symphony Orchestra
Michael Halász
I. Pleasant, Cheerful Feelings Aroused on Approaching the Countryside. Allegro ma non troppo
Joyce, A: Songe d'Automne
RTÉ Concert Orchestra
Andrew Penny
Excerpt, Whitacre: Songs (3) of Faith
The Elora Singers
Noel Edison
I thank you God for most This amazing day
Excerpt, Beethoven: Symphony No. 6 in F major, Op. 68 'Pastoral'
Nicolaus Esterhazy Sinfonia
Béla Drahos
V. Shepherd's Song. Grateful Thanks to the Almighty After the Storm. Allegretto
Ives, C: New England Holidays, "Holidays Symphony"
Malmö Opera Chorus, Malmö Symphony Orchestra
James Sinclair
IV. Thanksgiving Day (Ed. J. Elkus)
Excerpt, Rachmaninoff: Vespers, Op. 37
Eugen Antoni, Raisa Palmu, Erja Wimeri
Finnish National Opera Chorus
Eric-Olof Söderström
Hymn of Thanksgiving to the Mother of God
Handel: As Pants the hart, HWV 251d
Chapel Royal Choir, Musicians Extra-ordinary
Andrew Gant
In the Voice of Praise and Thanksgiving
Excerpt, Grieg: Lyric Pieces VII (6), Op. 62
Copland: Old American Songs, Book 1
St. Charles Singers, Elgin Symphony Orchestra
Robert Hanson
IV. Simple Gifts (Arr. I. Fine for Chorus)
Tchaikovsky: Les Saisons, Op. 37b, XI. November
Takako Nishizaki
Queensland Symphony Orchestra
Peter Breiner
Troika (Arr. for Violin and Orchestra)
Khachaturian: Gayane Suite No. 2
St Petersburg State Symphony Orchestra
André Anichanov
Ives, C: Song for Harvest Season
Jennifer Casey Cabot, Frederick Teardo
Francine van der Heijden
Barockorchester Frankfurt
Joachim Carlos Martini
Air. Grateful Hearts Enjoy the Blessing
Corigliano, J: A Black November Turkey
Excerpt, Bernstein: Divertimento for Orchestra
Bournemouth Symphony Orchestra
Marin Alsop
V. Turkey Trot. Allegretto, ben misurato
Mayerl: Autumn Crocus (Arr. for Orchestra)
Slovak Radio Symphony Orchestra
Gary Carpenter
Vivaldi: The 4 Seasons, Violin Concerto in F Major, Op. 8 No. 3, RV 293 "Autumn"
Takako Nishizaki
Cappella Istropolitana
Stephen Gunzenhauser
Excerpt, Grieg: Album Leaves (4), Op. 28
No. 2, Allegretto espressivo
Alwyn: Swiss Family Robinson Suite
Royal Northern College of Music Wind Orchestra
Mark Heron
II. At Home (Arr. M. Ellerby for Wind Band)
Siegmeister: Sunday in Brooklyn
III. Family at Home (Arr. for Piano)
Royal Liverpool Philharmonic Orchestra
José Serebrier
Wagner: Tannhauser, Introduction to Act III
Slovak Philharmonic Orchestra
Michael Halász