UPDATE: Royal Mail have now resumed shipments on their TRACKED & SIGNED and SIGNED services but delays should be expected, please choose these services if available to you or FEDEX if your order is urgent.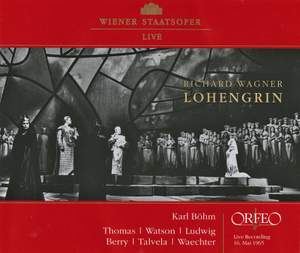 Offer

,

 Wagner: Lohengrin
Martti Talvela (King Henry), Jess Thomas (Lohengrin), Claire Watson (Elsa), Walter Berry (Telramund), Christa Ludwig (Ortrud), Eberhard Waechter (Herald), Kurt Equiluz, Fritz Sperlbauer, Herbert Lackner & Ljubomir Pantscheff
Chorus & Orchestra of the Vienna State Opera, Karl Böhm
Claire Watson excels her studio performances, singing Elsa with floods of pure tone that rarely falters...[Ludwig's] 'Entweihte Götter!' literally stops the show...Waechter makes a keen Herald,...

— More…
Gramophone Magazine

September 2013

Re-issue of the Month

Presto Favourites

Christa Ludwig - Our Top 10 Recordings
3 CDs
Original price
($33.25)
Reduced price
$26.50
Contents
Martti Talvela (bass), Eberhard Wächter (baritone), Kurt Equiluz (tenor), Fritz Sperlbauer (tenor), Herbert Lackner (bass), Ljubomir Pantscheff (bass), Walter Berry (bass-baritone), Claire Watson (soprano), Jess Thomas (tenor), Christa Ludwig (mezzo-soprano)
Wiener Staatsoper
Karl Böhm
Act I: Hort! Grafen, Edle, Freie von Brabant!
Act I: Dank, König, dir, dass du zu richten kamst!
Act I: Seht ihn! Sie naht, die hart Beklagte!
Act I: Einsam in truben Tagen hab' ich zu Gott gefleht
Act I: Gott allein soll jezt in dieser Sache noch entscheiden!
Act I: Des Ritters will ich wahren
Act I: Wer hier in Gotteskampfe zu streiten kam
Act I: Nun sei bedankt, mein lieber Schwan!
Act I: Heil, Konig Heinrich!
Act I: Nun hort! Euch, Volk und Edlen, mach' ich kund
Act I: Mein Herr und Gott, nun ruf ich dich
Act I: Durch Gottes Sieg ist jetzt dein Leben mein
Act II: Erhebe dich, Genossin meiner Schmach!
Act II: Du wilde Seherin! Wie willst du doch
Act II: Euch Luften, die mein Klagen
Act II: Elsa! ... Wer ruft?
Act II: Entweihte Gotter, helft jetzt meiner Rache!
Act II: Hier, zu deinen Fussen
Act II: In Fruh'n vesammelt unds der Ruf
Act II: Des Konigs Wort und Will' tu' ich euch kund
Act II: Nun hort, was er durch mich euch sagen lasst
Act II: Gesegnet soll sie schreiten
Act II: Zuruck, Elsa! Nicht langer will ich dulden
Act II: Heil! Heil dem Konig!
Act II: O Konig! Trugbetorte Fursten! Haltet ein!
Act II: Nicht dir, der so vergass der Ehren
Act II: Mein Held, entgegne kuhn dem Ungetreuen
Act II: Elsa, erhebe dich!
Act III: Treulich gefuhrt, ziehet dahin (Wedding March)
Act III: Das susse Lied verhallt; wir sind allein
Act III: Atmest du nicht mit mir die sussen Dufte?
Act III: Hochstes Vertrau'n hast du mir schon zu danken
Act III: Hilf Gott, was muss ich horen!
Act III: Weh, nun ist all undser gluck dahin!
Act III: Habt Dank, ihr Lieben von Brabant!
Act III: Mein Herr und Konig
Act III: In fernem Land, unnahbar eu'ren Schritten
Act III: Mein lieber Schwan!
Act III: Fahr' heim! Du stolzer Helde!