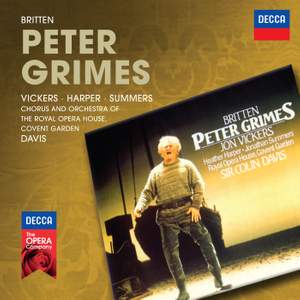 Britten: Peter Grimes
Jon Vickers (Grimes), Heather Harper (Ellen), Jonathan Summers (Balstrode), Elizabeth Bainbridge (Auntie), Forbes Robinson (Swallow), Patricia Payne (Mrs Sedley), Thomas Allen (Ned Keene), Richard Van Allan (Hobson)
Royal Opera House, Covent Garden, Sir Colin Davis
the cast is fine and the tension cumulative

— More…
Contents
Heather Harper (soprano), Richard van Allan (bass), Elizabeth Bainbridge (mezzo-soprano), Jon Vickers (tenor), Forbes Robinson (bass), Patricia Payne (mezzo-soprano), Thomas Allen (baritone), Anne Pashley (soprano), Jonathan Summers (baritone), John Dobson (tenor), John Lanigan (tenor), Teresa Cahill (soprano)
Royal Opera House Covent Garden, Chorus of the Royal Opera House, Covent Garden
Sir Colin Davis
Recorded: 1978-04-30
Recording Venue: All Saints' Church, Tooting, London
"Peter Grimes, I here advise you!"
"The truth...the pity..."
Interlude I: On the beach
"I have to go from pub to pub"
"And do you prefer the storm"
"What harbour shelters peace"
"Now the Great Bear and Pleiades"
"Old Joe has gone fishing"
Interlude III: Sunday morning by the beach
"Fool to let it come to this!"
"People!...No! I will speak!"
"We planned that their lives"
"Now is gossip put on trial"
Interlude IV: Passacaglia
"Peter Grimes! Nobody here?"
"Assign your prettiness to me"
"Embroidery in childhood"
"Who holds himself apart"
"Peter, we've come to take you home"
"To those who pass the Borough"