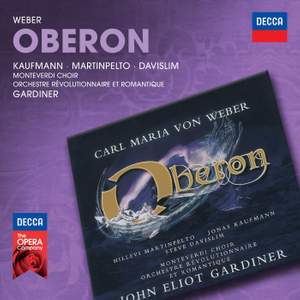 Weber: Oberon
Sung in English
Steve Davislim (Oberon), Frances Bourne (Puck), Hillevi Martinpelto (Reiza), Jonas Kaufmann (Huon), William Dazely (Sherasmin), Marina Comparato (Fatima), Katharine Fuge (First mermaid), Charlotte Mobbs (Second mermaid)
Orchestre Révolutionnaire et Romantique, Monteverdi Choir, Sir John Eliot...
It would be hard to overestimate the importance of this recording of Weber's final opera.

— More…
Contents
Weber: Oberon - English Text Version with Narration
Frances Bourne (Mezzo-Soprano), Roger Allam (Narrator), Charlotte Mobbs (Voice), Steve Davislim (Bass), Hillevi Martinpelto (Soprano), Jonas Kaufmann (Tenor), Marina Comparato (Mezzo-Soprano), Lindsay Wagstaff (Voice), William Dazeley (Bass), Mark Dobell (Voice), Katherine Fuge (Soprano), Charlotte Mobbs (Soprano)
Orchestre Révolutionnaire et Romantique, Monteverdi Choir
Sir John Eliot Gardiner
Recorded: 2002-03-15
Recording Venue: The Colosseum, Watford
Narration: In a garden full of beautiful flowers
Trio: Light as fairy foot can fall
Narration: Watching over Oberon, his sleeping master
Narration: Puck, searching high and low
Vision: O why art thou sleeping, Sir Huon the brave?
Narration: The vision is gone
Narration: Huon is sure that his vision...
Aria: From boyhood trained
Narration: So Knight and squire take ship from France
Finale: Haste, gallant knight
Narration: It is the wedding day...
Narration: Reiza whispers anxiously...
Melodrama and Narration: Summoned by the horn
Narration: While Huon and Reiza get ready to leave
Arriette: A Lonely Arab Maid
Narration: All is now set fair...
Quartet: Over the dark blue waters
Narration: But the lovers' troubles...
Solo & Choir: Spirits of air and earth and sea
Narration: On a barren island
Narration: Huon has lost the magic horn
Scene & Arie: Ocean thou mighty monster
Narration: What Reiza has seen...
Narration: Alas poor mortal
Narration: Oberon orders Puck
Finale: And hark, the mermaids...Oh is pleasant
Narration: Rescued by corsairs
Narration: Sherasimin is entranced
Narration: Puck has magicked...
Terzettino: And I must I then
Narration: But there is no response...
Cavatine: Mourn thou poor heart
Narration: Almanzor is bewitched
Narration: Suddenly the curtains part...
Chorus & Ballet: For thee hath beauty
Narration: Huon tries to break free
Almanzor is rooted to the spot...Finale: Hark what notes
Narration: Huon with true heroism