US Airmail Charges: As a knock-on effect of COVID-19 airfreight prices around the world have soared. Reluctantly, we have had to pass on some of this increase in our standard airmail prices. We'll bring them down again as soon as we can!
Born in Munich in 1969, Jonas Kaufmann is one of the most exciting singers of his generation: after spending several years singing lyric roles, he was engaged by the Zürich Opera in 2001, where his role debut as Florestan heralded a move into more dramatic repertoire and attracted widespread critical attention. Numerous important international engagements followed, including an acclaimed Don Jose at Covent Garden in 2006 (available on DVD from Decca). Equally successful in French, Italian and German repertoire, Kaufmann's versatility is showcased in 'Romantic Arias', his debut disc for Decca, which was nominated for a Gramophone Award in 2008. His disc of German operatic arias for the same label demonstrates his particular affinity for Beethoven, Weber and especially Wagner.
Further Reading:
Jonas Kaufmann
11th October 2019
The German tenor sings the praises of the Austrian capital in a sumptuously-performed collection of operetta favourites and popular songs with a sting in its tail.
11th January 2019
The German tenor, soprano and pianist have a ball with Wolf's 46 miniatures on love, loss and fickleness, recorded live in concert in Essen last year.
Recent Best Sellers:
Jonas Kaufmann
New Releases:
Jonas Kaufmann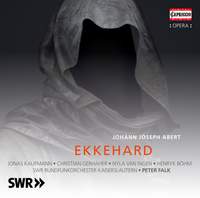 Future Releases:
Jonas Kaufmann