US deliveries: Unfortunately we are receiving reports that some US orders are taking longer than usual to arrive. Find out more >>
Latest update: Changes to international postage charges. Find out more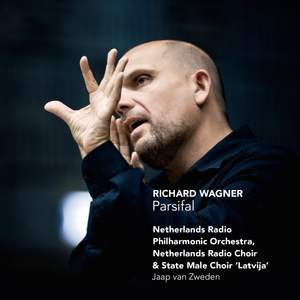 Wagner: Parsifal
Falk Struckmann (Amfortas), Klaus Florian Vogt (Parsifal), Ante Jerkunica (Titurel), Robert Holl (Gurnemanz), Krister St. Hill (Klingsor), Katarina Dalayman (Kundry), Brenden Gunnell (Erster Gralsritter), Thilo Dahlmann (Zweiter Gralsritter), Julia Westendorp (Erster Knappe), Cécile van de Sant (Zweiter...
This new recording of Wagner's last work is in most respects very fine...Perhaps the main glory here is the superb playing of the Netherlands Radio Philharmonic Orchestra. It responds to every...

— More…
4 SACDs + DVD Video
$52.75
Contents
Katarina Dalayman, Falk Struckmann, Klaus Florian Vogt
Netherlands Radio Philharmonic Orchestra, Netherlands Radio Choir, State Male Choir 'Latvija'
Jaap van Zweden
Recht so! - Habt Dank! - Ein wenig Rast
5:52
Nicht Dank! - Haha! Was wird es helfen?
7:56
O wunden-wundervoller heiliger Speer!
3:44
Titurel, der fromme Held, der kannt'ihn wohl
10:53
Weh! Weh!... Wer ist der Frevler?
7:02
Nun sag! Nichts weißt du, was ich dich frage
7:01
Vom Bade kehrt der König heim
2:04
Nun achte wohl und laß mich seh'n
7:09
Mein Sohn Amfortas, bist du am Amt?
11:00
Wein und Brot des letzten Mahles
11:15
Die Zeit ist da. - Schon lockt mein Zauberschloß den Toren
3:39
Hier war das Tosen! Hier, hier!
4:04
Komm, komm, holder Knabe!
4:58
Dies alles hab'ich nun geträumt?
8:45
Wehe! Wehe! Was tat ich? Wo war ich?
4:24
Amfortas! - Die Wunde! - Die Wunde!
8:27
Grausamer! Fühlst du im Herzen nur and'rer Schmerzen
12:10
Von dorther kam das Stöhnen
7:55
Heil mir, daß ich dich wiederfinde!
4:20
Nicht so! - Die heil'ge Quelle selbst erquicke unsres Pilgers Bad
4:00
Gesegnet sei, du Reiner, durch das Reine!...
4:59
Wie dünkt mich doch die Aue heut so schön!
2:45
Du siehst, das ist nicht so
6:36
Mittag. - Die Stund' ist da
4:16
Geleiten wir im bergenden Schrein den Gral zum heiligen Amte
4:02
Ja, Wehe! Wehe! Weh'über mich!
6:51