US Airmail Charges: As a knock-on effect of COVID-19 airfreight prices around the world have soared. Reluctantly, we have had to pass on some of this increase in our standard airmail prices. We'll bring them down again as soon as we can!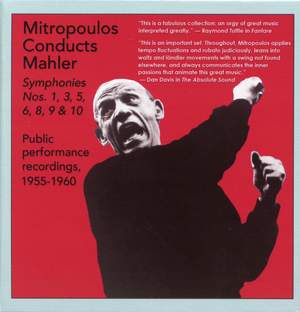 Offer

,

 Mitropoulos conducts Mahler
Beatrice Krebs (contralto), Mimi Coertse, Hilde Zadek (sopranos), Lucretia West, Ira Malaniuk (contraltos), Giuseppe Zampieri (tenor), Hermann Prey (baritone), Otto Edelmann (bass)
Philharmonic Symphony Orchestra, WDR Symphony Orchestra, Wiener Philharmoniker, Wiener Sängerknaben, Wiener Staatsopernchor,...
The playing has a lacerating intensity...in rhythmic incisiveness and clarity of texture, in fluidity of tempo, in naked emotional power, he is an ideal Mahler conductor.

—
Contents
Mahler: Symphony No. 1 in D major 'Titan'
51:24
Philharmonic Symphony Orchestra
Dimitri Mitropoulos
Recorded: 09 January 1960
Recording Venue: Carnegie Hall
III. Feierlich und gemessen, ohne zu schleppen
10:42
Mahler: Symphony No. 10 in F sharp minor - Adagio
25:36
Philharmonic Symphony Orchestra
Dimitri Mitropoulos
Recorded: 17 January 1960
Symphony No. 10 in F sharp minor
25:36
Beatrice Krebs (mezzo-soprano)
Philharmonic Symphony Orchestra
Dimitri Mitropoulos
Recorded: 17 January 1960
II. Tempo di menuetto. Sehr massig
7:39
III. Comodo. Scherzando. Ohne Hast
13:35
IV. Sehr langsam. Misterioso
8:56
V. Lustig im Tempo und keck im Ausdruck
4:31
VI. Langsam. Ruhevoll. Empfunden
18:10
Philharmonic Symphony Orchestra
Dimitri Mitropoulos
Recorded: 02 January 1960
Recording Venue: Carnegie Hall
I. Trauermarsch - In gemessenem Schritt - Streng - Wie ein Kondukt
12:53
II. Sturmisch bewegt, mit grosster Vehemenz
13:44
III. Scherzo - Kraftig, nich zu schnell
16:02
IV. Adagietto - Sehr langsam
11:07
Mahler: Symphony No. 6 in A minor 'Tragic'
1:14:34
Cologne West German Radio Orchestra
Dimitri Mitropoulos
Recorded: 31 August 1959
I. Allegro energico, ma non troppo
18:44
Mahler: Symphony No. 8 in E flat major 'Symphony of a Thousand'
1:19:46
Otto Edelmann (bass), Ira Malaniuk (contralto), Hermann Prey (baritone), Mimi Coertse (soprano), Giuseppe Zampieri (tenor), Hilde Zadek (soprano), Lucretia West (contralto)
Vienna State Opera Chorus, Wiener Singverein, Wiener Philharmoniker
Dimitri Mitropoulos
Recorded: 28 August 1960
Recording Venue: Salzburg Festival
Part I, Veni, creator spiritus
23:53
Part II, Final Scene from Faust
55:53
Philharmonic Symphony Orchestra
Dimitri Mitropoulos
Recorded: 23 January 1960
Recording Venue: Carnegie Hall
II. Im Tempo eines gemachlichen Landlers - Etwas tappisch und sehr derb
13:41