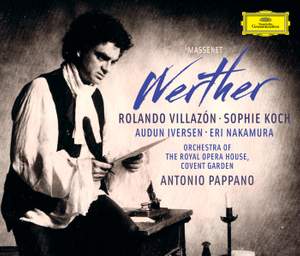 Offer

,

 Massenet: Werther
Rolando Villazon (Werther), Sophie Koch (Charlotte), Audun Iversen (Albert), Eri Nakamura (Sophie), Alain Vernhes (Le Bailli), Stuart Patterson (Schmidt), Darren Jeffrey (Johann), Anna Devin (Käthchen), Zhengzhong Zhou (Brühlmann)
Chorus and Orchestra of the Royal Opera House, Covent Garden,...
[Villazon] successfully negotiates the exposed or awkward passages. In the bigger singing of the third act...there's a touch of the old, devil-may-care Villazon...Even better is [Koch's Charlotte]...But...

— More…
Presto Recording of the Week

12th March 2012

Opera

July 2012

Recording of the Month
Contents
Darren Jeffery (bass-baritone), Rolando Villazón (tenor), Audun Iversen (baritone), Alain Vernhes (baritone), Stuart Patterson (tenor), Zhengzhong Zhou (tenor), Jack Sullivan (soprano), Anna Devin (soprano), Valerie Zakharov (soprano), Pierce Adams (soprano), Kitty Woods (soprano), Harry Oakes (soprano), Nico Taylor (soprano), Sophie Koch (mezzo-soprano), Eri Nakamura (soprano)
Royal Opera House Covent Garden
Antonio Pappano
Recorded: 2011-05
Recording Venue: Royal Opera House, Covent Garden
Assez! Assez! M'écoutera-t-on cette fois?
"Bravo pour les enfants!"
Alors, c'est bien ici la maison du Bailli? ... Je ne sais si je veille
Jésus vient de naître! / Chers enfants!
"Arrivez donc, Brühlmann!"
Sophie! / Albert! Toi de retour"
"Elle m'aime...elle pense à moi" - Quelle prière de reconnaissance et d'amour"
Mais, vou ne savez rien de moi.
Charlotte, Albert est de retour
Prélude - "Vivat Bacchus! Semper vivat!"
"Trois mois! Voici trois mois que nous sommes unis!"
"Un autre est son époux!"
"J'aurais sur ma poitrine"
Au bonheur dont mon âme est pleine ... Vous avez dit, mon âme est loyale et sincère
Frère! Voyez! Voyez le beau bouquet! ... Heureux! pourais-je l'être encore?
Ai-je dit vrai? L'amour que j'ai pour elle ... Ah! qu'il est loin, ce jour plein d'intime douceur
"N'est-il donc pas d'autre femme ici-bas"
Oui, ce qu'elle m'ordonne...Lorsque l'enfant revient d'un voyage avant l'heure
"Mais venez donc! Le cortège s'approche"
"Werther! Werther...qui m'aurait dit la place"
Des cris joyeux d'enfants
Va! Laisse couler mes larmes
Tiens, Charlotte, crois-moi, ne reste pas ici
"Ah! mon courage m'abandonne!"
Oui, c'est moi! Je reviens!
Toute mon âme est là! Pourquoi me réveiller, ô souffle de printemps
"Ah! Moi! Moi! Dans ses bras!"
A cette heure suprême, je suis heureux!
Noël! Noël! ... Dieu! Ces cris joyeux!
Ah! ses yeux se ferment! ... Non Charlotte je meurs