US Airmail Charges: As a knock-on effect of COVID-19 airfreight prices around the world have soared. Reluctantly, we have had to pass on some of this increase in our standard airmail prices. We'll bring them down again as soon as we can!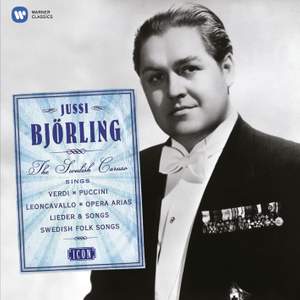 Offer

,

 Jussi Björling: The Swedish Caruso
Jussi Bjorling (tenor), Hjödis Schymberg (Mimi), Victoria de los Angeles (Nedda), Leonard Warren (Tonio), Paul Franke (Beppe), Robert Merrill (Silvio), Victoria de los Angeles (Mimi), Lucine Amara (Musetta), Robert Merrill (Marcello), John Reardon (Schaunard), Giorgio Tozzi (Colline), Victoria de...
Contents
Verdi: Aida (1997 Digital Remaster): Se quel guerrier....Celeste Aida
4:24
Jussi Björling (tenor), Orchestra
Unidentified Orchestra
Nils Grevillius
Recorded: 1936-12-31
Recording Venue: 1 or 3 December 1936 / Small Auditorium, Concert Hall, Stockholm
Verdi: La donna è mobile (from Rigoletto)
2:11
Jussi Björling (tenor)
Orchestra
Nils Grevillius
Recorded: 1936-12-03
Recording Venue: 3 December 1936 / Small Auditorium, Concert Hall, Stockholm
Puccini: Che gelida manina (from La Bohème)
4:16
Jussi Björling (vocals)
Orchestra
Nils Grevillius
Recorded: 1939-12-03
Recording Venue: 1 or 3 December 1939, Small Auditorium, Concert Hall, Stockholm
Puccini: Tosca (1997 Digital Remaster)
5:38
Jussi Björling (vocals)
Orchestra
Nils Grevillius
Recorded: 1936-12-03
Recording Venue: 4 December 1936 & 3 September 1937, Small Auditorium, Concert Hall, Stockholm
Recondita armonia (Act 1)
2:47
E lucevan le stelle (Act 3)
2:51
Puccini: La Fanciulla del West (1997 Digital Remaster): Ch'ella mi creda libero
2:24
Jussi Björling (vocals)
Orchestra
Nils Grevillius
Recorded: 1937-09-03
Recording Venue: 3 December 1937, Small Auditorium, Concert Hall, Stockholm
Ponchielli: Cielo e mar! (from La Gioconda)
4:11
Jussi Björling (vocals)
Orchestra
Nils Grevillius
Recorded: 1937-09-03
Recording Venue: 3 November 1937, Small Auditorium of the Concert Hall, Stockholm
Meyerbeer: L'Africaine (1997 Digital Remaster): Mi batte il cor....O Paradis
3:12
Jussi Björling (vocals)
Orchestra
Nils Grevillius
Recorded: 1937-09-04
Recording Venue: 4 September 1937, Small Audirorium, Concert Hall, Stockholm
Jussi Björling/Royal Opera Orchestra, Stockholm/Nils Grevillius, Jussi Björling (tenor)
Royal Swedish Orchestra
Nils Grevillius
Recorded: 1937-09-05
Recording Venue: 5 September 1937 / Small Auditorium, Concert Hall, Stockholm
Jussi Björling (tenor)
Orchestra
Nils Grevillius
Recorded: 1937-09-05
Recording Venue: 5 December 1937 / Small Auditorium, Concert Hall, Stockholm
Friml: The Vagabond King (1997 Digital Remaster): Only a Rose
2:52
Jussi Björling (tenor), Orchestra
Unidentified Orchestra
Nils Grevillius
Recorded: 1937-09-05
Recording Venue: 5 December 1937 / Small Auditorium, Concert Hall, Stockholm
Jussi Björling (tenor), Orchestra
Unidentified Orchestra
Nils Grevillius
Recorded: 1937-09-03
Recording Venue: 3 December 1937 / Small Auditorium, Concert Hall, Stockholm
Massenet: Instant charmant … En fermant les yeux (from Manon)
3:42
Jussi Björling (vocals)
Orchestra
Nils Grevillius
Recorded: 1938-08-10
Recording Venue: 10 August 1938, Small Auditorium of the Concert Hall, Stockholm
Bizet: Carmen: La fleur que tu m'avais jetée (Act II)
3:51
Jussi Björling (vocals)
Orchestra
Nils Grevillius
Recorded: 1938-08-10
Recording Venue: 10 August 1938, Small Auditorium of the Concert Hall, Stockholm
Gounod: Faust: Salut! demeure chaste et pure (Act III)
4:38
Jussi Björling (vocals)
Orchestra
Nils Grevillius
Recorded: 1939-07-14
Recording Venue: 14 July 1939, Small Auditorium of the Concert Hall, Stockholm
Flotow: Martha (1997 Digital Remaster): M'appari tutt'amor
3:22
Jussi Björling (vocals)
Orchestra
Nils Grevillius
Recorded: 1939-07-14
Recording Venue: 14 July 1939, Small Auditorium, Concert Hall, Stockholm
Rossini: Stabat mater (1997 Digital Remaster): Cujus animam gementem
4:12
Jussi Björling (tenor), Orchestra
Unidentified Orchestra
Nils Grevillius
Recorded: 1938-10-12
Recording Venue: 12 October 1938 / Small Auditorium, Concert Hall, Stockholm
Verdi: Messa da Requiem (1997 Digital Remaster): Ingemisco
4:06
Orchestra, Jussi Björling (tenor)
Unidentified Orchestra
Nils Grevillius
Recorded: 1938-10-12
Recording Venue: 12 October 1938 / Small Auditorium, Concert Hall, Stockholm
Verdi: Il Trovatore (1997 Digital Remaster)
9:50
Jussi Björling (tenor), Orchestra
Unidentified Orchestra
Nils Grevillius
Recorded: 1938-10-12
Recording Venue: 12 October 1938 / Small Auditorium, Concert Hall, Stockholm
Ah! sì, ben mio, coll'essere
3:17
Ah! sì, ben mio, coll'essere
3:16
Verdi: Rigoletto (1997 Digital Remaster): Questa o quella
2:09
Jussi Björling (vocals)
Orchestra
Nils Grevillius
Recorded: 1941-06-16
Recording Venue: 16 June 1941/Small Auditorium, Concert Hall, Stockholm
Puccini: O soave fanciulla (from La Bohème)
4:06
Jussi Björling (vocals), Hjordis Schymberg (soprano)
Orchestra
Nils Grevillius
Recorded: 1941-06-17
Recording Venue: 17 June 1941, Small Auditorium, Concert Hall, Stockholm
Verdi: Rigoletto (1997 Digital Remaster)
5:30
Jussi Björling (tenor), Hjordis Schymberg (soprano)
Orchestra
Nils Grevillius
Recorded: 1941-03-17
Recording Venue: 17 June 1941, Small Auditorium, Concert Hall, Stockholm
Verdi: Un ballo in maschera: Di tu se fedele (Act I)
3:11
Jussi Björling (vocals)
Orchestra
Nils Grevillius
Recorded: 1944-03-30
Recording Venue: 27-30 March 1944 / Small Auditorium , Concert Hall, Stockholm
Puccini: Nessun dorma (from Turandot)
3:21
Jussi Björling (vocals)
Orchestra
Nils Grevillius
Recorded: 1944-03-30
Recording Venue: 27-30 March 1944, Small Auditorium of the Concert Hall, Stockholm
Giordano, U: Come un bel dì di maggio (from Andrea Chénier)
3:15
Jussi Björling (tenor), Orchestra
Unidentified Orchestra
Nils Grevillius
Recorded: 1944-03-30
Recording Venue: 27-30 March 1944 / Small Auditorium, Concert Hall, Stockholm
Giordano, U: Fedora: Amor ti vieta (Act II)
2:00
Jussi Björling (vocals)
Orchestra
Nils Grevillius
Recorded: 1944-03-30
Recording Venue: 27-30 March 1944/Small Auditorium, Concert Hall, Stockholm
Mascagni: Cavalleria Rusticana (1997 Digital Remaster): Mamma, quel vino è generoso
3:50
Jussi Björling (tenor), Orchestra
Unidentified Orchestra
Nils Grevillius
Recorded: 1944-10-30
Recording Venue: 27-30 March 1944 / Small Auditorium, Concert Hall, Stockholm
Leoncavallo: I Pagliacci (1997 Digital Remaster): Recitar!....Vesti la giubba
3:39
Jussi Björling (vocals)
Orchestra
Nils Grevillius
Recorded: 1944-03-30
Recording Venue: 27-30 March 1944/Small Auditorium, Concert Hall, Stockholm
Leoncavallo: Mattinata - 'L'aurora di bianco vestita'
2:17
Jussi Björling (tenor)
Orchestra
Nils Grevillius
Recorded: 1944-03-30
Recording Venue: 27-30 March 1944 / Small Auditorium, Concert Hall, Stockholm
Donizetti: Una furtiva lagrima (from L'elisir d'amore)
4:09
Jussi Björling (tenor)
Royal Swedish Orchestra
Nils Grevillius
Recorded: 1945-09-06
Recording Venue: 6 September 1945/Small Auditorium, Concert Hall, Stockholm
Bizet: Les Pêcheurs de Perles (1997 Digital Remaster): Je crois entendre encore
3:37
Jussi Björling/Royal Opera Orchestra, Stockholm/Nils Grevillius, Jussi Björling (tenor)
Royal Swedish Orchestra
Nils Grevillius
Recorded: 1945-09-07
Recording Venue: 7 September 1945 / Small Auditorium, Concert Hall, Stockholm
Gounod: Roméo et Juliette (1997 Digital Remaster): Ah! lève-toi, soleil
3:20
Jussi Björling/Nils Grevillius/Royal Opera Orchestra, Stockholm, Jussi Björling (vocals), Royal Stockholm Opera (performed by)
Nils Grevillius
Recorded: 1945-09-06
Recording Venue: 6 September 1945, Small Auditorium, Concert Hall, Stockholm
Massenet: Ah! fuyez douce image (from Manon)
4:30
Jussi Björling/Nils Grevillius/Royal Opera Orchestra, Stockholm, Jussi Björling (vocals), Royal Stockholm Opera (performed by)
Nils Grevillius
Recorded: 1945-09-06
Recording Venue: 6 September 1945/Small Auditorium of the Concert Hall, Stockholm
Cilea: L'Arlesiana (1997 Digital Remaster): E la solita storia
4:01
Jussi Björling (tenor)
Stockholm Concert Society Orchestra
Nils Grevillius
Recorded: 1947-11-21
Recording Venue: 27 November 1947 / Small Auditorium, Concert Hall, Stockholm
Mascagni: Cavalleria Rusticana (1997 Digital Remaster): O Lola (Siciliana)
2:33
Jussi Björling/Nils Grevillius/Royal Opera Orchestra, Stockholm, Jussi Björling (vocals), Royal Stockholm Opera (performed by)
Nils Grevillius
Recorded: 1948-09-15
Recording Venue: 15 September 1948/Small Auditorium, Concert Hall, Stockholm
Puccini: Manon Lescaut (1997 Digital Remaster): Donna non vidi mai
2:24
Jussi Björling/Royal Opera Orchestra, Stockholm/Nils Grevillius, Jussi Björling (tenor)
Royal Swedish Orchestra
Nils Grevillius
Recorded: 1948-09-15
Recording Venue: 15 September 1948 / Small Auditorium, Concert Hall, Stockholm
Puccini: Tosca (1997 Digital Remaster)
5:58
Jussi Björling/Swedish Radio Orchestra/Nils Grevillius, Jussi Björling (tenor)
Swedish Radio Symphony Orchestra
Nils Grevillius
Recorded: 1950-09-12
Recording Venue: 12 September 1950 / Royal Academy of Music, Stockholm
Puccini: O soave fanciulla (from La Bohème)
3:37
Jussi Björling (vocals), Anna-Lisa Björling (soprano), Stockholm Concert Society Orchestra (lead vocals)
Nils Grevillius
Recorded: 1949-08-10
Recording Venue: 10 August 1949/Small Auditorium, Concert Hall, Stockholm
Gounod: Roméo et Juliette (1997 Digital Remaster): Ange adorable
4:25
Anna-Lisa Björling/Jussi Björling/Stockholm Concert Association Orchestra/Nils Grevillius, Jussi Björling (tenor)
Stockholm Concert Society Orchestra
Nils Grevillius
Recorded: 1949-08-10
Recording Venue: 10 August 1949 / Small Auditorium, Concert Hall, Stockholm
Godard, B: Jocelyn Op. 109 (1997 Digital Remaster): Berceuse: Concealed in this Retreat
2:53
Stockholm Concert Association Orchestra (lead vocals), Jussi Björling (vocals)
Nils Grevillius
Recorded: 1949-08-11
Recording Venue: 11 August 1949/Small Auditorium, Concert Hall, Stockholm
Tosti: L'alba separa dalla luce l'ombra
2:22
Stockholm Concert Association Orchestra (lead vocals), Jussi Björling (vocals)
Nils Grevillius
Recorded: 1949-08-11
Recording Venue: 11 August 1949/Small Auditorium, Concert Hall, Stockholm
Anita Halldén, Henry Geehl, P J O'Reilly: För Dig Allen' (For You Alone)
2:13
Jussi Björling (tenor), Henry Geehl (music)
Nils Grevillius
Recorded: 1929-01-01
Leoncavallo: Mattinata - 'L'aurora di bianco vestita'
2:12
Jussi Björling (tenor)
Nils Grevillius
Recorded: 1929-01-01
Gounod: Roméo et Juliette (1997 Digital Remaster): Höj dig, du klara sol (Ah! lève-toi soleil!)
3:12
Jussi Björling (vocals)
Orchestra
Nils Grevillius
Recorded: 1930-09-29
Recording Venue: 29 September 1930/Stockholm
Verdi: Rigoletto (1997 Digital Remaster): O, I kvinnor (Questa o quella)
1:51
Jussi Björling (vocals)
Orchestra
Nils Grevillius
Recorded: 1930-09-29
Recording Venue: 29 September 1930/Stockholm
Laparra: L'illustre Fregona (1997 Digital Remaster): Fylld av vemod sänker sig natten (Mélancolique tombe le soir)
3:20
Jussi Björling (vocals)
Orchestra
Nils Grevillius
Recorded: 1933-03-01
Recording Venue: March 1933/Stockholm
Borodin: Prince Igor (1997 Digital Remaster): Dagen gick långsamt till ro (Vladimir's Cavatina)
3:12
Jussi Björling (vocals)
Orchestra
Nils Grevillius
Recorded: 1933-03-21
Recording Venue: 21 March 1933/Concert Hall, Stockholm
Puccini: Tosca (1997 Digital Remaster)
5:15
Jussi Björling (vocals)
Orchestra
Nils Grevillius
Recorded: 1933-11-13
Recording Venue: 13 November 1933/Small Auditorium, Conert Hall, Stockholm
Det sköna står att finna (Recondita armonia - Act I)
2:41
Jag minns stjärnorna lyste (E lucevan le stelle - Act III)
2:34
Verdi: La donna è mobile (from Rigoletto)
2:06
Jussi Björling (vocals)
Orchestra
Nils Grevillius
Recorded: 1933-12-20
Recording Venue: 20 December 1933/Small Auditorium, Concert Hall, Stockholm
Verdi: Il Trovatore (1997 Digital Remaster): Skyhögt mot himlen (Di quella pira)
1:37
Jussi Björling (vocals)
Orchestra
Nils Grevillius
Recorded: 1934-03-03
Recording Venue: 3 March 1934/Small Auditorium, Concert Hall, Stockholm
Leoncavallo: I Pagliacci (1997 Digital Remaster): Spela komedi! ... Pudra ditt anlet (Recitar! ... Vesti la giubba)
2:47
Jussi Björling (vocals)
Orchestra
Nils Grevillius
Recorded: 1933-12-20
Recording Venue: 20 December 1933/Stockholm
Mascagni: Cavalleria Rusticana (1997 Digital Remaster): O Lola (sung in Swedish)
2:24
Jussi Björling (vocals)
Orchestra
Nils Grevillius
Recorded: 1934-03-03
Recording Venue: 3 March 1934/Stockholm
Puccini: La fanciulla del West (1997 Digital Remaster): Lät henne tro (Ch'ella mi creda libero)
2:28
Jussi Björling (vocals)
Orchestra
Nils Grevillius
Recorded: 1935-03-04
Recording Venue: 4 March 1935/Concert Hall, Stockholm
Atterberg: Fanal (1997 Digital Remaster): I männer över lag och rätt
3:01
Jussi Björling (vocals)
Orchestra
Nils Grevillius
Recorded: 1935-03-04
Recording Venue: 4 March 1935/Concert Hall, Stockholm
Rangström: Sadko (1997 Digital Remaster): I söderns hav (Song of the Indian Guest)
3:09
Jussi Björling (vocals)
Orchestra
Nils Grevillius
Recorded: 1936-10-08
Recording Venue: 8 October 1936/Concert Hall, Stockholm
Offenbach: La belle Hélène: uti en skog pa berget Ida (Au mont Ida trois déesses) (Act I)
3:22
Jussi Björling (vocals)
Orchestra
Nils Grevillius
Recorded: 1938-05-31
Recording Venue: 31 May 1938/Small Auditorium, Concert Hall, Stockholm
Strauss, J, II: Der Zigeunerbaron (1997 Digital Remaster): Vem har oss vigt? (Wer uns getraut)
3:08
Jussi Björling (vocals), Hjordis Schymberg (soprano)
Orchestra
Nils Grevillius
Recorded: 1938-05-30
Recording Venue: 30 May 1938/Small Auditorium, Concert Hall, Stockholm
Millöcker: Der Bettelstudent (1938 Digital Remaster): Skall jag tala ... Antag det fall (Soll ich reden ... Ich setz' den Fall)
3:16
Jussi Björling (vocals), Hjordis Schymberg (soprano)
Orchestra
Nils Grevillius
Recorded: 1938-05-31
Recording Venue: 31 May 1938/Small Auditorium, Concert Hall, Stockholm
Millöcker: Der Bettelstudent: Nu är jag pank och fågelfri (Ich hab' kein Geld) (Act III)
1:40
Jussi Björling (vocals)
Orchestra
Nils Grevillius
Recorded: 1938-05-31
Recording Venue: 31 May 1938/Small Auditorium, Concert Hall, Stockholm
Peterson-Berger: Når jag för mig sjålv i mörka skogen går Op. 5 No. 1
2:12
Jussi Björling (vocals)
Orchestra
Nils Grevillius
Recorded: 1930-09-29
Recording Venue: 29 September 1930/Smal Auditorium, Concert Hall, Stockholm
Peterson-Berger: Bland skogens höga furustammar Op. 5 No. 4
2:44
Jussi Björling (vocals)
Orchestra
Nils Grevillius
Recorded: 1930-09-29
Recording Venue: 29 September 1930/Small Auditorium, Concert Hall, Stockholm
trad.: Ack, Värmeland, du sköna
3:14
Jussi Björling (vocals)
Orchestra
Nils Grevillius
Recorded: 1936-10-07
Recording Venue: 7 October 1937/Concert Hall, Stockholm
trad.: Allt Under Himmelens Fäste
3:11
Jussi Björling (vocals)
Orchestra
Nils Grevillius
Recorded: 1936-10-07
Recording Venue: 7 October 1937/Concert Hall, Stockholm
Sjöberg: Tonerna (text: Erik Gustaf Geijer)
3:12
Jussi Björling (vocals)
Orchestra
Nils Grevillius
Recorded: 1936-10-07
Recording Venue: 7 October 1936/Concert Hall, Stockholm
Jussi Björling (vocals)
Orchestra
Nils Grevillius
Recorded: 1936-10-08
Recording Venue: 8 November 1936/Small Auditorium, Stockholm
Stenhammar: Sverige (Sweden)
2:48
Jussi Björling (vocals)
Orchestra
Nils Grevillius
Recorded: 1937-01-26
Recording Venue: 26 January 1937/Concert Hall, Stockholm
Jussi Björling (tenor)
Orchestra
Nils Grevillius
Recorded: 1937-01-26
Recording Venue: Stockholm
Eric Wide: Nämmer du Sverige
3:08
Jussi Björling (vocals)
Orchestra
Nils Grevillius
Recorded: 1938-05-30
Recording Venue: 30 May 1938/Small Auditorium, Concert Hall, Stockholm
Beethoven: Adelaide, Op. 46
6:50
Harry Ebert (piano), Jussi Björling (tenor)
Recorded: 1939-07-15
Recording Venue: 15 July 1939 / Small Auditorium, Concert Hall, Stockholm
 Excerpt,  Strauss, R: Vier Lieder Op. 27
5:20
Harry Ebert (piano), Jussi Björling (tenor)
Recorded: 1939-07-15
Recording Venue: 15 July 1939 / Small Auditorium, Concert Hall, Stockholm
Nordqvist: Bön i ofredstid
2:44
Jussi Björling (vocals)
Orchestra
Sune Waldimirs, Sune Waldimir
Recorded: 1944-04-05
Recording Venue: 5 April 1944/Small Auditorium, Concert Hall, Stockholm
Nordqvist: Bisp Thomas' frihetssång
2:06
Jussi Björling (vocals)
Orchestra
Sune Waldimirs, Sune Waldimir
Recorded: 1944-04-05
Recording Venue: 5 April 1944/Small Auditorium, Concert Hall, Stockholm
Rachmaninov: 6 Songs, Op.4 (1997 - Remaster): In the Silence of the Night
2:58
Jussi Björling/Stockholm Concert Association Orchestra/Nils Grevillius, Jussi Björling (tenor)
Stockholm Concert Society Orchestra
Nils Grevillius
Recorded: 1947-11-27
Recording Venue: 27 November 1947 / Small Auditorium, Concert Hall, Stockholm
Rachmaninov: 12 Songs, Op.21 (1997 - Remaster): Lilacs (Beketova)
2:13
Jussi Björling (tenor)
Stockholm Concert Society Orchestra
Nils Grevillius
Recorded: 1947-11-27
Recording Venue: 27 November 1947 / Small Auditorium, Concert Hall, Stockholm
Foster, S: Jeanie With the Light Brown Hair
3:14
Jussi Björling (vocals), Kungliga Hovkapellet (lead vocals), Kungliga Hovkapellet Orkester, Stockholm (performed by)
Nils Grevillius
Recorded: 1947-11-27
Recording Venue: 7 September 1948/Small Auditorium, Concert Hall, Stockholm
Jussi Björling (tenor)
Royal Swedish Orchestra
Nils Grevillius
Recorded: 1948-09-07
Recording Venue: 7 September 1948 / Small Auditorium, Concert Hall, Stockholm
Jussi Björling (vocals), Ivor Newton (lead vocals)
Recorded: 1952-11-21
Recording Venue: 21 November 1952/No. 3 Studio, Abbey Road, London
Campbell-Tipton: A Spirit Flower
3:40
Jussi Björling (vocals), Ivor Newton (lead vocals)
Recorded: 1952-11-21
Recording Venue: 21 November 1952/No. 3 Studio, Abbey Road, London
Beach, A: Ah, Love, but a Day
3:17
Jussi Björling (vocals), Ivor Newton (lead vocals)
Recorded: 1952-11-21
Recording Venue: 21 November 1952/No. 3 Studio, Abbey Road, London
Sjöberg: I Bless Ev'ry Hour (Tonerna)
3:07
Jussi Björling (vocals), Ivor Newton (lead vocals)
Recorded: 1952-11-21
Recording Venue: 21 November 1952/No. 3 Studio, Abbey Road, London
Nordqvist: Till havs (Towards the Sea)
2:14
Jussi Björling (vocals)
Orchestra
Bertil Bokstedt
Recorded: 1953-09-30
Recording Venue: 30 September 1953/Royal Academy of Music, Stockholm
Jussi Björling (vocals)
Orchestra
Bertil Bokstedt
Recorded: 1953-09-30
Recording Venue: 30 September 1953/Royal Academy of Music, Stockholm
Salén: Visa kring slånblom och månskära
2:48
Jussi Björling (vocals)
Orchestra
Bertil Bokstedt
Recorded: 1953-09-30
Recording Venue: 30 September 1953/Royal Academy of Music, Stockholm
Peterson-Berger: Jungfrau under lind Op. 10 No. 1
2:45
Jussi Björling (vocals)
Orchestra
Bertil Bokstedt
Recorded: 1953-09-30
Recording Venue: 30 September 1953/Royal Academy of Music, Stockholm
Söderman: Kung Heimer och Aslög
7:16
Jussi Björling (vocals), Kungliga Hovkapellet (lead vocals), Kungliga Hovkapellet Orkester, Stockholm (performed by)
Nils Grevillius
Recorded: 1957-01-22
Recording Venue: 22 February 1957/Large Auditorium, Concert Hall, Stockholm
Jussi Björling (vocals), Kungliga Hovkapellet (lead vocals), Kungliga Hovkapellet Orkester, Stockholm (performed by)
Nils Grevillius
Recorded: 1959-02-08
Recording Venue: 8 February 1959/Large Auditorium, Concert Hall, Stockholm
Alfvén: Saa tag mit Hjerte (Text: Tove Ditlevsen)
3:52
Jussi Björling (vocals), Kungliga Hovkapellet (lead vocals), Kungliga Hovkapellet Orkester, Stockholm (performed by)
Nils Grevillius
Recorded: 1959-02-08
Recording Venue: 8 February 1959/Large Auditorium, Concert Hall, Stockholm
Sibelius: Demanten på marssnön, Op. 36 No. 6 (Wecksell)
3:31
Jussi Björling (vocals), Kungliga Hovkapellet (lead vocals), Kungliga Hovkapellet Orkester, Stockholm (performed by)
Nils Grevillius
Recorded: 1959-02-08
Recording Venue: 8 February 1959/Large Auditorium, Concert Hall, Stockholm
Jussi Björling (tenor)
Unidentified Orchestra
Nils Grevillius
Recorded: 1959-02-08
Recording Venue: 8 February 1959 / Large Auditorium, Concert Hall, Stockholm
 Excerpt,  Leoncavallo: Pagliacci
17:29
Paul Frankeur (vocals), Robert Shaw (director), Leonard Warren (vocals), Herbert Huffmann (director), Paul Franke (tenor), Victoria de los Angeles (soprano), Columbus Boychoir (performed by), The Columbus Boychoir (lead vocals), Robert Merrill (lead vocals), Robert Shaw Chorale (lead vocals), Jussi Björling (vocals)
RCA Victor Orchestra
Renato Cellini
Recorded: 1953-01-29
Recording Venue: 10/11/15/19/29 January 1953, RCA Victor Studio, Manhattan Center, New York City RCA Victor Studio, New York City
Mi accordan di parlar?...Un grande spettacolo...Un tal gioco
5:19
Recitar!...Vesti la giubba
3:55
A stanotte...Coraggio!...No, Pagliaccio non son
8:15
 Excerpt,  Puccini: La Bohème
34:08
John Reardon (bass-baritone), Victoria de los Angeles (soprano), Giorgio Tozzi (bass), Jussi Björling (vocals), Robert Merrill (bass-baritone), Lucine Amara (soprano)
RCA Victor Orchestra
Sir Thomas Beecham
Recorded: 1956-04-06
Recording Venue: 16,17,30 March & 1-3,5,6 April 1956/Manhattan Center, New York
Non sono in vena...Che gelida manina (Act I)
9:35
Ehi! Rodolfo...O soave fanciulla (Act I)
4:59
Marcello, finalmente...Donde lieta usci...Dunque è proprio finita (Act III)
15:06
In un coupè?...O Mimi, tu più non torni (Act IV)
4:28
 Excerpt,  Puccini: Madama Butterfly
15:21
Victoria de los Angeles/Jussi Björling/Miriam Pirazzini/Gabriele Santini/Coro e Orchestra del Teatro dell'Opera, Roma, Jussi Björling (tenor), Piero de Palma (tenor), Mario Sereni (baritone), Victoria de los Angeles (soprano), Miriam Pirazzini (mezzo-soprano)
Coro Del Teatro Dell'Opera Di Roma, Teatro dell'Opera, Roma
Gabriele Santini
Recorded: 1959-10-03
Recording Venue: 23 Sept to 3 Oct 1959, Opera House, Rome
Dovunque al mondo...Amore o grillo (Act I)
7:36
Viene la sera...Bimba dagli occhi (Act I)
7:45