UPDATE: Royal Mail have now resumed shipments on ALL International services but delays should be expected, please choose FEDEX if your order is urgent.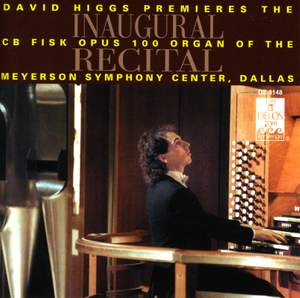 Inaugural Recital - Fisk Organ, Dallas
David Higgs premieres the C.B. Fisk Organ of the Meyerson Symphony Center, Dallas
David Higgs (C B Fisk organ Opus 100)
Contents
Bach, J S: Toccata & Fugue in F major, BWV540
Toccata and Fugue in F major, BWV 540: Toccata
 Excerpt,  Franck, C: Trois Chorals pour grand orgue, M. 38-40
3 Chorales for Organ: No. 2 in B minor, M. 39
 Excerpt,  Schumann: Studies (6) in Canonic Form, Op. 56
Studien fur den Pedal-Flugel (Studies for Pedal Piano), Op. 56: No. 5 in B minor: Nicht zu schnell (arr. for organ)
Mozart: Andante in F major, K616
Conte, D: Pastorale and Toccata
Liszt: Prelude & Fugue on B-A-C-H, S260
Daquin: Nouveau livre de noëls, Op. 2
Noel No. 10, "Noel grand-jeu et duo"
Susa: March for a Joyous Occasion