US Airmail Charges: As a knock-on effect of COVID-19 airfreight prices around the world have soared. Reluctantly, we have had to pass on some of this increase in our standard airmail prices. We'll bring them down again as soon as we can!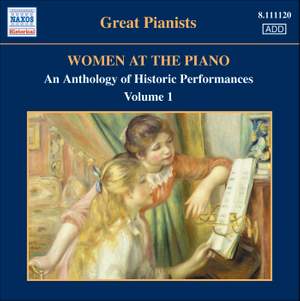 Offer

,

 Great Pianists - Women at the Piano Volume 1
An Anthology of Historic Performances (1926-1952)
Monique de la Bruchollerie, Guiomar Novaes, Iris Loveridge, Marie Novello, Gaby Casadesus, Myra Hess, Reah Sadowsky, Ray Lev, Maryla Jonas, Aline Isabelle van Barentzen, Marguerite Long, Ruth Slenczynska, Hilde Somer, Emma Boynet, Jeanne-Marie Darré, Una Mabel Bourne, Moura Lympany, Sari Biro, Jeanne...
…you will find evidence in these 22 examples of an irrepressible joy in performance, of a charm and spontaneity rarely encountered in today's more correct but more circumspect pianists, be they...

— More…
Contents
Saint-Saëns: 6 Etudes, Op. 111
3:05
Monique de la Bruchollerie (piano)
Recorded: 22 October 1947
6 Etudes, Op. 111: No. 6. Toccata
3:05
Guiomar Novaes (piano)
Recorded: 3 January 1947
Pastels, Op. 24: No. 3. Feux-follets, "Will-of-the-Wisp"
1:53
Iris Loveridge (piano)
Recorded: 27 November 1946
Spring, Op. 47: No. 1. Evening Whispers
2:56
 Excerpt,  Arensky: Characteristic Pieces (24), Op. 36
2:28
Marie Novello (piano)
Recorded: 1 May 1927
24 Characteristic Pieces, Op. 36: No. 13. Etude de Concert in F sharp major
2:28
 Excerpt,  Couperin, F: Pièces de clavecin III: Ordre 14ème in D major / minor
2:42
Gaby Casadesus (piano)
Recorded: 1945
Pieces de Clavecin, Book 3, 14th Ordre in D major-minor: VI. Le carillon de Cithere
2:42
 Excerpt,  Pick-Mangiagalli: Lunaires (2), Op. 33
3:35
Sari Biro (piano)
Recorded: 20 October 1944
2 Lunaires, Op. 33: No. 2. La danza di Olaf
3:35
 Excerpt,  Debussy: Images pour piano - Book 2
3:35
Dame Myra Hess (piano)
Recorded: 17 February 1928
Images, Book 2: No. 3. Poissons d'or (Goldfish)
3:35
Guion: Country Jig in D major
2:27
Jeanne Behrend (piano)
Recorded: 3 July 1940
Reah Sadowsky (piano)
Recorded: 1948
Prokofiev: Music for Children, Op. 65
1:17
Ray Lev (piano)
Recorded: 1946
Music for Children, Op. 65: No. 2. Valse
1:17
 Excerpt,  Handel: Keyboard Suite, HWV 432 in G minor
3:16
Maryla Jonas (piano)
Recorded: 23 September 1947
Harpsichord Suite No. 7 in G minor, HWV 432: VI. Passacaglia
3:16
 Excerpt,  Falla: Cuatro piezas españolas
3:16
Aline Isabelle van Barentzen (piano)
Recorded: 11 June 1928
4 Pieces espagnoles: IV. Andaluza
3:16
Harriet Cohen (piano)
Recorded: 7 July 1938
Stavenhagen: Pieces (3), Op. 5
3:23
Eileen Joyce (piano)
Recorded: 11 January 1937
3 Pieces, Op. 5: No. 3. Menuetto scherzando
3:23
Milhaud: L'Automne, Op. 115
2:36
Marguerite Long (piano)
Recorded: 10 May 1935
L'automne, Op. 115: No.2. Alfama
2:36
 Excerpt,  Rachmaninov: Preludes Op. 23 Nos. 1-10
3:22
Ruth Slenczynska (piano)
Recorded: 1945
10 Preludes, Op. 23: No. 5 in G minor
3:22
Grünfeld: Soiree de Vienne - Concert Paraphrase from Strauss' Waltzes from Die Fledermaus and others, Op. 56
6:01
Hilde Somer (piano)
Recorded: 1952
Chabrier: Bourrée Fantasque
5:53
Emma Boynet (piano)
Recorded: 31 March 1938
 Excerpt,  Liszt: Transcendental Studies, S139 Nos. 1-12
3:34
Jeanne-Marie Darre (piano)
Recorded: 1 May 1944
12 Etudes d'execution transcendante, S139 / R2b: No. 5 in B major, Feux follets
3:34
Pierné, G: Étude de concert
4:02
Lucette Descaves (piano)
Recorded: 3 October 1946
Paderewski: Humoresques de concert, Op. 14
2:36
Una Mabel Bourne (piano)
Recorded: 7 October 1926
Humoresques de concert, Op. 14: No. 6. Cracovienne fantastique in B minor
2:36
 Excerpt,  Liszt: Années de pèlerinage, 3ème année (7 pieces), S. 163
7:51
Dame Moura Lympany (piano)
Recorded: 22 December 1947
Annees de pelerinage, 3rd year, S163 / R10: IV: Les jeux d'eau a la villa d'Este
7:51