UPDATE: Royal Mail have now resumed shipments on their TRACKED & SIGNED and SIGNED services but delays should be expected, please choose these services if available to you or FEDEX if your order is urgent.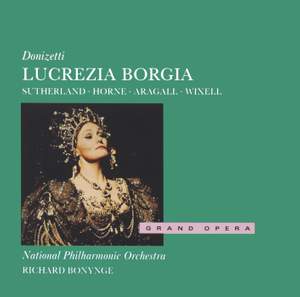 Donizetti: Lucrezia Borgia
Joan Sutherland, Marilyn Horne, Giacomo Aragall, Ingvar Wixell
National Philharmonic, Richard Bonynge
Sutherland is in her element here - and what a wonderful score it is too...Horne has the odd moment of unsteadiness in the early parts of the opera, but she is impressive in the brilliant Brindisi...

— More…
Contents
Donizetti: Lucrezia Borgia
Dame Joan Sutherland (soprano), John Bröcheler (bass), Graeme Ewer (baritone), Giacomo Aragall (tenor), Nicola Zaccaria (bass), Piero de Palma (tenor), David Wilson-Johnson (bass), Ingvar Wixell (baritone), Richard van Allan (bass), Paul Taylor (singer), Graham Clark (tenor), Lieuwe Visser (bass), Marilyn Horne (mezzo-soprano)
National Philharmonic Orchestra, The London Opera Chorus
Richard Bonynge
Recorded: 1977-08
Recording Venue: Walthamstow Assembly Hall, London
Maffio Orsini, signora, son io
Nel veneto corteggio io ravvisasti?
Non far motto, parti, sgombra
E sì avverso a Gennaro chi vi fè
Oh! a te bada, a te stesso pon mente
Della Duchessa ai prieghi
Guai se ti sfugge un moto
Infelice! il veleno bevesti
Partir degg'io: lo vuol Lucrezia
T'amo qual dama un angelo
Rischiarata è la finestra
Va, se vuoi, tentar m'è caro
Stolti! Ei corre alla Negroni
Il segreto per esser felici
La gioia de'profani è un fumo passagier
Tu pur qui? non sei fuggito?