US Airmail Charges: As a knock-on effect of COVID-19 airfreight prices around the world have soared. Reluctantly, we have had to pass on some of this increase in our standard airmail prices. We'll bring them down again as soon as we can!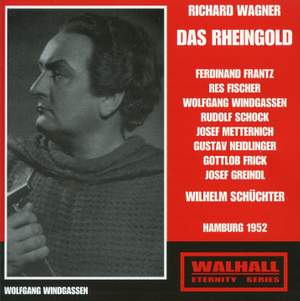 Offer

,

 Wagner: Das Rheingold
Ferdinand Frantz (Wotan), Rudolf Schock (Froh), Josef Metternich (Donner), Wolfgang Windgassen (Loge), Res Fischer (Fricka, Erda), Gustav Neidlinger (Alberich), Paul Kuen (Mime), Gottlob Frick (Fasolt), Joseph Greindl (Fafner), Margot Guilleaume (Woglinde), Ilse Koegel (Wellgunde) & Maria von...
Contents
Josef Metternich (baritone), Gustav Neidlinger (baritone), Ferdinand Frantz (bass-baritone), Res Fischer (mezzo-soprano), Josef Greindl (bass), Gottlob Frick (bass), Rudolf Schock (tenor), Wolfgang Windgassen (tenor), Paul Kuen (tenor)
NDR Sinfonieorchester
Wilhelm Schüchter
Recorded: 07 October 1952
Recording Venue: Hamburg, Germany
Scene 1: Weia! Waga! Woge, du Welle! (Woglinde)
2:41
Scene 1: Garstig glatter glitschiger Glimmer! (Alberich)
7:18
Scene 1: Lugt, Schwestern! (Woglinde)
6:37
Scene 1: Bangt euch noch nicht? (Alberich)
3:44
Scene 2: Wotan! Gemahl! Erwache! (Fricka)
7:56
Scene 2: So schirme sie jetzt (Fricka)
1:52
Scene 2: Sanft schloss Schlaf dein Aug'! (Fasolt)
7:16
Scene 2: Zu mir, Freia! (Froh)
1:54
Scene 2: Wie? welchen Handel hatt' ich geschlossen? (Loge)
3:14
Scene 2: Immer ist Undank Loges Lohn! (Loge)
8:08
Scene 2: Was ein Dieb stahl (Loge)
1:56
Scene 2: Hor', Wotan, der Harrenden Wort! (Fafner)
2:53
Scene 2: Was sinnt nun Wotan so wild (Loge)
8:12
Scene 3: Hehe! Hehe! Hieher! Hieher! (Alberich)
3:50
Scene 3: Wer halfe mir? (Mime)
4:19
Scene 3: Hieher! Dorthin! Hehe! Hoho! (Alberich)
2:04
Scene 3: Was wollt ihr hier? (Alberich)
4:37
Scene 3: Habt Acht! (Alberich)
4:49
Scene 3: Riesen-Wurm winde sich ringelnd! (Alberich)
6:50
Scene 4: Da, Vetter, sitze du fest! (Loge)
4:41
Scene 4: Gezahlt hab' ich (Alberich)
5:21
Scene 4: Bin ich nun frei (Alberich)
3:24
Scene 4: Lauschtest du seinem Liebesgruss? (Loge)
3:15
Scene 4: Auf Riesenheims ragender Mark (Fasolt)
5:13
Scene 4: Freia, die Schone, schau' ich nicht mehr (Fasolt)
2:41
Scene 4: Weiche, Wotan, weiche! Flieh' des Ringes Fluch! (Erda)
4:50
Scene 4: Hort, ihr Riesen! (Donner)
5:47
Scene 4: Schwules Gedunst schwebt in der Luft (Donner)
3:51
Scene 4: Abendlich strahlt der Sonne Auge (Wotan)
3:32
Scene 4: Rheingold! Rheingold! Reines Gold! (Rheintochter)
3:34