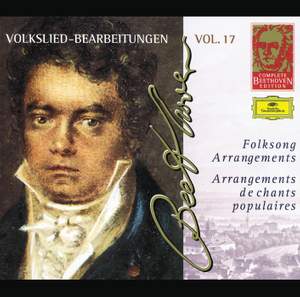 Beethoven - The Complete Edition - Volume 17
Folksong Settings
Lott, Watson, Wyn-Davies, Murray, Philogene, Walker, Ainsley, Robinson, Spence, Allen, Maltman, Blankestijn, Layton, Osostowicz, Smith, Martineau
Contents
Beethoven: Scottish Songs (25), Op. 108
Toby Spence (tenor), Dame Felicity Lott (soprano), Catrin Wyn Davies (soprano), Sarah Walker (mezzo-soprano), Christopher Maltman (baritone), Ursula Smith (cello), Malcolm Martineau (piano), Krysia Osostowicz (violin), Thomas Allen (baritone), Janice Watson (soprano), Elizabeth Layton (violin), John Mark Ainsley (tenor), Timothy Robinson (tenor), Ruby Philogene (mezzo-soprano)
Recorded: 1996-08
Recording Venue: Henry Wood Hall, London
9. Behold, My Love, How Green the Groves
11. Oh! Thou Art the Lad of My Heart
12. Oh! Had My Fate Been Join'd with Thine
13. Come Fill, Fill, My Good Fellow
14. O, How Can I Be Blithe and Glad
15. O Cruel Was My Father
16. Could This Ill World Have Been Contriv'd
3. Oh! Sweet Were the Hours
5. The Sweetest Lad Was Jamie
7. Bonney Laddie, Highland Laddie
8. The lovely Lass of Inverness
17. O Mary, at Thy Window Be
18. Enchantress, Fare Well
19. O Swiftly Glides the Bonny Boat
Beethoven: Irish Songs (25), WoO 152
Malcolm Martineau (piano), Christopher Maltman (baritone), Ann Murray (mezzo-soprano), Ursula Smith (cello), Marieke Blankestijn (violin), Elizabeth Layton (violin), John Mark Ainsley (tenor), Dame Felicity Lott (soprano), Thomas Allen (baritone)
Recorded: 1996-07
Recording Venue: Abbey Road, Studio 1, London
7. His Boat Comes on The Sunny Tide
4. The Morning Air Plays on My Face
5. On the Massacre of Glencoe
6. What Shall I Do to Shew How Much I Love Her?
21. Morning a Cruel Turmoiler Is
8. Come Draw We Round a Cheerful Ring
18. They Bid Me Slight My Dermot Dear
13. Musing on the Roaring Ocean
22. From Garyone, My Happy Home
15. Let Brain-Spinning Swains
19. Wife, Children and Friends
17. In Vain to This Desert
20. Farewell Bliss and Farewell Nancy
Beethoven: Irish Songs (20), WoO 153
Malcolm Martineau (piano), Toby Spence (tenor), Ruby Philogene (mezzo-soprano), Ursula Smith (cello), Elizabeth Layton (violin), Marieke Blankestijn (violin), Christopher Maltman (baritone), Dame Felicity Lott (soprano)
Recorded: 1996-07
Recording Venue: Abbey Road, Studio 1, London
6. Sad and Luckless Was the Season
3. The British Light Dragoons
1. When Eve's Last Rays in Twilight Die
4. Since Greybeards Inform Us That Youth Will Decay
2. No Riches From His Scanty Store
5. I Dream'd I Lay Where Flow'rs Were Springing
9. The Kiss, Dear Maid, Thy Lip Has Left
15. 'Tis But in Vain, For Nothing Thrives
11. When Far From the Home
13. 'Tis Sunshine at Last
19. Judy, Lovely, Matchless Creature
12. I'll Praise the Saints with Early Song
18. No More, My Mary, I Sigh for Splendour
20. Thy Ship Must Sail, My Henry Dear
16. O Might I But My Patrick Love!
10. Oh! Thou Hapless Soldier
Beethoven: Irish Songs (12), WoO 154
Malcolm Martineau (piano), Ann Murray (mezzo-soprano), Thomas Allen (baritone), Sarah Walker (mezzo-soprano), Janice Watson (soprano), Ursula Smith (cello), Marieke Blankestijn (violin), Elizabeth Layton (violin), Dame Felicity Lott (soprano), Krysia Osostowicz (violin), John Mark Ainsley (tenor), Ruby Philogene (mezzo-soprano), Toby Spence (tenor)
Recorded: 1996-08
Recording Venue: Henry Wood Hall, London
12. He Promis'd Me at Parting
4. The Pulse of an Irishman
8. Save Me From the Grave and Wise
9. Oh! Would I Were But That Sweet Linnet
6. Put Round the Bright Wine
5. Oh! Who, My Dear Dermot
7. From Garyone, My Happy Home
11. The Soldier in a Foreign Land
Beethoven: Verschiedene Volkslieder, WoO 157
Ursula Smith (cello), Malcolm Martineau (piano), Ann Murray (mezzo-soprano), Janice Watson (soprano), Dame Felicity Lott (soprano), Krysia Osostowicz (violin), Elizabeth Layton (violin), Marieke Blankestijn (violin), Timothy Robinson (tenor), Thomas Allen (baritone), Ruby Philogene (mezzo-soprano), John Mark Ainsley (tenor)
Recorded: 1997-03
Recording Venue: Henry Wood Hall, London
8. By the Side of the Shannon
11. The Wandering Minstrel
Beethoven: Welsh Songs (26), WoO 155
Malcolm Martineau (piano), John Mark Ainsley (tenor), Ruby Philogene (mezzo-soprano), Ursula Smith (cello), Marieke Blankestijn (violin), Catrin Wyn Davies (soprano), Christopher Maltman (baritone)
Recorded: 1996-07
Recording Venue: Abbey Road, Studio 1, London
15. When Mortals All to Rest Retire
7. O Let the Night My Blushes Hide
2. The Monks of Bangor's March
16. The Damsels of Cardigan
12. Waken Lords and Ladies Gay
8. Farewell, Farewell Thou Noisy Town
Beethoven: Scottish Songs (12), WoO 156
Ursula Smith (cello), Malcolm Martineau (piano), Dame Felicity Lott (soprano), Elizabeth Layton (violin), Marieke Blankestijn (violin), Thomas Allen (baritone), John Mark Ainsley (tenor), Ruby Philogene (mezzo-soprano)
Recorded: 1996-08
Recording Venue: Henry Wood Hall, London
4. Ye Shepherds of This Pleasant Vale
1. The Banner of Buccleuch
Beethoven: British Songs (7), WoO 158b
Malcolm Martineau (piano), Sarah Walker (mezzo-soprano), Timothy Robinson (tenor), Ursula Smith (cello), Krysia Osostowicz (violin)
Recorded: 1997-03
Recording Venue: Henry Wood Hall, London
7. Lament for Owen Roe O'Neill
4. Red Gleams the Sun on Yon Hill Tap
6. O Mary, Ye's Be Clad in Silk
3. O Was Not I a Weary Wight! (Oh ono chri!)
Beethoven: 6 Songs of Various Nationalities, WoO 158c
Malcolm Martineau (piano), Toby Spence (tenor), Sarah Walker (mezzo-soprano), Catrin Wyn Davies (soprano), Ursula Smith (cello), Ruby Philogene (mezzo-soprano), Krysia Osostowicz (violin), Thomas Allen (baritone), Elizabeth Layton (violin), John Mark Ainsley (tenor)
Recorded: 1996-11
Recording Venue: Abbey Road, Studio 1, London
3. Mark Yonder Pomp of Costly Fashion
1. When My Hero in Court Appears
5. From Thee, Eliza, I Must Go
2. Non, non, Colette n'est point trompeuse
Beethoven: Songs (23) of Various Nationalities WoO 158a
Malcolm Martineau (piano), Toby Spence (tenor), Christopher Maltman (baritone), Ursula Smith (cello), Krysia Osostowicz (violin), Ruby Philogene (mezzo-soprano), Janice Watson (soprano), Timothy Robinson (tenor), Thomas Allen (baritone)
Recorded: 1996-11
Recording Venue: Abbey Road, Studio 1, London
7. Wer Solche Buema Afipackt
2. Horch auf, mein Liebchen
10. Poszla baba po popiól
16. Schöne Minka, ich muß scheiden
18. An ä Bergli bin i gesässe
15. Kak posli nasi podruzki
14. Akh, recen'ki, recen'ki
3. Wegen meiner bleib d'Fräula
13. Vo lesocke komarockov mnogo urodilos'
23. Da brava, Catina (Canzonetta veneziana)
11. Yo no quiero embarcarme
17. Lilla Carl (Vaggvisa)
9. Oj, oj upilem sie w karczmie
4. Wann i in der Früh aufsteh