Krzysztof Penderecki
(1933-2020)
Composer
Krzysztof Penderecki was born in Dębica on 23d November 1933 and was educated at the Jagiellonian University and the Academy of Music in Kraków, initially training as a violinist. From 1955 he focused primarily on composition, first under the guidance of Artur Malawski and subsequently with Stanisław Wiechowicz, a prominent choral composer who frequently incorporated Polish folk music into his works.
Penderecki took up a teaching post at the Kraków Academy straight after graduation, and it was just three years later that he achieved international recognition for his Threnody to the Victims of Hiroshima, scored for 52 string instruments and making extensive, imaginative use of quarter-tones and clusters; Penderecki (at this stage a devotee of John Cage) originally styled the piece as simply 8' 37'', but decided to re-name and dedicate it to the victims of the atomic bomb after being struck by its emotional charge in a live performance. The work was awarded a UNESCO Prize in 1961, and its power went on to resonate far beyond the confines of the concert-hall; excerpts from the piece have been used by film-directors including David Lynch, Wes Craven and Alfonso Cuarón, and the Welsh rock band Manic Street Preachers sampled it in their 1991 song You Love Us. Other significant works from this early avant-garde period included Polymorphia (1961) for 48 solo strings, the St Luke Passion from 1966, the Aldous Huxley-inspired opera Die Teufel von Loudon (1969), and Canticum Canticorum Salomonis for sixteen voices and orchestra (1973).
From the mid-1970s onwards, Penderecki moved away from the experimental language of his early compositions and embraced what he described as 'a return to tradition', as evinced in works such as the Symphony No. 2 from 1980 (nicknamed the 'Christmas Symphony' due to its use of the carol 'Silent Night'), the Cello Concerto No. 2 (premiered by Rostropovich in 1983), and the Violin Concerto No. 2 'Metamorphosen' from 1995, dedicated to Anne-Sophie Mutter. A fine conductor, he made widely acclaimed recordings of most of his major works, as well as his compatriot Henryk Górecki's Symphony No. 3.
Though he wrote few bespoke film scores, Penderecki's compositions appealed hugely to cinema directors, his gift for conjuring uncanny sonorities lending itself especially well to horror: his music plays a vital role in William Friedkin's The Exorcist (1973), Stanley Kubrick's The Shining (1980), and Martin Scorsese's Shutter Island (2010). He also reached an entirely new demographic in his late 70s after an unlikely but fruitful collaboration with Radiohead guitarist Jonny Greenwood; in an interview with The Guardian in 2012, Penderecki spoke wryly of the pleasure of seeing huge audiences of teenagers 'who had never heard of this old guy's music' enjoying his work.
Penderecki won the National Trustees Award at the 1968 Grammys, and went on to win three others over the course of his career - for the Cello Concerto No. 2 (Best Contemporary Composition in 1987), Metamorphosen (Best Contemporary Composition in 1998), and the album of choral works Penderecki conducts Penderecki Vol. 1 (Best Choral Performance in 2016). Other awards included the Prix Arthur Honegger in 1978, the Wihuri Sibelius Prize in 1983, and the Living Composer of the Year Prize at the 2000 Cannes Classical Awards; rather more unusually, an asteroid was named for him in 1991.
Penderecki died on 29th March following an unspecified lengthy illness; his family announced that despite having been exposed to COVID-19 shortly before his death, a test for the virus had proved negative. He is survived by his wife Elzbieta and three children.
Further Reading:
Penderecki
22nd June 2020
The American conductor talks to David about his recent recording of the late Krzysztof Penderecki's searing setting of the St Luke Passion with the Orchestre Symphonique de Montréal.
29th March 2020
The Polish composer, whose talent for creating uncanny sonorities inspired film-directors including Stanley Kubrick and Martin Scorsese, has died aged 86.
Recent Best Sellers:
Penderecki
Future Releases:
Penderecki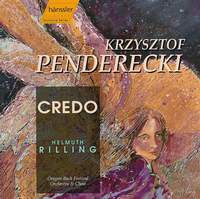 Recommended