26th May 2008
 Recording of the Week

,

  Superb Scholl sings Dowland and his circle
In the last fifty years or so, the countertenor voice has had something of a resurgence in popularity. This was partly due to early pioneers like Alfred Deller, but also I suspect because of the increasing preference of using a male countertenor voice (rather than a female contralto voice) for the many Baroque opera roles originally written for castrati.
These days there are a good handful of really fine countertenors around, all with slightly different qualities giving them all slightly different individual characteristics, but very near the very top of the tree must be Andreas Scholl. His range is the same as the great 18th century castrato Senesino (for whom Handel created many of his greatest alto roles), and he has sung and recorded many of these roles to great critical acclaim. In 2005, he became the first countertenor ever to sing solo at The Last Night of the Proms.
For his latest disc Scholl has chosen a sampling of lute and consort songs by the great Elizabethan "poet of melancholy", John Dowland. His music forms the bulk of the disc, which also features some of Dowland's contemporaries, such as William Byrd and Robert Johnson. Scholl is accompanied by the surperb lutenist Julian Behr and the Swiss-based viol quartet, Concerto di Viole, and together they provide a rich and varied accompaniment for Scholl's exquisite voice.
I have to admit I'm not normally a big fan of solo countertenor discs, but since I first heard this I've been hooked. We've also managed to secure one of Scholl's biggest selling discs of all time as this week's Harmonia Mundi Golden Disc so now is most definitely the time to top up your collection of countertenor discs!
And on the subject of Harmonia Mundi we also have a few hundred free new release samplers to give away. It contains over an hour of music drawn from the rich and wonderful array of discs that Harmonia Mundi have brought us so far this year, so amongst others you'll find Paul Lewis, Matthias Goerne and Richard Egarr. If you'd like one, then next time you place an order please email me with your order number and I'll make sure one gets included in the parcel. (First come, first served!)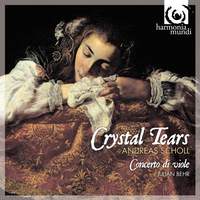 Andreas Scholl (countertenor)Concerto di Viole, Julian Behr (lute)
where Scholl also displays his remarkably beautiful ability to whistle!
Available Formats: MP3, FLAC, Hi-Res FLAC