17th March 2023
Favourites

,

St Patrick's Day - Music from Ireland
The details of the life of Saint Patrick are fragmentary at best - nobody really knows where the tales about the shamrock and the banishing of the snakes first came from - but the legends that have grown up about him have remained significant in the culture of Ireland to this day.
His saint's day and the accompanying celebration of Irish identity have since developed into a cultural phenomenon that has swept the English-speaking world and indeed beyond - but when the Guinness glass is empty and the green hats are back in the cupboard, there's a wealth of classical heritage from Ireland to be explored.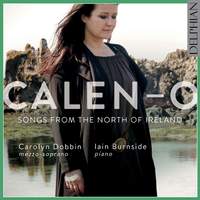 Carolyn Dobbin (mezzo), Iain Burnside (piano)
Northern Irish composers including Hamilton Harty, Enniskillen-born impressionist Joan Trimble, and Anglican stalwart Charles Wood feature in this recital of art song from Carolyn Dobbin. Harty's The Blue Hills is particularly moving, while Burnside's pianistic skills enliven the more turbulent numbers such as Wood's Credhe's Lament for Cail.
Available Formats: CD, MP3, FLAC, Hi-Res FLAC, Hi-Res FLAC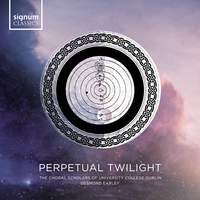 The Choral Scholars of University College Dublin, Desmond Earley
Just like their Christmas album Be All Merry, Desmond Earley and his singers place the focus squarely on Irish and Gaelic inspiration, with arrangements of Burns and Irish folksong alongside contemporary choral compositions. Earley's own version of the evergreen Danny Boy brings a combination of vulnerability and freshness to this ubiquitous song.
Available Formats: CD, MP3, FLAC, Hi-Res FLAC
Baroque Ireland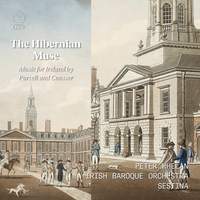 Irish Baroque Orchestra, Sestina, Peter Whelan
Dublin hosting the world premiere of Handel's Messiah in 1742 was no mere historical accident; the city had long been a magnet to many of the greatest composers not just from the British Isles but from the rest of Europe. Purcell worked there for two decades, as did the Hungarian composer Cousser; Peter Whelan and the Irish Baroque Orchestra explore some of the music that might have been heard in their time, including Purcell's ode for the centenary celebrations of Trinity College Dublin.
Available Formats: CD, MP3, FLAC, Hi-Res FLAC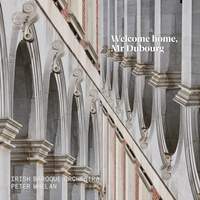 Irish Baroque Orchestra, Peter Whelan
The works of the violinist and composer Matthew Dubourg - influenced by Italian Baroque masters such as Corelli, Vivaldi and Geminiani, and incidentally the leader of the orchestra at the first performance of Messiah - are the focus of this album. The literary satirist Jonathan Swift may have subjected Dubourg to some of his most acerbic putdowns, but the music - much of it world premieres - speaks for itself.
Available Formats: CD, MP3, FLAC, Hi-Res FLAC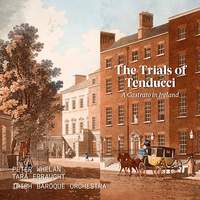 Tara Erraught (mezzo-soprano), Irish Baroque Orchestra, Peter Whelan
Completing a hat-trick from Peter Whelan and the Irish Baroque Orchestra, The Trials of Tenducci looks ahead to the emerging Classical era with vocal works by Arne, Giordani and others. Once again Ireland was attracting musical talent from all over Europe - not just composers such as Maldere and Giordani, but perhaps most famously of all the star castrato Giusto Tenducci.
Available Formats: CD, MP3, FLAC, Hi-Res FLAC
Irish Composers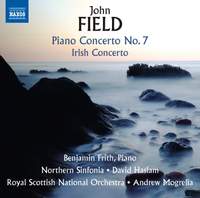 Benjamin Frith (piano), Northern Sinfonia, Royal Scottish National Orchestra, David Haslam, Andrew Mogrelia
John Field, known primarily as the first composer to write in the Nocturne form that would go on to become a popular Romantic staple, was born in Dublin in 1782; an accomplished pianist, he also seems to have acted as a sales representative for a piano manufacturer, travelling as far afield as St Petersburg. The Concerto No.7 enjoyed a star-studded premiere on Christmas Day 1832, at which both Chopin and Liszt were in attendance.
Available Formats: CD, MP3, FLAC, Hi-Res FLAC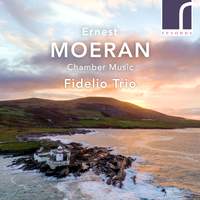 Anglo-Irish composer Ernest Moeran has a rich, chromatic harmonic language that might at first seem far removed from Irish traditional music; yet in his chamber music distinct echoes can be heard. The Fidelio trio make a persuasive case for these four chamber works - and for Moeran's place within the pantheon of early twentieth-century British and Irish composition.
Available Formats: CD, MP3, FLAC, Hi-Res FLAC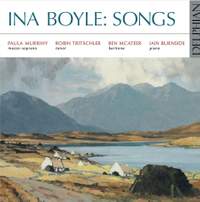 Paula Murrihy (mezzo), Robin Tritschler (tenor), Ben McAteer (baritone), Iain Burnside (piano)
Vaughan Williams's encouragement to Ina Boyle that despite her lack of success "it does come finally" is, perhaps, at last starting to become a reality. Having spent much of her life in her native County Wicklow, opportunities for exposure did not easily come to Boyle. This recital of her songs by three of Ireland's finest classical singers shows her gift for lyrical melody and her often melancholy harmonic language.
Available Formats: CD, MP3, FLAC, Hi-Res FLAC
Niall Kinsella (piano), Gavan Ring (baritone), Raphaela Mangan (mezzo-soprano), Mia Cooper (violin), Verity Simmons (cello)
John Larchet's output was hardly extensive - this album comprises his complete songs and airs - but his gift for well-crafted miniatures and characterful folksong arrangements is readily apparent. After a chance meeting with Larchet's music during his university studies, pianist Niall Kinsella made it his mission to collect and record this music.
Available Formats: CD, MP3, FLAC, Hi-Res FLAC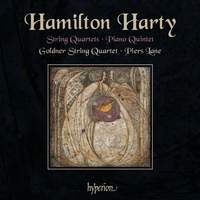 Piers Lane (piano), Goldner String Quartet
Harty was also a composer of many fine art songs, many of them deeply moving, but the focus of this chamber-music album is more on what Presto's Chris O'Reilly called his "charm and flamboyance" when reviewing it back in 2012 as a Recording of the Week. Even Harty's slow movements are relatively upbeat, though the beautiful, bittersweet Lento of the piano quintet shows that he was certainly capable of more introspective writing when the mood took him.
Available Formats: 2 CDs, MP3, FLAC, Hi-Res FLAC
Clifford Benson (piano), Lydia Mordkovitch (violin), John Mark Ainsley (tenor), Janet Hilton (clarinet), Reiner Schneider-Waterberg (counter-tenor), David Butt (flute), Sally Burgess (mezzo-soprano)
The music of Belfast-born Howard Ferguson is often restless, as the two violin sonatas book-ending this recording amply demonstrate, and also characterised by brevity and concision. His Four Short Pieces for Clarinet and Piano are indeed short - the whole set lasting only five minutes - but each one is perfectly-formed.
Available Formats: MP3, FLAC