17th September 2021
 New Release Round-up

,

  New Release Round-Up - 17th September 2021
Today's new releases include the Brandenburg Concertos from the Akademie für Alte Musik Berlin and guest stars Isabelle Faust and Antoine Tamestit, opera arias by Verdi, Cilea, Wagner and Mozart from Georgian baritone George Gagnidze, Liszt's Suisse and Bénédiction de Dieu dans la solitude from Charles Owen, and Jommelli's Il Vologeso from Ian Page, The Mozartists and a fine young cast including Stuart Jackson, Gemma Summerfield and Angela Simkin.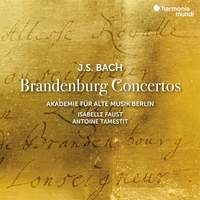 Isabelle Faust (violin), Antoine Tamestit (viola), Akademie für Alte Musik Berlin
Two years on from her widely-praised recording of the Violin Concertos (described by Gramophone as 'a hugely enjoyable celebration of Bach'), Faust rejoins the Akademie für Alte Musik Berlin for the Brandenburgs. The project marks the 300th anniversary of the works' premiere, and is described by concertmaster Georg Kallweit as 'less opulent, but more transparent altogether' than the ensemble's 1997 recording of the set.
Available Formats: 2 CDs, MP3, FLAC, Hi-Res FLAC, Hi-Res+ FLAC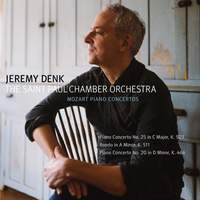 Jeremy Denk (piano), Saint Paul Chamber Orchestra
Denk directs the Minnesota-based chamber orchestra from the keyboard in Piano Concertos Nos. 20 and 25; he describes the latter work as 'so different from the rest, and so full of the love of its creator'. Sandwiched between the concertos is the Rondo in A minor K511, which Denk views as 'a piece about the nature of melancholy, a sadness (if you like) about sadness'.
Available Formats: CD, MP3, FLAC, Hi-Res FLAC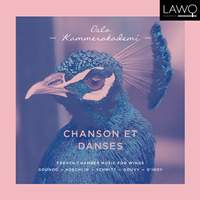 Oslo Kammerakademi, David Friedemann Strunck
This programme of French chamber music for winds comprises Gounod's Petite symphonie, Charles Koechlin's Septuor pour instruments à vent, Florent Schmitt's Lied et Scherzo, Théodore Gouvy's Petite Suite Gauloise, and Vincent d'Indy's Chansons et Danses; several of these works were composed for the Societe de musique de chambre pour instruments a vent, founded by flautist-composer Paul Taffanel in 1879.
Available Formats: CD, MP3, FLAC, Hi-Res FLAC, Hi-Res+ FLAC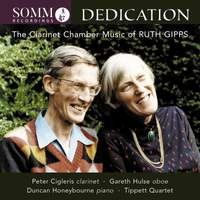 Peter Cigleris (clarinet), Gareth Hulse (oboe), Duncan Honeybourne (piano), Tippett Quartet
To mark the centenary of Gipps's birth, Cigleris gives the recording premieres of five chamber works inspired by her husband, the clarinettist Robert Baker: the Rhapsody in E flat (1942), The Kelpie of Corrievreckan (1939), the Quintet for Oboe, Clarinet and String Trio (1941), the Prelude for Bass Clarinet (1958), and the Clarinet Sonata (which won the Cobbett Prize of the Society of Women Musicians in 1956).
Available Formats: CD, MP3, FLAC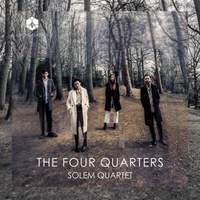 The British quartet's debut album takes its title from a work by Thomas Adès (written for the Emerson Quartet in 2011), the four movements of which are interspersed here with pieces by Florence Price, Aaron Parker, Robert Schumann, William Marsey, Henry Purcell, Ivor Gurney, Cassandra Miller, Bartók and Kate Bush.
Available Formats: CD, MP3, FLAC, Hi-Res FLAC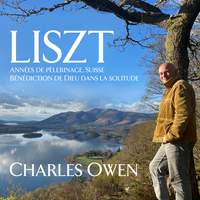 The British pianist celebrates his fiftieth birthday with a new recording of Suisse from Années de Pèlerinage (a work which he first encountered in the 1980s, and which he revisited intensively at home during the long winter lockdown) and Bénédiction de Dieu dans la solitude, which featured on the programme for his birthday concert at King's Place earlier this week.
Read our interview with Charles about the recording here.
Available Formats: CD, MP3, FLAC, Hi-Res FLAC, Hi-Res+ FLAC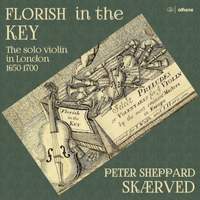 Peter Sheppard Skaerved (violin)
Sheppard Skærved presents works from the second edition of 'Preludes or Voluntarys' published by John Walsh in 1705, including music by Torelli, Corelli, Pepusch, Biber, Vitali, Eccles, Albinoni, and Thomas Baltzar. The programme is performed on two instruments: a 1664 violin of unknown make which was used in the court orchestra of Charles II, and the 1629 Girolamo Amati violin which Sheppard Skærved played on the latest instalment of his Great Violins series.
Available Formats: CD, MP3, FLAC, Hi-Res FLAC, Hi-Res+ FLAC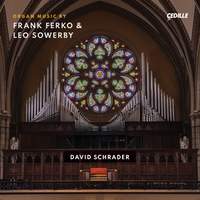 Schrader's programme includes Sowerby's Symphony in G, Pageant and Comes Autumn Time, and Ferko's Music for Elizabeth Chapel, Variations on a Hungarian Folk Tune, Variations on 'Veni Creator Spiritus', and Symphonie brève. The Ferko pieces are all world premiere recordings, and are played on three different mechanical-action organs at The House of Hope Presbyterian Church, St. Paul, Minnesota.
Available Format: 2 CDs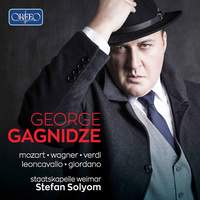 George Gagnidze (baritone), Staatskapelle Weimar, Stefan Solyom
The Georgian baritone's debut solo recording features arias from Pagliacci, Andrea Chénier, Macbeth, Nabucco, La traviata, Il trovatore, Don Carlo, Tannhäuser, and Don Giovanni; Gagnidze's plans for the 2021/22 season include Scarpia at the Metropolitan Opera, Amonasro in Los Angeles, and Nabucco at the Teatro Real Madrid.
Available Formats: CD, MP3, FLAC, Hi-Res FLAC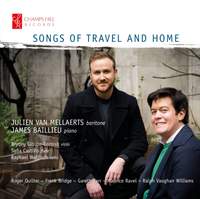 Julien Van Mellaerts (baritone), James Baillieu (piano)
The up-and-coming young baritone (who represented New Zealand at BBC Cardiff Singer of the World 2019 and also has strong connections with France and the UK) explores the idea of home and identity with a programme which includes Vaughan Williams's Songs of Travel, Ravel's Don Quichotte à Dulcinée and Trois Chansons madécasses, and Gareth Farr's Ornithological Anecdotes, commissioned by the artists in collaboration with Chamber Music New Zealand.
Available Formats: CD, MP3, FLAC, Hi-Res FLAC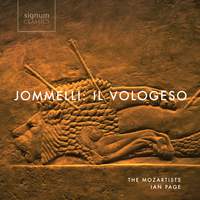 The Mozartists gave the first UK performance of Jommelli's opera in 2016, to mark the 250th anniversary of the work's premiere; reviewing the concert, BachTrack noted that 'provided quite a showcase for the six young singers, who responded with admirable spirit', singling out Jennifer France for her 'gleaming tone, fabulous hairpin dynamics and controlled trill' and Rachel Kelly's 'nuanced, dramatic portrayal' of the title-role for particular praise.
Available Formats: 2 CDs, MP3, FLAC, Hi-Res FLAC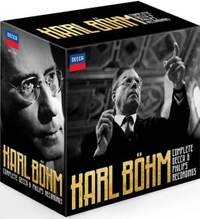 Including a live recording of the Ring Cycle from the 1966/67 Bayreuth Festivals (presented here on CD and Blu-ray Audio 24bit / 96kHz), this collection also features complete recordings of the three Mozart/Da Ponte operas and Strauss's Die Fledermaus, eight Mozart symphonies, and the Brahms Piano Concertos with Wilhelm Backhaus.
Available Format: 38 CDs + 1 Blu-ray Audio