15th September 2021
Interview

,

Charles Owen on Liszt and lockdown
The British pianist Charles Owen celebrates his fiftieth birthday this evening with a concert of Debussy, Chopin, Messiaen, Ravel and Liszt at King's Place, and this Friday sees the release of his recording of the latter composer's Suisse (from Années de Pèlerinage) - a work which he first encountered in the 1980s, and which he revisited intensively at home during the long winter lockdown.
In the run-up to tonight's concert, Charles took a break from practising Messiaen to talk to me about the 'three pianos in his life', why he feels that Liszt's music is still unfairly maligned in some quarters, his role as a Steinway ambassador, and plans for the world premiere of a Shakespeare-inspired work by Sally Beamish in association with the London Piano Festival...
Photo: Sim Canetty-Clarke.
What drew you to these pieces during lockdown?
During the first lockdown Liszt, Schumann and Chopin were my main companions. I started learning the Italian book of Années de Pèlerinage during the winter, but then other things took over and I switched to the Chopin Preludes; the fact that he wrote them in that remote monastery in Majorca definitely resonated with the situation. I worked on a lot of Chopin during lockdown, and like most pianists I knew that I was definitely going to feel the benefit of that when I returned to Liszt (as well as Debussy, Ravel and Rachmaninov): Chopin demands the grace and suppleness of a ballet-dancer, qualities that are essential for Années de Pèlerinage.
Why did I choose Suisse during lockdown? I love Switzerland: some of my most inspiring days have been spent walking in the Alps, and I don't want to over-romanticise things but despite being stuck at home with only an upright piano I really did feel transported as I worked on this music. (There's a film of me playing Au lac de Wallenstadt from home on the upright piano on my YouTube channel).
How unusual is it for you to do so much preparation on your 'home' piano, and did you find being restricted to a single instrument for such a long period a help or a hindrance?
I live with my partner in Muswell Hill, North London where I have a very good Yamaha upright, but there are really three pianos in my life: a very old friend lives about ten minutes' walk away, and she houses my two Steinway grands which I visited regularly before the pandemic. I do a lot of note-learning, slow practice and memorising on my upright (in fact I was practising some Messiaen on it right before this conversation!), as it also has a silent system to stop me driving my partner and the neighbours crazy, and about half the time in lockdown I worked silently. That was an interesting experience – you can't be swayed by the beauty of the resonance and all the colours and the textures as you can on the grands, so in a way I laid a lot of the foundations for the recording there. (György Kurtág and his wife Márta took this even further and chose to play on an old upright piano in some of their concerts; I think that part of that was that they wanted the austerity of the upright rather than the gorgeous luxury and resonance of a grand).
When I came back to the Steinway after three months it was overwhelming – I'd compare it in a way to when the Renaissance painters would sketch cartoons, just a line-drawing or a template without colours. It's not that I never work on colours when I'm playing an upright, but there's a limit to what you can achieve. On the recording I played a really magnificent Steinway grand, which I helped choose for the Yehudi Menuhin School Hall (where I was a student). I went along to Steinways with the School's new Director of Music, fellow pianist Ashley Wass, last summer to try out four different pianos, and we went for a brand-new Model D. It was paid for by The Wallace Curzon Charitable Trust, which was set up by Clifford Curzon and his wife; the last ever gift they gave was to buy this amazing new piano.
You've been a Steinway ambassador for several years now: are they your preferred pianos for this repertoire?
So many grand pianos have wonderful qualities, but the sheer range you can get out of the greatest Steinways is unbelievable. Being a Steinway ambassador is very much to do with education as well as promoting the brand: we demonstrate pianos in concert-halls to give prospective purchasers an idea of how they sound. When I got the position in 2016, I started giving an annual series of masterclasses at Steinway Hall specifically to show how you extract potential from a really great instrument.
People often say 'Oh, well if I had a Stradivarius or a Steinway then I would sound wonderful too!' – but it's rather like people who dream of driving a top-of-the-range sports-car, then find that once they're actually in the driving-seat they've no idea what to do with it! Or like hi-tech TVs or cameras, in that a truly great violin, piano, or cello will show up every imperfection. So or example, I show that when you put the soft pedal down on a Steinway then you need a slightly deeper touch if you want the melody to sing, that kind of thing. This new Steinway has an unlimited depth of tone and colour, and I think the Liszt recording has caught that beautifully.
Liszt pushed the piano to its absolute limits – he was one of the nineteenth-century virtuoso composer-pianists who really demanded that the makers bring in a stronger iron frame to cope with bigger concert-halls and with their own writing. It's a bit of a chicken-and-egg situation: what came first, the music or the makers' innovations? I think it was probably the music – even Beethoven was starting to push in that direction…
In the booklet-note for the album, you mention the impact which Alfred Brendel's recording of Années de Pèlerinage had on you as a young pianist – how much has his playing influenced your perspective on Liszt's music?
I first heard it in 1987 or 88, and it was one of the most moving recordings I've ever encountered. At one point in the 1980s I was given a lot of sheet-music by the widow of a musician, which included a very old dusty edition of all three Années de Pèlerinage in one copy; I started sight-reading through it and eventually my pianist friend Julius Drake convinced me to play the cycle complete in a recital at his Machynelleth festival in Wales, coupled with the big Schubert A major sonata , D959. That Brendel recording really inspired me: the power, the beauty, the lyricism, the virtuosity of his playing blew me away. There's also a film that he made of them, and he chose the amazing setting of Middle Temple Hall where Twelfth Night was premiered.
And I think it's worth mentioning Brendel's legacy more generally here, because in some quarters Liszt still suffers from this negative reputation where people think 'Oh, it's going to be an evening of horrible bashing - the piano's going to be in bits!'. But what attracts me is the more lyrical side of Liszt: the poetic, the narrative, the literary dimensions. The scores are littered with quotations from his favourite writers in various languages, and whilst Liszt is known for inspiring Wagner we shouldn't forget that he inspired other very different composers – Debussy, Ravel and Messiaen for instance, wouldn't sound the way they do without Liszt. Brendel is one of the people who fought tirelessly to repatriate Liszt, and I think we owe him an enormous debt of gratitude.
Did you ever study formally with him?
I've never had an actual lesson with Brendel, but I've had lots of conversations with him. I studied with Imogen Cooper (who was a pupil of Brendel), and I went and played Suisse to her two weeks before the recording – we often play to one other and give notes when we want to run through something in private before a concert or recording, and she's spoken to me a lot about how Brendel influenced her Liszt playing.
Speaking of colleagues and peers, have you stayed in touch with many fellow alumni from the Menuhin School?
It's a very small school, so it's like a big extended international family: you meet people who've been there recently and people who've been there a long time ago and there's this unspoken bond. The first person who comes to mind is Paul Watkins, who's now in America with the Emerson Quartet; I don't see as much of him since he relocated, but I learned a lot of the great cello and piano repertoire with him and he inspires me very much. I would also mention the leader of Orchestra of the Swan, David Le Page: an all-round good egg and inspirational creative spirit. And I'm just been to Manchester to stay with Kathryn Stott for a few days to rehearse Ravel's music for two pianos. Of the younger generation, Alina Ibragimova is a particular friend and inspirational violinist: Kathryn is a little older than me and Alina is a little younger, but that connection is still there.
You mentioned Liszt's literary inspirations – flipping that idea around, how much does reading influence your own interpretations, and which particular texts have you found illuminating?
I've been enjoying Paul Kildea's book about the Chopin Preludes, but my reading about Liszt has centred on something that's yet to be published: it's by a very special person in my life, Paul Roberts, a fine pianist and an inspirational teacher who's run a summer-school in France for young professional and amateur pianists for over thirty years. He's written a superb biography of Debussy and some of the best books ever on the piano music of Debussy and Ravel, as well as the wonderful booklet-notes for this recording. His new book Reading Liszt, which is about Liszt and literature, is coming out next year, and I've read some of the chapters in draft form. I think it's easy for people in the age of Netflix to forget just how much reading inspired these composers - poetry and novels and everything in between.
Musically speaking, how will you be celebrating your fiftieth birthday? Any special commissions to mark the occasion?
I did think about commissioning something, but with everything just getting back to normal it seemed like a bit of a gamble. But we do have a very exciting premiere by Sally Beamish, Sonnets, coming up around the time of my birthday: it's connected with the London Piano Festival, which I've been running for the last six years with my duo partner Katya Apekisheva. It's a co-commission with the New Ross Piano Festival in Ireland; their director Finghin Collins, Katya and I decided to commission it together because they're celebrating their ten-year anniversary and we're celebrating our fifth, a link between our two festivals.
Sally started writing the piece last year with a view to it being performed in October 2020, but of course that was put on hold. She took her inspiration from Shakespeare's Sonnets Nos. 19 and 129, written when plague was ravaging Elizabethan England. In a nutshell: Shakespeare was asked to look after a young man who was sent out of London to avoid the plague, and falls in love with him; then the young man falls in love with the 'dark-eyed lady' whom Shakespeare also loves, so there's a love triangle between two men and one woman. It won't be acted as such, but it will involve a lot of theatre, with performers making exits and entrances, a mobile phone going off, people sharing pianos and pushing one another off piano-stools…but it's not in any way comic.
Commissioning new two-piano pieces is an important part of the London Piano Festival: we commissioned a major work by Jonathan Dove which was performed in 2019, and we'd like to record that as a follow-up to his Piano Quintet which I recorded in 2016 with the Sacconi Quartet for Signum. A few years ago Nico Muhly made us an arrangement of one of his organ works for two pianos, called Fast Patterns; Elena Langer (who composes a lot of opera) wrote us a beautiful work for two pianos, RedMare, and Thomas Adès coached us in his Concert Paraphrase from Powder Her Face in 2018. And beyond the Festival, the violinist Augustin Hadelich and I have programmed a lot of new works in our recitals together. When it comes to contemporary music, I prefer to play it with someone else; I'm not very comfortable doing contemporary music as a solo pianist, but I find the challenge of putting something super-modern together with someone else very rewarding!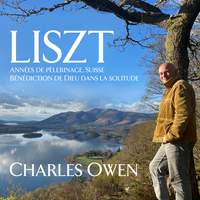 Charles Owen (piano)
Available Formats: CD, MP3, FLAC, Hi-Res FLAC, Hi-Res+ FLAC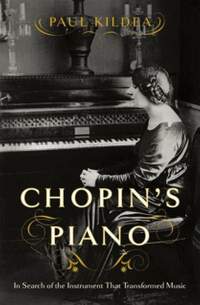 Paul Kildea
Available Format: Book