19th July 2021
 Obituary

,

  Sir Graham Vick (1953-2021)
The English opera director Sir Graham Vick, who worked tirelessly to bring opera to new audiences and was especially renowned for his groundbreaking projects with Birmingham Opera Company, has died aged 67.
Born in Birkenhead in 1953, Vick trained at the Royal Northern College of Music, with early successes including a 1978 production of Holst's Sāvitri (starring Janet Baker in the title-role) at Scottish Opera; he went on to serve as the company's Director of Productions from 1984 until 1987. Two years after leaving Scottish Opera he made his Covent Garden debut with the London premiere of Berio's Un re in ascolto, and returned to the company regularly throughout his career, with particular triumphs including Mozart's early opera Mitridate (then a comparative rarity), Verdi's Falstaff with Bryn Terfel (marking the reopening of the theatre after an extensive refurbishment), and a witty, warm and lucid Meistersinger in 1993, which prompted The Independent's Edward Seckerson to declare that 'if there is a more inventive, resourceful mind than Graham Vick's working in music theatre today, then I've yet to encounter it'.
From 1994 until 2000, Vick was Director of Productions at Glyndebourne, where his work included new stagings of Tchaikovsky's The Queen of Spades and Eugene Onegin, Berg's Lulu, Rossini's Ermione, Puccini's Manon Lescaut, and Debussy's Pélleas et Mélisande. He also worked extensively in Europe, with highlights including Guillaume Tell at the Rossini Opera Festival in Pesaro, several productions of Russian operas at the Mariinsky Theatre, Parsifal and Chausson's Le roi Arthus at the Opéra national de Paris, and Verdi's Macbeth and Otello at La Scala.
Vick was widely recognised and respected for the imagination and integrity of his productions, values which were underpinned by an acute understanding of music as well as text (in an interview with The Guardian in 2007 he described himself as a 'frustrated conductor') and above all by a fierce commitment to accessibility. Whilst he never shied away from programming and staging works which are often described as 'difficult' or from transplanting core repertoire into unconventional settings, his productions always sought to clarify rather than obfuscate and to welcome newcomers to the art-form as well as confirmed devotees.
This philosophy was the driving-force behind his foundation of Birmingham Opera Company, which launched in 1987 with a production of Falstaff staged in a local leisure-centre and sung in English in a new chamber arrangement by Jonathan Dove; over the next thirty-five years the company mounted fifty hugely innovative productions, including Tippett's The Ice Break, Verdi's Otello (in which Ronald Samm became the first Black tenor to sing the title-role), the world premiere of Mittwoch from Stockhausen's Licht, and an unforgettable staging of Shostakovich's Lady Macbeth of Mtsensk in a disused nightclub by Edgbaston Reservoir in 2019. RhineGold, the first instalment of a projected Ring Cycle, is due to open later this month in Birmingham.
Under Vick's direction, the company became a driving-force for real diversity and inclusion alongside artistic innovation, championing BAME artists, providing a wealth of opportunities for young/emerging singers and other creatives, and breaking down the barriers between performers and their audiences – both in the literal sense of creating immersive stagings where the audience became a part of the action, and through large-scale outreach programmes which invited local people with little or no stage experience to become involved as actors or singers with the support of mentors (often recent graduates who were also cast in small but rewarding roles). The company won the Education and Outreach Prize at the International Opera Awards as well as a Royal Philharmonic Society Award in 2019 for its production of Lady Macbeth; Vick himself was knighted in the 2021 New Year's Honours List in recognition of his outstanding contribution to regional opera.
Vick died on 17th July from complications arising from COVID-19 and is survived by his partner, the choreographer Ron Howell. He will be missed enormously by the many Presto staff who've regularly been thrilled, moved and inspired by his work in nearby Birmingham over the years.
Sir Graham Vick - a selected filmography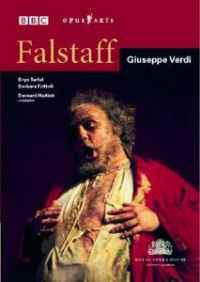 Bryn Terfel (Falstaff), Barbara Frittoli (Alice Ford), Roberto Frontali (Ford), Bernadette Manca di Nissa (Mistress Quickly), Desiree Rancatore (Nanetta), Kenneth Tarver (Fenton)
Royal Opera House Covent Garden, Bernard Haitink, Graham Vick
Available Format: DVD Video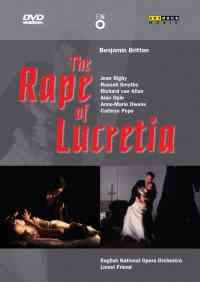 Jean Rigby (Lucretia), Russell Smythe (Tarquinius), Rolfe Johnson (Male Chorus), Kathryn Harries (Female Chorus), Richard van Allan (Collatinus), Alan Opie (Junius), Anne-Marie Owens (Bianca), Cathryn Pope (Lucia)
English National Opera Orchestra, Lionel Friend, Graham Vick
Available Format: DVD Video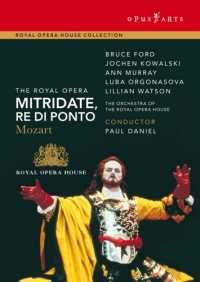 Bruce Ford (Mitridate), Jochen Kowalski (Farnace), Ann Murray (Sifare), Luba Orgonasova (Aspasia), Lillian Watson (Ismene)
Royal Opera House Covent Garden, Paul Daniel, Graham Vick
Available Format: DVD Video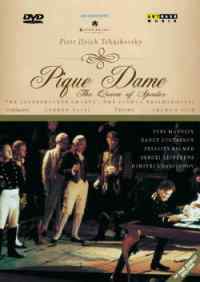 Yuri Marusin (Hermann), Nancy Gustafson (Lisa), Felicity Palmer (Countess), Sergei Leiferkus (Tomsky), Dimitri Kharitonov (Yeletsky), Marie-Ange Todorovitch (Pauline), Enid Hartle (Governess)
London Philharmonic Orchestra, Glyndebourne Chorus, Andrew Davis, Graham Vick
Available Format: DVD Video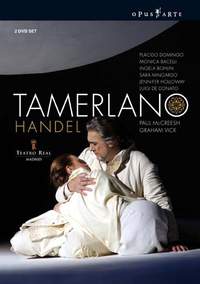 Plácido Domingo (Bajazet), Monica Bacelli (Tamerlano), Ingela Bohlin (Asteria), Sara Mingardo (Andronico), Jennifer Holloway (Irene)
Teatro Real Madrid, Paul McCreesh, Graham Vick
Available Format: 3 DVD Videos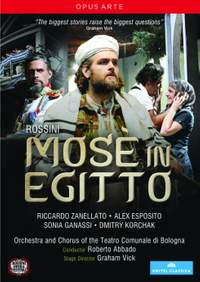 Alex Esposito (Faraone), Olga Senderskaya (Amaltea), Dmitry Korchak (Osiride), Sonia Ganassi (Elcia), Enea Scala (Mambre), Riccardo Zanellato (Moses), Yijie Shi (Aronne), Chiara Amarù (Amenofi)
Teatro Comunale di Bologna, Roberto Abbado, Graham Vick
Available Format: DVD Video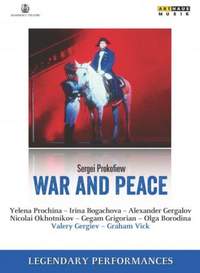 Yelena Prochina (Natasha), Alexander Gergalov (Andrei), Yuri Marusin (Anatol), Irina Bogachova (Maria), Nicolai Okhotnikov (Kutuzov), Gegam Grigorian (Pierre), Olga Borodina (Helena)
Mariinsky Theatre, Valery Gergiev, Graham Vick
Available Format: 2 DVD Videos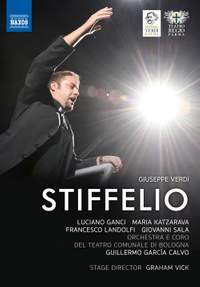 Luciano Ganci (Stiffelio), Maria Katzarava (Lina), Francesco Landolfi (Stankar), Giovanni Sebastiano Sala (Raffaele), Emanuele Cordaro (Jorg), Sofia Koberidze (Dorotea), Blagoj Nacoski (Federico)
Teatro Comunale di Bologna, Guillermo García Calvo, Graham Vick
Available Format: DVD Video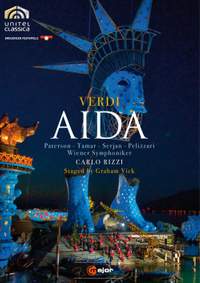 Tatiana Serjan (Aida), Rubens Pelizzari (Radames), Iain Paterson (Amonasro), Iano Tamar (Amneris), Kevin Short (Re), Tigran Martirossian (Ramfis), Ronald Samm (Messaggero), Elisabetta Martorana (Sacerdotessa)
Wiener Symphoniker, Bregenz Festival, Carlo Rizzi, Graham Vick
Available Format: DVD Video