6th July 2021
 Interview

,

  Hideko Udagawa on Nostalgic Russia
Japanese violinist Hideko Udagawa has an enviable pedigree when it comes to Russian repertoire - studying with Nathan Milstein at the outset of her career, and constantly on the lookout for interesting new repertoire from Russia and the former Soviet Union to perform.
Recent critically-acclaimed albums of Rachmaninov and Khachaturian testify to this lifelong passion (both featuring first recordings of works and arrangements) and her newest release continues the trend, bringing to light a selection of rarely-heard gems from the Russian violin repertoire.
I caught up with Hideko to talk about the selection of pieces on this album, and the unique importance that Russian music has for her.
Where did the idea first come to assemble a programme of famous Russian composers' less-famous works?
I have always been drawn to Russian music: it has a profound depth of colour and emotion, which I'm very attracted to. I recorded an album of all Khachaturian with Boris Berezovsky– I was surprised to discover that his Sonata (which is quite an important work, as there are not that many Russian violin sonatas) hadn't been recorded before, so that gave me the opportunity to record it with Boris.
While I was working on that recording I had the honour to be introduced to a film-maker in New York who had just made a film about Khachaturian; through the process of making that film he'd got to know Khachaturian's family and in particular his grandson, and in turn introduced me to him. I was delighted, of course, and he was obviously pleased to hear about the project, but then he suggested to me a piece for violin and piano that he had in manuscript which had never been published and which he wanted me to include on the recording. He gave me that handwritten manuscript copy, and that was what I was playing from on the recording! It is a very interesting piece, and my recording is the only one. I'd been planning the Khachaturian album anyway, but to be able to include this piece was very precious to me.
You never know how you might find a new piece – for me it was the chance introduction to that filmmaker that started it all off, and the idea of performing new pieces was important in this Nostalgic Russia album as well.
There is another album of Rachmaninov works, which I became familiar with particularly through Nathan Milstein - he had a lot of stories about Rachmaninov and had been associated with him. I was fascinated to listen to all these stories, and of course he was such a great composer, so I'd always wanted to record some of his works. But I realised that he was much more interested in the cello than the violin, I think because he was attracted to that dark sound. That's why we have those cello pieces and of course the great cello sonata. It's such a great piece and I wished there was a comparable piece for violin and piano – so when I was discussing this with the transcriber Viktor Mikhailovsky who I've worked with extensively, he offered to transcribe the cello sonata for violin and piano. That's how it came to be – otherwise the other pieces would have been too short to make up a whole album. The sonata is a big piece, nearly half an hour long, so I included that transcription and it worked very well.
After it was released I did have some people contact me – a young violinist got in touch through my website, for instance – saying how much they wanted to play the piece and asking if they could have the music. It was very nice to have requests like that.
I didn't have the same connection to the family as with Khachaturian, of course, but it was nice to be able to include the piece. I think even in its arranged form, it's very appealing.
The name of Eduard Nápravník, in fact a Czech who worked primarily in Russia, might be less familiar to listeners than most of the giants on this album – who was he, and how did he end up spending most of his career so far from his birthplace?
He's very interesting. I think he was probably well-known as a conductor at that time – he worked for the Mariinsky Theatre in Saint Petersburg – and although he composed a number of pieces he was mostly known as an interpreter of Tchaikovsky. He was very well-respected in Russia.
When I first heard about these four pieces by Nápravník I discovered that it was very difficult to get hold of the music: I think they'd been published within Russia, but I wasn't able to get them in the West. In the end, again, luck played an important part – I was fortunate enough to meet a private collector of rare manuscripts, and he lent me his copy of the music, which was how I was able to record it.
At the time, as far as I could see, nobody had recorded them, so I was looking forward to being able to present the world premiere recording. However, because of the lockdowns which we all suffered from so much last year, the venue was closed and there were a lot of difficulties. The recording had to be postponed twice, and eventually took place last November. But due to that postponing – we'd originally planned to record in early 2020 – by the time the album was released this spring, somebody else had recorded it first! And that release came out before, mine, so it's no longer the world premiere that we wanted it to be: of the three world premieres that would have featured on the album, only two ended up actually being premieres.
Things like this can happen occasionally, of course, when people are looking around for unusual works to record: it's a disappointment for me, but at least it demonstrates that other people are also interested in expanding the repertoire. A lot of my colleagues are doing the same sort of thing – going to libraries in search of pieces to perform – and we discuss this sometimes. Certainly many people are looking.
Two of the transcriptions on this recording are never-recorded arrangements by Mikhailovsky. Can you tell us more about your relationship with him?
He's a violinist himself; we agree on a lot of things. From the beginning on my first recordings I had his help in transcribing – I always go to him when I need any transcription. And the results work very well; his transcriptions are now quite admired.
The Rachmaninov Elégie is a very well-known piece for solo piano which many great pianists have recorded. And because it's got such a beautiful melody, I thought it might suit the violin and piano; Mikhailovsky agreed and offered to transcribe it.
As for the Tchaikovsky Romance – we happened to find this piano piece, with an equally beautiful melody but not many recordings of the piano version (I could only find two, one by Sviatoslav Richter and one by Philippe Entremont). And Mikhailovsky thought this would be interesting to transcribe – and again he did a very good job of the transcribing, in a way that really suited the combination of violin and piano very well. It's a very precious piece to me, and that's why I've put it as the first track on the album.
I think that transcriptions themselves can sometimes make pieces great. For example, I recorded some of the Shostakovich Preludes, too – very popular pieces that many pianists record very successfully. All of them were transcribed by Dmitry Tsyganov, but I was careful about which ones I chose to record. Some of them – the more percussive ones – don't really suit the violin, so I chose others that I felt worked better. But after I'd begun working on them to include them on the recording, I discovered that Shostakovich himself had admitted in a book that the Preludes suited the violin and piano very well, certain pieces even better than piano solo. It was very interesting – that's what I'd felt all along but the composer himself admitted it! Three or four violinists have recorded some of these Preludes, so I was also conscious of wanting to choose the Preludes that had not been recorded so much.
Among the names of the transcribers we find Heifetz and Kreisler – both iconic violinists of their time. How much do you think their own musicianship influenced the way they approached the arranging process?
As great violinists, naturally their transcriptions are great too - their personalities definitely do come through in the music, and they're technically and musically excellent. The context in which the transcriptions were created is sometimes different; with Heifetz, for example, it would often be the case that once the main concert season was over and things were a little quieter, he would then sit down at the piano and make his transcriptions. That's what I've heard, anyway – during the season he was so busy travelling and performing that transcription had to be an activity reserved for the off-season! And it goes without saying that I'm very grateful that he did it: when I was young I recorded an album composed entirely of Heifetz transcriptions, and they were all great.
Thanks in part to the influence of Nathan Milstein, you've specialised somewhat in Russian violin repertoire – what is it about this particular school of composition that particularly appeals to you?
I was in my early 20s when I was associated him – for about ten years – and the influence of that was enormous. As you can imagine, for a student of that age it was incredible and there was a huge amount to be learned from a great master of his calibre. There are certain pieces that he introduced me to, which I've since played as encores as well as on this recording – for example the Stravinsky Parasha's Song which was his favourite encore piece.
He also gave me one of his favourite metal mutes: the Parasha's Song has to be played with a mute, and the one I use on the recording is the one that he gave me. It remains a very precious present, and I'm still using it. The sound it produces is beautiful. Normally metal mutes give a better sound – there are rubber ones, but they make the sound so muted and I always think it actually sounds like rubber!
The thing that attracts me to Russian music, particularly of this period, is that it has a very wide range of expressions and a lot of rhythmic variety that makes the programme more interesting. I believe that unless the programme itself is attractive, you can't make attractive recordings – Milstein used to say this, too – if the programme isn't interesting, you can't make interesting music. That's always been important to me.
Something that illustrates his way of thinking: When I gave my debut recital in the Queen Elizabeth Hall [part of London's South Bank Centre], he was out of the country and couldn't come – but just before the recital started, a telegram arrived backstage, and it was from him. It was very moving for me, and he just said one thing: "Play well, affectionately". He didn't say anything specific about how to play this or that note, just those three words. Those words remain very precious to me, and I think about them whenever I start a recording or a concert – so I made this recording with affection.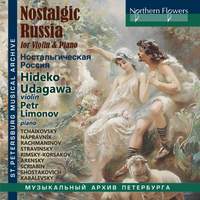 Hideko Udagawa (violin), Petr Limonov (piano)
Available Formats: CD, MP3, FLAC, Hi-Res FLAC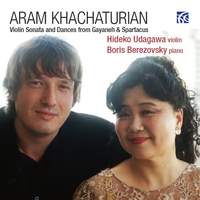 Hideko Udagawa (violin) & Boris Berezovsky (piano)
Available Formats: CD, MP3, FLAC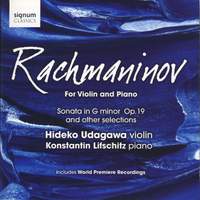 Hideko Udagawa (violin) & Konstantin Lifschitz (piano)
Available Formats: CD, MP3, FLAC, Hi-Res FLAC