19th March 2021
 Recording of the Week

,

  Strauss Lieder from Sandrine Piau and Daniel Behle
Two vocal recitals centring on the songs of Richard Strauss have really opened my ears this week, both from fine Mozartians who look set to make waves in the composer's stage works in the coming years should they be so inclined, and both of whom challenge convention here in their own ways.
First up is Clair-Obscur (out last Friday on Alpha) from the radiant French soprano Sandrine Piau, hitherto more associated with baroque and Classical repertoire rather than the German late-Romantics, but in absolutely superb vocal form throughout this thoughtfully-conceived programme of Zemlinsky, Berg and Strauss with the Orchestre Victor Hugo Franche-Comté. She opens with a relative rarity, Zemlinsky's ballade Waldgespräch, in which a man rebukes a young woman for walking alone at night only for the tables to be turned on him: the 'fair damsel' is the witch Lorelei, who has no intention of allowing him to emerge from the forest where their paths cross. It's an unsettlingly beautiful work which Piau delivers with febrile, appropriately other-worldly sensuality, and both she and the strings-only orchestra are fully attuned to the shifts between light and darkness which are referenced in the album's title.
It's light rather than shade, though, which predominates elsewhere - and especially in the luminous account of Strauss's Four Last Songs, usually the province of significantly heavier voices than Piau's lightish lyric instrument but sung here with a freshness and flexibility that made me hear them in a whole new light. Piau approaches them entirely on her own terms, making full use of the colours at her disposal but never manufacturing weight or darkness that doesn't come naturally into the voice, and conductor Jean-François Verdier supports her at every turn; whilst there's plenty of forward momentum in each song, the relatively swift tempi never short-change the music, and textures retain a refreshing translucence even in the most thickly-scored passages so that Piau's shining soprano never tarnishes or struggles to cut through. It's a beguiling interpretation indeed, and one that made me eager to hear what Piau might do with Strauss's Arabella or the Countess in Capriccio.
As the title suggests, Daniel Behle and Oliver Schynder's OutRageous (also released last week) is a far more overtly provocative affair. The main attraction here is Der Krämerspiegel ('The Shopkeeper's Mirror'), a fantastically snarky song-cycle which Strauss composed in a fit of pique at the publishing industry in 1918: having become increasingly discomfited by copyright laws which he felt served the interests of publishers rather than composers, he founded the Society for German Composers in 1898, a move which prompted several publishing-houses to retaliate. Chief among these was Bote & Bock, the Berlin-based firm which published his Symphonia Domestica and the Op. 56 songs in the 1900s: after signing over the rights to his next six songs as part of the latter contract, Strauss found himself backed into a corner as his relationship with the company soured still further, and rather than relinquish his beloved Brentano-Lieder to fulfil the obligation he dashed off these twelve caustic little songs to specially-commissioned (and extremely on-the-nose) texts by the critic Alfred Kerr.
It's small wonder that Bote & Bock rejected the set in no uncertain terms: riffing savagely on the etymology of their names ('Goat' and 'Messenger'), Strauss and Kerr depict the publishers as grubby, parasitic monsters, doomed to be outwitted by the heroic artists whom they profess to serve, and Behle serves up this veritable banquet of invective with sardonic, cabaret-esque glee. Never afraid to make an ugly sound when the text requires it (which is often), he also supplies real tonal beauty in the phrases representing the noble artist-creator, and Oliver Schynder works miracles with the extended solo piano passages: never averse to a bit of musical autobiography, Strauss quotes from his Rosenkavalier and Heldenleben, and towards the end of the cycle Schnyder gets to revel in some glorious material which later found a home in the composer's final opera Capriccio. It's the juxtaposition between petty mudslinging and genuine beauty which makes this rarely-programmed cycle so worth hearing, and the pair balance these elements to perfection.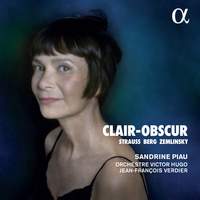 Strauss - Berg - Zemlinsky
Sandrine Piau (soprano), Orchestre Victor Hugo Franche-Comté, Jean-François Verdier
Available Formats: CD, MP3, FLAC, Hi-Res FLAC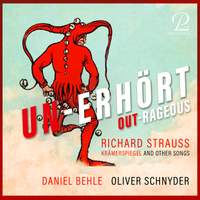 Richard Strauss: Krämerspiegel and other songs
Daniel Behle (tenor), Oliver Schnyder (piano)
Available Formats: CD, MP3, FLAC, Hi-Res FLAC