5th November 2020
 Interview

,

  John Andrews on The Dancing Master
Setting a libretto based on a Restoration comedy by William Wycherley and written while the young composer was enjoying his first wave of success with film music, Malcolm Arnold's one-act comic opera The Dancing Master was intended for TV but never saw the light of day during Arnold's lifetime after it proved to be rather too near-the-knuckle for the BBC in the early 1950s. The piece received its first performance only eight years ago, and its world premiere recording was released on Resonus this September.
I spoke to conductor John Andrews last month about Arnold's frenetic compositional process, the work's antecedents in Rossini comedies and nineteenth-century English light opera, and why the piece is ripe for revival on stage – even in the wake of the challenges presented by social distancing…
Photo credit: Bob Workman.
This is a hugely appealing work, and quite a significant milestone in Arnold's output – why do you think he never pushed to have it performed during his lifetime?
Looking into all the circumstances around it, the only explanation I've been able to come up with is that he was simply so successful with other things (he wrote eight film scores within that same twelve-month period, firing music out at a prolific rate) that fighting for a performance took a back seat behind the influx of new projects. Although it was always intended for TV broadcast the BBC found it 'too bawdy' and Granada were no more enthusiastic, having heard Arnold sing them the whole thing, and I think he just moved on!
It's perhaps significant as well that The Dancing Master wasn't the grand opera that he'd always wanted to write: he'd planned to compose the great tragic opera of the century "to rival Boris Godunov" based on the life of Henri Christophe, the first Black leader of Haiti, and that's the project he'd really been emotionally invested in. He got as far as writing a significant excerpt and submitting it to the Festival of Britain in 1949 (with a view to it being performed at the 1951 Festival), but they rejected it and so he never completed the score.
The libretto for The Dancing Master came his way shortly afterwards, and he seems to have gone at it with the ferocious speed with which he approached his film scores: the script landed on his desk and he dashed off the whole thing in under three weeks, rather like those stories of Rossini with the librettist in one room just passing sheets through the door! Joe Mendoza, the librettist, I think assumed he would suggest some edits rather than coming straight back with the finished product, and so it has all the strengths and the weaknesses which that implies: a bit of care and thought about whether certain scenes are too long or might work better in a different order wouldn't have gone amiss, but on the other hand you've got this astonishing sweep of energy that runs through the whole thing.
The concept of writing opera specifically for television was fairly new at this point, with Menotti's landmark Amahl and the Night Visitors having been written around the same time – was Arnold consciously tailoring his writing for that medium, or did the extremely rapid pace of working prohibit that?
For the most part I sense that he was just doing what came naturally, but knowing that it was intended for TV perhaps explains his no-holds-barred approach to orchestration: he knew that any issues with balance would have been magicked away with the recording, but if it had ever reached a theatre he'd have had to rethink some of it. Certainly when they did it at the Guildhall seven or eight years ago I know that it was a constant battle for them, because he throws the entire orchestra at it in a way that a more considerate opera-composer would not have done. He's quite unkind to the singers generally, not least because of the sheer physical stamina he demands – the big numbers for both the tenor and the bass are pretty gruelling, with the verses following straight on from each other without even a short orchestral interlude in between, so there's simply nowhere to have a breather! And that's magnified by the one-act structure, which means that people are necessarily on for quite long stretches: in terms of physical demands it's not dissimilar to Wolf-Ferrari's Il segreto di Susanna (which we did recently at Opera Holland Park). Although that's harmonically much more straightforward and in many ways more sympathetic to the voices, the fact remains that if there's only two of you on stage for 50 minutes that's as long as many opera-roles.
The harmonic language is often very challenging, too: it has a fantastic cartoon-ish quality in places, but so much of it is actually bitonal. Time after the time the singer has to enter a tone or semitone away from the orchestra, or singing the one note that's missed out of a six-note chord; fortunately we cast people who were completely on top of all that, but they get no credit for dashing this stuff off with elegance and charm, as if it's a walk in the park! In a way it's impressive that it's as singable as it is, because Arnold wasn't particularly used to writing for voices at all: he was a trumpeter by training, and all his big successes were symphonic or film-scores. His natural instinct for what voices can do is fantastic, but the writing is just a little bit unbending!
Which passages of the score stand out to you as especially effective music-theatre?
That opening cascade of strings is about the most inviting start to a piece of theatre you can imagine! Then, even though his style is quite tuneful and accessible, he also manages to nod to the late seventeenth century in the harmonic language of the diegetic music (with a solo harp standing in for the dancing master's guitar). The dancing-scene where you just have the harp and the singers all having their little side-conversations is wonderful: it reminds you of those Mozart and Rossini finales where everyone is trying to communicate across a crowded room without being overheard. At one point it's in danger of it turning into the finale of Sibelius Five, which I assume is subconscious, but it's a lovely moment. The duet where Prue tries to seduce Monsieur is pure Hattie Jacques and Kenneth Williams - I was amazed that the BBC thought it was too bawdy, but it's worth remembering that we are a full ten years before Round The Horne and the Carry On films here. It's ahead of its time, and it's an absolute gem of a scene: you have this silky, sophisticated orchestral accompaniment against these two people who have totally different ideas in mind about what's going on.
Then by contrast the scene where the heroine, Miranda, is alone and thinks that she's been abandoned shows that he can turn instantly from the chaos and silliness and take us somewhere really profound and emotionally affecting. He suddenly wrenches the brakes on here and you come into contact with a real person rather than the stock figure of Restoration comedy. And I think that shows a grounding in that particularly English operetta tradition – although it's also true of the best Strauss and the best Offenbach – that ability of comic opera to seduce you into lowering your defences and then suddenly hitting you with real pathos. It's very effective.
Rossini's name has cropped up several times in our conversation – do you think he (and perhaps Donizetti in comic mode) had any direct influence on Arnold here?
I think so - he'd won the Mendelssohn Scholarship in 1948 and spent it in Italy immersing himself in that musical tradition, so whether consciously or not he'd definitely absorbed much of that stylistic approach. I also found myself thinking of Sullivan and those other English light music composers of the late nineteenth century: there are passages where if you strip the scoring back down you could easily be in one of the Savoy operas.
Reservations about the orchestration requiring a few tweaks aside, do you think the piece has a future on stage?
Absolutely! I performed it in a reduced orchestration of my own a couple years ago at the Malcolm Arnold Festival, with a different cast, and had been planning a staged production next year for Arnold's centenary, but with everything that's going on at the moment I doubt that will come to fruition this year. But hopefully soon, because it's a very stageable piece, even in this current climate of social distancing - it's a small cast with no chorus, and especially when you're in a seventeenth-century setting you can be at a substantial distance from one another for most of it.
What other recording projects were in the pipeline for you before lockdown restrictions were introduced, and are you planning to continue your explorations of Arthur Sullivan's music?
I was scheduled to conduct a disc of Sullivan's L'Ile Enchantée, a ballet he wrote in the 1860s before all the Savoy Operas, back in April, so that sits waiting. I was also due to conduct a disc of contemporary works with the RSNO last month, but that involves a huge orchestra so has been put back to 2021. The other big project which has now had to be put on hold is Sullivan's monumental oratorio The Martyr of Antioch, which we were due to record this January, following the success of The Light of the World in 2017. Whilst it's nowhere as long as The Light of the World, it's still a big, grandiose piece with large orchestra and chorus, so unfortunately we can't even begin to rehearse at the moment, let alone fit in a studio. With things changing all the time right now, we have plans afoot for some smaller-scale projects involving Sullivan and his contemporaries, as well as some English baroque rediscoveries and some twentieth-century choral works. It all depends on what's physically possible!
I was also back in the studio in May with the National Symphony Orchestra recording the score for a film called To Olivia, starring Hugh Bonneville and Keeley Hawes, about Roald Dahl and his daughter who died of measles. Recording soundtracks is a very specific discipline because you're working with a click-track, and so we were able to get the full orchestra in by scheduling strings, piano and harp on the first day and wind, brass and percussion on the second and overlaying it. That's not how you would necessarily choose to do it, but it did mean that we were able to record safely. And the nice thing was that doing it over two days meant we didn't have to compromise on string numbers – we were able to get a full, big, luscious sound, whereas if we'd tried to get everyone in in one day we'd have been forced to cut that right down.
In terms of live performances, I did a Pagliacci over the summer, condensed down to the smallest number of musicians: it was a very intimate arrangement, using just a piano trio, which actually gets you a very authentically nineteenth-century sound. (And all the big tunes in Pagliacci are for the violin or cello anyway, so it works rather well). We did have a chorus, spread around the back of the church rather than on stage: they were three metres behind the audience at all times, but it plays nicely into that idea of the audience being part of the drama and the performers being part of the audience in the opera. We are due to perform it again with a slightly larger orchestra at the Grange Festival on December 13th so fingers firmly crossed.
And although it was recorded back in January you may spot me – very briefly – in Series Four of The Crown. With the world as it is, that's my sole public appearance in November….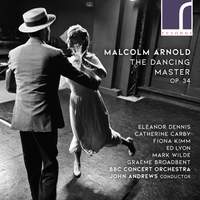 Mark Wilde, Ed Lyon, Fiona Kimm, Graeme Broadbent, Catherine Carby, Eleanor Dennis
BBC Concert Orchestra, John Andrews
Available Formats: CD, MP3, FLAC, Hi-Res FLAC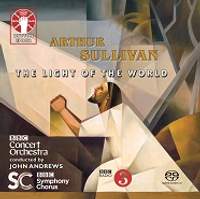 Natalya Romaniw, Eleanor Dennis, Kitty Whately, Robert Murray, Ben McAteer, Neal Davies; Kinder Children's Choir, BBC Symphony Chorus, BBC Concert Orchestra, John Andrews
Available Format: 2 SACDs