25th September 2020
 Recording of the Week

,

  Ermonela Jaho's Anima Rara
It's a 'fine day' indeed which brings the debut solo recording of Ermonela Jaho: over the past decade or so, the diminutive Albanian soprano has established herself as one of the greatest Violettas and Butterflies of our time, bringing such pathos, fragility and emotional candour to both characters that her agent would be well advised to pursue a sponsorship deal with Kleenex. It's more than a little surprising that a singer of Jaho's stature has never released a solo album until now, but Opera Rara specialises in projects that are long overdue – this is, after all, a label whose recent releases include the world premiere recordings of Donizetti's L'ange de Nisida and the original one-act version of Puccini's first opera Le Willis (the latter featuring a mesmerising performance from Jaho as the jilted village-girl who exacts a bizarre revenge on her seducer from beyond the grave).
As with Opera Rara's terrific 2017 recital-discs Espoir and Écho (from Michael Spyres and Joyce El-Khoury respectively), Anima Rara celebrates the legacy of a singer who significantly influenced operatic history – in this case the Italian lyric soprano Rosina Storchio (1876-1945), who created the roles of Puccini's Madama Butterfly, Mascagni's Lodoletta and Leoncavallo's Zazà, and whose personal life was scarcely less fraught than those of the characters she portrayed thanks to a long-term affair with Toscanini. Excerpts from those first two works feature on the album, alongside arias from operas which featured in Storchio's repertoire, including La traviata, Massenet's Manon and Sapho, Catalani's La Wally, Giordano's Siberia, and Boito's Mefistofele.
It all suits Jaho down to a T. As contemporary reviews, letters and the very few existing recordings of Storchio illustrate, there seems to be an almost uncanny affinity between the two singers in terms of both voice and artistic temperament – as Jaho explained in our recent interview, Storchio was very far removed from the powerhouse sopranos who've taken on some of these roles to great effect since the end of her short but astonishing career, and it's a real eye-opener to hear this music sung with such delicacy, freshness and introversion. The opening account of Butterfly's Un bel dì is a case in point: Jaho never allows us to forget that this is no grande dame holding court, but a vulnerable eighteen-year-old stuck at home with her sleeping toddler next door, struggling to convince herself and her only confidant that her naïve fantasy will become reality. It helps that the young Italian conductor Andrea Battistoni is so entirely in tune with Jaho's approach here (and indeed throughout the album), thinning the string sound down to a whisper so that she can confide rather than declaim and conjuring ominous sonorities from stabbing horns and brass which suggest the harsh reality that's about to scupper her pipe-dream.
The rarities are no less compelling, particularly the queasy Freudian monologue from Mascagni's Iris (which Battistoni described to me as the other great 'Japanese' opera of the period) in which the heroine relives her traumatic childhood reaction to a painting of an octopus violating a young woman, and the long scene from the same composer's Lodoletta as the heroine witnesses what she perceives to be a betrayal by the lover she's trudged through snow and ice to reach before gradually succumbing to hypothermia. If both of these scenarios sound far-fetched or overblown, it's tribute to Jaho's artistry that she makes them so entirely involving and relatable, and I can only hope that complete recordings of these works might figure in Opera Rara's future.
Though Storchio and Jaho are both mistresses of suffering beautifully, it's not all doom-and-gloom here, with two little arias from Leoncavallo's La bohème (in which Storchio created the role of Mimì) providing some welcome light relief: premiered a year after Puccini's setting, Leoncavallo's version is altogether earthier and more Vaudeville-esque in the early stretches, and it's a rare treat to hear Jaho playing the carefree coquette as both Mimì and Musette, the two characters being far less polarised here than in Puccini.
It's Butterfly, inevitably, who has the last word: I'd wondered if Jaho's death-scene would have quite the same impact outside the theatre, but by the final sobs of 'Gioca!' I was in bits.
You can watch last night's online launch of the album, hosted by Opera Rara in association with Presto Classical and featuring contributions from Ermonela Jaho and Andrea Battistoni here.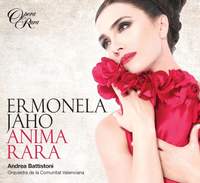 Ermonela Jaho (soprano), Orquestra de la Comunitat Valenciana, Andrea Battistoni
Available Formats: CD, MP3, FLAC, Hi-Res FLAC
Related recordings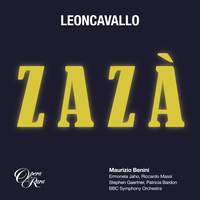 Ermonela Jaho (Zazà), Stephen Gaertner (Cascart), Riccardo Massi (Milio), Patricia Bardon (Anaide), David Stout (Bussy)
BBC Symphony Orchestra, Maurizio Benini
Available Formats: 2 CDs, MP3, FLAC, Hi-Res FLAC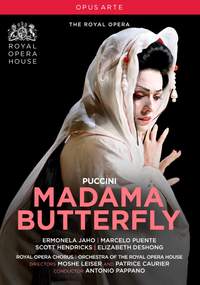 Ermonela Jaho (Cio-Cio San), Marcelo Puente (Pinkerton), Scott Hendricks (Sharpless), Carlo Bosi (Goro), Elizabeth DeShong (Suzuki), Jeremy White (Bonze), Emily Edmonds (Kate Pinkerton), Gyula Nagy (Imperial Commissioner), Yuriy Yurchuk (Prince Yamadori)
Orchestra of The Royal Opera House, Royal Opera Chorus Antonio Pappano & Moshe Leiser/Patrice Caurier
Available Format: DVD Video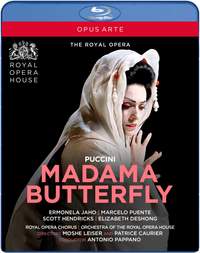 Ermonela Jaho (Cio-Cio San), Marcelo Puente (Pinkerton), Scott Hendricks (Sharpless), Carlo Bosi (Goro), Elizabeth DeShong (Suzuki), Jeremy White (Bonze), Emily Edmonds (Kate Pinkerton), Gyula Nagy (Imperial Commissioner), Yuriy Yurchuk (Prince Yamadori)
Orchestra of The Royal Opera House, Royal Opera Chorus Antonio Pappano & Moshe Leiser/Patrice Caurier
Available Format: Blu-ray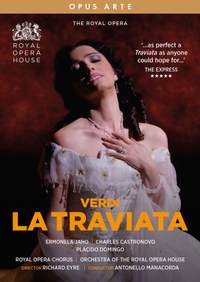 Ermonela Jaho (Violetta), Charles Castronovo (Alfredo), Placido Domingo (Germont)
Orchestra of the Royal Opera House and Royal Opera Chorus, Antonella Manacorda, Richard Eyre (director)
Available Format: DVD Video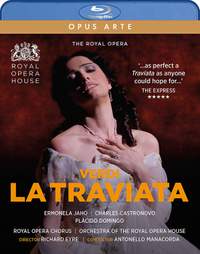 Ermonela Jaho (Violetta), Charles Castronovo (Alfredo), Placido Domingo (Germont)
Orchestra of the Royal Opera House and Royal Opera Chorus, Antonella Manacorda, Richard Eyre (director)
Available Format: Blu-ray