16th April 2020
 Interview

,

  Catherine Foster on Wagner
The British dramatic soprano Catherine Foster began her working life as a midwife before pursuing a full-time singing career, and made her debut at the Bayreuth Festival as Brünnhilde in Frank Castorf's production of the Ring Cycle in 2013 - the bicentenary of the composer's birth. Foster's relationship with Wagner began seven years earlier at the Deutsche Nationaltheater Weimar, and her first Ring Cycle (filmed there in 2008) is now available on DVD and Blu-ray from Arthaus Musik.
We spoke last month in the lead-up to her scheduled appearances in the title-role of Elektra with the Bournemouth Symphony Orchestra (which were subsequently cancelled due to the UK lockdown) about her rather unusual route to Bayreuth and to dramatic soprano repertoire in general, her perspectives on social media, and how she maintains good vocal health on a steady diet of Brünnhildes, Turandots and Elektras…
Photo credit: Uwe Arens
These DVDs from Weimar capture your first Ring Cycle, which took place several years before your Bayreuth debut in the work - how different are the two theatres?
I have sung in many wonderful theatres, and Weimar DNT will forever hold a special place in my heart for the ten years I sang there and how I was given the opportunity to grow as a singer; it is a German National repertoire Theatre and the place where I developed not only my voice but my stage craft. And then there's Bayreuth. You can't compare it to anywhere else: it's the Hollywood of Wagner. Weimar is a lovely house with a decent acoustic, but it's quite small in comparison to Bayreuth: Weimar has 880 seats, and Bayreuth is just shy of 2000. Bayreuth was Wagner's dream which he specifically built to get the best sound and mix from his music, and singers; he spent a lot of time figuring out how he wanted his music to sound and what he needed to do to achieve that, to the extent of designing his own instruments as well as his own opera-house.
In between the Weimar production and my Bayreuth debut I sang Götterdämmerung in Riga, which is one of the theatres where Wagner conducted earlier in his career; we know he liked the acoustic there, as well as the deep pit and very few boxes enabling the sound to travel better, and for me it was very interesting to work and sing in a house that had inspired Wagner in his early years. Little did I know at that time that I would have the privilege of going on to see how those ideas became reality, and to experience first-hand how in Bayreuth you can hear a pin drop. The sound comes to us first on stage and then travels out to the auditorium: I suppose you could call him a very early mixer, although of course he did all his mixing without a mixing-desk! It was actually a performance in Riga where Eva Wagner first heard me in that Götterdämmerung with a view to going to Bayreuth for Wagner's 200th anniversary.
Frank Castorf's production of The Ring at Bayreuth caused a fair amount of controversy when it opened in 2013 - was the staging at Weimar more conventional?
No, it wasn't conventional at all either: it was very minimalist. I remember a performance where The World Wagner Society bought 800 of the 880 seats for Walküre, and when the curtain went up on a stage full of bunk-beds for the third act, one half of the audience was booing and the other half was cheering… Eventually the conductor had to stop the orchestra and restart the act, because the singers couldn't hear when to come in because of the noise in the auditorium! This is the thing about Wagner: you love it or you hate it, but you can't ignore it. And I just love the way it brings everybody together: as I was saying to somebody just the other day about the Castorf Ring, Frank wanted us all to talk and think about the piece, and whether you liked what he did with it or loathed it he's still 'won' because here we are discussing it! What is a conventional way to stage The Ring if you look at what the whole thing is about? It's about love, power, hate, family, beliefs – it's the sort of family saga which is going on everywhere in the world at the moment. I did it in Shanghai and they still loved it because you can relate it so easily to the Chinese way of living; it fits in any culture, because it's about things that are fundamental to humanity.
Was Wagner always on your horizons, and what sort of repertoire did you sing earlier in your career?
Wagner was never on my horizons in the early stages of my career and studies as I thought they were much too long! I wasn't intending to go in this direction at all! When I went to the National Opera Studio for example, in 1998/9, I was studying roles leaning towards a dramatic coloratura, I had debuted as a professional with Queen of the Night and so of course it was logical I would move towards that repertoire, the big Bellini, Rossini and Donizetti roles, such as Norma, Lucia di Lammermoor, Donna Anna etc so when I came over to Germany my audition-arias included 'Marten aller Arten', Donna Anna, and Agathe. All of them are at least five minutes long, though, so I did include a shorter aria - 'Dich Teure Halle'. That aria actually marked the beginning of my relationship with Weimar: I sang it at my first audition, and it turned out that George Alexander Albrecht was looking for somebody who could sing Elisabeth. But Mimì was my first big role at the beginning of my first season in Weimar, and I moved through several Italian roles like Elisabetta in Don Carlos, Leonora in Il Trovatore, Abigaille in Nabucco, and Tosca, and at the same time into the German repertoire such as Fidelio, Senta, and indeed that Elisabeth. But even at that stage I still wasn't looking to go down the Wagner route as a dramatic Wagner soprano.
It all really started in 2006 when the Director of Opera at Weimar was looking to stage The Ring; he originally wanted me to do Freia, Sieglinde, Brünnhilde in Siegfried and Gutrune, but then he came to me and said 'If you sing Sieglinde then who am I going to get to sing Brünnhilde in Walküre?!'. (I still sang Freia in Rheingold, although it's another singer on the DVD, and I'm very glad I did; being part of the whole story from the beginning was a huge help as I began my journey of The Ring. So I tried it with a coach in Weimar and it just felt like butter on my voice: it was so good and comfortable to sing. I discussed singing the role with my singing teacher Pamela Cook MBE and we decided it was a great opportunity and time to start looking at the larger roles of Wagner.
Did you start working with Pam during your time at Birmingham Conservatoire?
I find it quite extraordinary that my two careers actually coincided for a short period and that one sprang from the other. I came into contact with Pam via Midwifery: I was looking after a woman and as we chatted to pass the time I mentioned that I was interested in having singing lessons, and her husband had links with the am-dram societies in Nottinghamshire. They gave me a couple of names, and I went to see one teacher who listened to me and suggested I go to Pam; that was in the May, and as she'd just decided to finish at the Conservatoire at the end of the academic year she was happy to start working with me after that. I'm a firm believer in fate and when I went back in the September for my first lesson she said: 'If you'd come to me now I wouldn't have taken you because I've agreed to stay on at Birmingham to teach!' I couldn't believe my luck. Pam taught me for the following twenty years before passing away and took me from being a complete novice to being accepted as Brünnhilde on the Bayreuth stage. Everything that I know and everything that I do now is because of the technique she gave me.
Could you expand a bit on what made her so special as a teacher?
Pam was someone with years of experience and expertise who stripped my voice back to its core to then build on it, to become the voice it is today, with firm foundations and a thorough knowledge of how my voice works. She was not only a voice teacher for individual voices; she had her choir - Cantamus - which she set up in 1968. They went on to win many awards and she became well known for her choral work. She received an MBE in 1984, was made a Vice-President of the Association of British Choral Directors, alongside John Rutter and Brian Kay in 2003 and was made a Fellow of The Royal Academy in 2010. I often said (and still do) that what she didn't know about the voice you could write on a postage stamp! Her professionalism, standards and sheer driving force pushed us to achieve the best. She passed away in the summer of 2013, and I lost more than my teacher - I couldn't be with her when she was buried as it was the day of the dress rehearsal of Siegfried in Bayreuth.
What's your attitude to social media and its relationship with the opera world?
Social media is necessary on one hand, because it's lovely to share what we're doing, but if you're not careful it can be a very superficial thing: people go on there and think that everybody else is having a fantastic time and that they've never have a bad day, because nobody posts about that. I have a private Facebook page and a professional one, and my professional page is of course about my professional life, and things that audiences wouldn't normally get to see by just coming to a show. I've noticed that the posts that do well are often the behind-the-scenes views and sometimes sped-up videos of the technical things and scenery, and sped-up videos of makeovers and how I get transformed from Catherine into the character I am about to play. I did a Turandot in Cologne which involved a black wig and a Minnie Mouse bow, and a lot of people seemed to enjoy that transformation!
Social media has brought the arts much closer to the public, I think, by showing what is involved in bringing a production or concert onto the stage. I remember The Ring in Washington was highly documented over social media and I was fascinated myself to see just what the technicians and backstage crew and offices were doing for months before we as singers even arrived for our rehearsals. It is things like this that we mustn't forget: opera is not just about the actual day of the show and those we see on stage - that is just the icing on the cake - opera and the arts is so much more. There are so many ingredients that have to be put together, so many jobs, all working together for years, and there's a very positive side to social media that has made this a lot more accessible and visible to the public - and then we get to eat the cream cake in one evening and savour the flavours.
Apart from relying on the technique that you acquired, how else do you maintain good vocal health with such a busy schedule of heavy repertoire?
For the repertoire that I sing, relaxation is hugely important – I know people who have to sing every day, but I don't, and on the days I'm not working I let the voice rest. Pam always said to me that 75% of learning your roles happens in your head, so if I'm feeling under the weather I'll spend time simply thinking through the music and what I want to do with it. As all singers I have my own little quirks such as herbals and essential oils that I use - If you speak to enough singers I am sure there will be a certain few things that keep re-occurring. And of course I drink plenty of water! I usually drink at least three litres the morning/afternoon before I step onto the stage to sing Elektra as once it's started that's two hours without ever getting off the stage!
What would you choose to record for a studio album?
There's a lot of repertoire I would love to explore. Definitely Strauss's Vier letzte Lieder, possibly with Wagner's Wesendonck-Lieder and Britten's On This Island, which I think is a fantastic cycle – those are three of the things I think would really work for my voice.
---
We then went on to discuss Catherine's preparations for the concert-performances of Strauss's Elektra with the Bournemouth Symphony Orchestra and Kirill Karabits which were scheduled to take place in Bournemouth and Birmingham in late March, and would have been her first operatic appearances on a British stage in twenty years; following their cancellation in the wake of the COVID-19 outbreak, she sent me the following postscript:
Sadly after we did this interview my re-emergence on the UK stage for Elektra was cancelled; however, we rehearsed as far as and including the dress rehearsal with an absolutely stunning cast, sublime orchestra and conductor and just a great team overall. I would like to say a heartfelt thank you to all of those involved that made the week a professional and positive one. We were all gutted that the shows could not go on but were (and still are) totally understanding as to why it had to be - life just gets in the way sometimes and we have to adapt, so I am hoping that this is not a cancellation but simply a delay to bringing Elektra with the Bournemouth Symphony and Kirill Karabits at the helm to the stage again sometime in the future. Many, many lives have been turned upside-down by this virus in more ways than one and my thoughts and heart go out to everyone on all sides of this battle. Stay home and stay safe.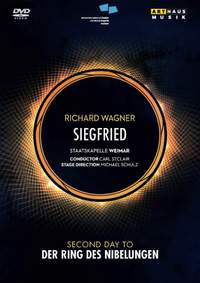 Johnny Van Hall (Siegfried), Catherine Foster (Brünnhilde), Frieder Aurich (Mime), Tomas Möwes (Der Wanderer), Mario Hoff (Alberich), Hidekazu Tsumaya (Fafner), Heiki Porsten (Forest Bird), Nadine Weissmann (Erda)
Staatskapelle Weimar, Carl St. Clair, Michael Schulz
Available Format: DVD Video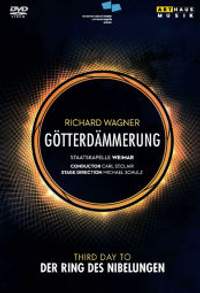 Norbert Schmittberg (Siegfried), Catherine Foster (Brünnhilde), Renatus Mészár (Hagen), Mario Hoff (Gunther), Tomas Möwes (Alberich), Marietta Zumbült (Gutrune), Nadine Weissmann (Waltraute)
Staatskapelle Weimar, Carl St. Clair, Michael Schulz
Available Format: 2 DVD Videos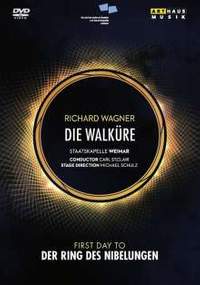 Catherine Foster (Brünnhilde), Renatus Mészár (Wotan), Erin Caves (Siegmund), Kirsten Blanck (Sieglinde), Hidekazu Tsumaya (Hunding), Christine Hansmann (Fricka)
Staatskapelle Weimar, Carl St. Clair, Michael Schulz
Available Format: 2 DVD Videos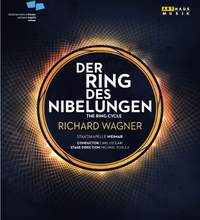 Catherine Foster (Brünnhilde), Johnny van Hall/Norbert Schmittberg (Siegfried), Renatus Mészár (Fasolt/Wotan/Hagen), Kirsten Blanck (Sieglinde), Erin Caves (Siegmund/Loge), Christine Hansmann (Fricka), Mario Hoff (Wotan/Alberich), Tomas Möwes (Alberich/Der Wanderer), Nadine Weissmann (Waltraute/Erda)
Staatskapelle Weimar, Carl St. Clair, Michael Schulz
Available Format: 7 DVD Videos