US Airmail Charges: As a knock-on effect of COVID-19 airfreight prices around the world have soared. Reluctantly, we have had to pass on some of this increase in our standard airmail prices. We'll bring them down again as soon as we can!
13th March 2020
 New Release Round-up

,

  New Release Round-Up - 13th March 2020
Today's new releases include Beethoven from Rudolf Buchbinder and Andreas Staier, Tartini violin concertos from Chouchane Siranossian and the Venice Baroque Orchestra, Handel arias from French countertenor Christophe Dumaux, and the inaugural concert from Berlin's Pierre Boulez Saal on DVD and Blu-ray, featuring music by Boulez, Mozart and Berg.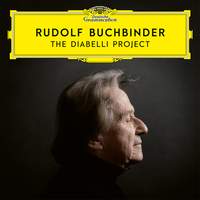 Rudolf Buchbinder (piano)
For his debut on Deutsche Grammophon, the Austrian pianist has commissioned a new series of works inspired by Beethoven's Diabelli Variations (which are also included complete) by composers including Toshio Hosokawa, Krzysztof Penderecki, Tan Dun, Max Richter, Jörg Widmann, Rodion Shchedrin, Lera Auerbach, and Brett Dean.
Available Formats: 2 CDs, MP3, FLAC, Hi-Res FLAC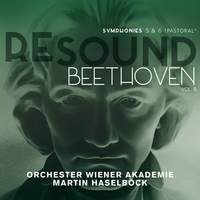 Wiener Akademie, Martin Haselböck
For this eighth volume of Alpha's Resound Beethoven (which was launched in 2015 to capture performances of the symphonies in venues where they were performed during the composer's lifetime), Haselböck and his Viennese period-instrument orchestra return to the Landhaussaal of the Palais Niederösterreich.
Available Formats: CD, MP3, FLAC, Hi-Res FLAC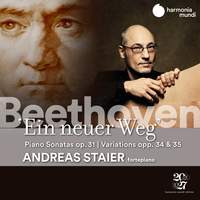 Andreas Staier (fortepiano)
Staier takes his title from a quotation from Beethoven's Heiligenstadt Testament of 1802, in which he stated his intention to 'embark on a new path' as he struggled with encroaching deafness, and the album features works which were published that same year – the Piano Sonatas Nos. 16, 17 and 18, the Variations on an Original Theme Op. 34, and the Eroica Variations. Staier plays a Viennese fortepiano by Mathias Müller, dating from around 1810.
Available Formats: 2 CDs, MP3, FLAC, Hi-Res FLAC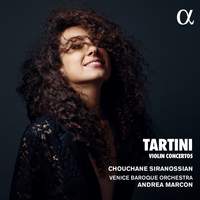 Chouchane Siranossian (violin), Venice Baroque Orchestra, Andrea Marcon
The French violinist included Tartini's famous Devil's Trill sonata on her 2016 album L'Ange et le Diable with Jos van Immerseel, which won the Baroque Instrumental category at the International Classical Music Awards the following year; this first volume of a projected series of the composer's violin concertos (which run to roughly 160) features five unpublished works, one of which was only recently discovered by the musicologist Margherita Canale.
Available Formats: CD, MP3, FLAC, Hi-Res FLAC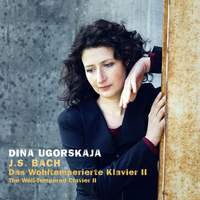 This second instalment of the Russian-born German pianist's Well-Tempered Clavier was recorded for German radio three years before her death aged just 46 last September; Classics Today observed that her interpretation of the work 'attested to her force of personality and serious outlook.'
Available Formats: 3 CDs, MP3, FLAC, Hi-Res FLAC
Sandrine Piau (soprano), Christopher Lowrey (countertenor), Les Talens Lyriques, Christophe Rousset
After joining forces for Pergolesi's masterpiece, Piau and Lowrey perform one solo work apiece by his Neapolitan contemporaries: Nicola Porpora's setting of the Salve Regina for soprano (which Rousset describes as 'an expression of very Mediterranean, very highly flavoured piety') and Leonardo Leo's Beatus vir qui timet for alto.
Available Formats: CD, MP3, FLAC, Hi-Res FLAC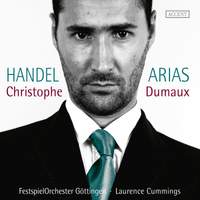 Christophe Dumaux (countertenor), Festspiel Orchester Göttingen, Laurence Cummings
The French countertenor is especially renowned for his flamboyant portrayals of Handel's villains, and his debut recording features two arias from his signature-role of Polinesso in Ariodante as well as snapshots of several rather more noble characters: Bertarido in Rodelinda, Goffredo in Rinaldo, and the title-roles in Giulio Cesare and Orlando.
Available Formats: CD, MP3, FLAC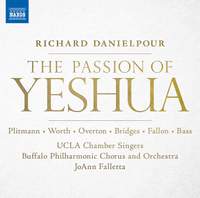 Buffalo Philharmonic Orchestra & Chorus, JoAnn Falletta
Premiered in Oregon in 2018, Danielpour's large-scale oratorio focuses on the last twelve hours of Christ's life and takes inspiration from Bach's Passions whilst also giving prominence to the voices of Mary Magdalene and Mary the Mother of Jesus; the text (which is partly in Hebrew and partly in English) draws on all four Gospels and the Books of Isaiah, Psalms and Lamentations.
Available Formats: 2 CDs, MP3, FLAC, Hi-Res FLAC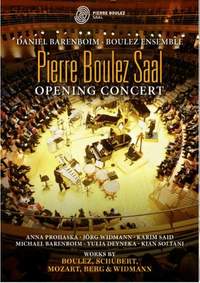 Anna Prohaska (soprano), Jörg Widmann (clarinet), Daniel Barenboim (piano/conductor), Karim Said (piano), Yulia Deyneka (viola), Kian Soltani (cello), Boulez Ensemble
Filmed on 4th March 2017, the inaugural concert from the Berlin concert-hall features Boulez's Initiale and Sur incises, Schubert's The Shepherd on the Rock, Mozart's Piano Quartet No. 2, Berg's Chamber Concerto for Piano and Violin, and Jörg Widmann's Fantasie for solo clarinet (performed by the composer).
Available Format: DVD Video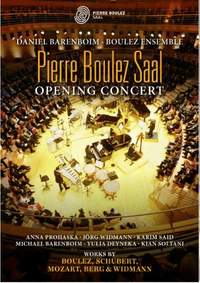 Anna Prohaska (soprano), Jörg Widmann (clarinet), Daniel Barenboim (piano), Michael Barenboim (violin), Yulia Deyneka (viola), Kian Soltani (cello), Karim Said (piano), Boulez Ensemble
Picture format: 16:9
Sound format: PCM Stereo, DTS-HD Master Audio 5.0
Available Format: Blu-ray