US Airmail Charges: As a knock-on effect of COVID-19 airfreight prices around the world have soared. Reluctantly, we have had to pass on some of this increase in our standard airmail prices. We'll bring them down again as soon as we can!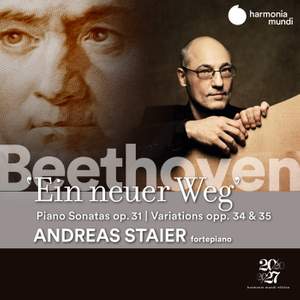 New

,

   Offer

,

 Beethoven: Ein Neuer Weg
Piano Sonatas Op. 31 & Variations Opp. 34 & 35
Andreas Staier (fortepiano)
This stimulating disc, recorded on an instrument of 1810, illustrates Beethoven's "new path". The Op 31 sonatas show an unprecedented, almost improvisatory audacity of harmony.

— More…
Contents
Beethoven: Piano Sonata No. 16 in G major, Op. 31 No. 1
22:36
Beethoven: Piano Sonata No. 17 in D minor, Op. 31 No. 2 'Tempest'
21:57
Beethoven: Piano Sonata No. 18 in E flat major, Op. 31 No. 3 'The Hunt'
22:08
II. Scherzo. Allegretto vivace
5:34
III. Menuetto. Moderato e grazioso - Trio
3:57
Beethoven: Variations (6) for Piano on an Original Theme in F major, Op. 34
12:56
Variation II. Allegro ma non troppo
1:04
Variation III. Allegretto
1:04
Variation IV. Tempo di Minuetto
1:24
Variation V. Marcia. Allegretto
2:06
Variation VI. Allegretto - Coda - Adagio molto
4:18
Beethoven: Eroica Variations, Op. 35
25:31
Introduzione col Basso del Thema. Allegretto vivace
3:31
Variation VII. Canone all'ottava
0:36
Variation XV. Maggiore. Largo - Coda espressivo
5:15
Finale alla Fuga. Allegro con brio.
4:53