UPDATE: Royal Mail have now resumed shipments on their TRACKED & SIGNED and SIGNED services but delays should be expected, please choose these services if available to you or FEDEX if your order is urgent.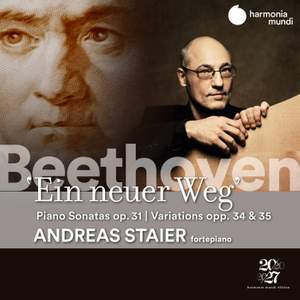 Offer

,

 Beethoven: Ein Neuer Weg
Piano Sonatas Op. 31 & Variations Opp. 34 & 35
Andreas Staier (fortepiano)
These are stimulating performances, brought off with real aplomb

— More…
2 CDs
Original price
($16.00)
Reduced price
$11.25
Contents
Beethoven: Piano Sonata No. 16 in G major, Op. 31 No. 1
Beethoven: Piano Sonata No. 17 in D minor, Op. 31 No. 2 'Tempest'
Beethoven: Piano Sonata No. 18 in E flat major, Op. 31 No. 3 'The Hunt'
II. Scherzo. Allegretto vivace
III. Menuetto. Moderato e grazioso - Trio
Beethoven: Variations (6) for Piano on an Original Theme in F major, Op. 34
Variation II. Allegro ma non troppo
Variation III. Allegretto
Variation IV. Tempo di Minuetto
Variation V. Marcia. Allegretto
Variation VI. Allegretto - Coda - Adagio molto
Beethoven: Eroica Variations, Op. 35
Introduzione col Basso del Thema. Allegretto vivace
Variation VII. Canone all'ottava
Variation XV. Maggiore. Largo - Coda espressivo
Finale alla Fuga. Allegro con brio.