US Airmail Charges: As a knock-on effect of COVID-19 airfreight prices around the world have soared. Reluctantly, we have had to pass on some of this increase in our standard airmail prices. We'll bring them down again as soon as we can!
19th March 2020
 Interview

,

  Eric Lu on Chopin, Brahms and Schumann
Chopin has been something of a lodestar for the Chinese-American pianist Eric Lu since the very beginning of his career: at seventeen, he became one of the youngest-ever laureates of the International Chopin Competition in Warsaw, and three years later the composer's music figured prominently in his programmes for the solo rounds of the Leeds International Piano Competition, at which he took First Prize and Gold Medal. For his first studio recording (released on Warner Classics at the end of February), Chopin is once again front and centre in the form of the 24 Preludes, complemented by Brahms's Intermezzo Op. 117 No. 2 and Schumann's uncanny late Geistervariationen, written immediately before he was admitted to the asylum where he remained for the rest of his life.
Just after performing the programme in Oxford last month, Eric spoke to me about his intense relationship with Chopin's music, the connections between the works on the album, and the pleasures and challenges of working in the studio for the first time.
You recorded the Preludes five years ago, when you were only seventeen – how much has your perspective on them altered in the interim?
That was my live performance in the semi-final of the Chopin Competition - they released recordings from all the prize-winners - so I don't really consider it as a recording as such, but a document of an event. Going back, it was a piece I studied seriously before the Chopin Competition, and I played them in public a few times in the run-up, after winning the National Chopin Competition earlier that year. You learn so much about the music when you perform it many times over a short period, living with the music on the stage, and with many different audiences, pianos, and concert halls. In my experience however, after some time, I felt I needed to give it some space. So I left it alone for about two years, and then when the question of what would be on my first studio recording arose, I felt the burning desire to record this work. When I reopened the score and played it through again, a lot of things felt different – I wouldn't say an entirely different interpretation at all, but so many details, new ways of thinking, and I think a deeper understanding of the cycle in general. For me, this was the first time I have done a studio recording, and I view a recording extremely seriously. Because it is there for posterity, I want to try to get to an ideal vision of the work I imagined, both at the macro-imaginative level of how I want it to be heard, as well as in the details. It was actually a very difficult process for me personally to wrap my head around the pressure to actually 'do it'.
What approach did you take once you got into the studio: did you record the Preludes individually in sequence, or go for longer takes?
I mostly did one Prelude at a time; but also a few together at a time, and at the end I did record a few complete run-throughs. Because every Prelude is so different I felt it was important to try to live in the world of each individual one. I feel that could have been a danger if I didn't have experience of playing the set as a whole - but because I'd always performed it as a cycle in concert, I felt the connections intuitively between each Prelude is very much engrained in my conscience.
When you spoke to us shortly after your victory at the Leeds Piano Competition a couple of years ago, you mentioned being a huge recording geek when you were younger – which pianists would you cite as major inspirations when it comes to Chopin?
Moreso with Chopin than any other composer I didn't listen too much to other pianists' recordings – he's such a special figure in his musical language, and I tried to go my own way. Early memories of Chopin would include hearing a recording of the First Piano Concerto at a very young age, and the second movement in particular made me really fall in love: I just thought 'How can anything be so beautiful?!'. Krystian Zimerman's 1999 recording where he founded his own orchestra and conducted is particularly great. Further, as a youngster I followed a lot of the old videos recorded at the Chopin Competition: hearing so many different pianists and approaches influenced me I'm sure. And when it came to preparing for the Competition myself back in 2015, the experience of simply living with one composer for a prolonged period of time was very important because you subconsciously gain so much knowledge of their musical language. That's something I try to do: I tend not to want to play too many composers at once, because then it's hard to go very deeply into the language and unique worlds of each one of them.
How have you played around with programming them in concerts, and how did you decide on what to put alongside them on the album?
For me Brahms and Schumann together often work very well. As for this recording, the obvious choice would have been to just complete it with a few more pieces by Chopin - and there's nothing wrong with that, but for this debut solo album I wanted something else. I want the Brahms Intermezzo to be heard alongside the Schumann Geistervariationen as one organism. From a listening perspective, it's very similar atmospherically, and it's in the same key: E-flat major. But more deeply than that, it is a window into the late period of two composers deeply connected in music history. The Schumann Geistervariationen fascinate me so much, and I love this work. An extra motivation for me was the fact that it's not played too often, so I really feel it's important to have this work heard and known a bit more. It's such complex music that it's very hard to get a handle on it, so for instance when I told Mitsuko Uchida that I was planning to record it she told me she feel she still can't make sense of it today!
However, I felt a strong connection to the it, and I wanted people to know this music and the story behind it, and through that to come to a more complete understanding of Schumann. This is the last piece he ever wrote, and it's extraordinary music in every sense: at this stage in his life he was not mentally well, and the story goes that he hallucinated this theme and frantically wrote it down, believing that angels had gifted it to him. It was actually a theme that he himself had written many years earlier, but by this time he had absolutely no memory of composing it. For instance, you can hear the fragment of the first bar in the second movement of his Violin Concerto. But when this theme now appears in the Geistervariationen, the profoundness of it is unspeakable. Clearly, this theme was so etched in his conscience that he kept coming back to it.
He then equally frantically wrote variations to it, in an extremely short space of time. The last variation was composed after he tried to drown himself in the Rhine and was saved; in a way the spookiest and most extraordinary of all, and then that was it – he had himself committed to the asylum and spent the last few years of his life there. The way I feel it was conceived performance wise was that he had no mindset that this was music to be played or heard or published – he wrote it because he had to, so there isn't any sense of him thinking about much of anything else such as how it's perceived as a work of art. This is absolute raw music, and it is deeply moving. I first heard Grigory Sokolov playing it on YouTube and I heard András Schiff in a live performance, and then I opened the score and realised I needed to be very sure that I wanted to study this!
Do you see the Schumann Variations as inhabiting a completely different emotional world to the Chopin, or are there some parallels?
The one word I would use to connect all of this music together is 'personal' – to me, the Chopin, Brahms and Schumann are all among the most personal works ever written. The Chopin Preludes are basically not bound by any musical form in its conception. So I believe it can be even more of a direct and raw expression of what he wanted to express immediately at that moment for each prelude. It is such imaginative music, just incredible to think about today the emotional state he was going through at the time. In the music, there is absolute fury sometimes, such as the recitative of No. 18, as well as Nos. 22 and 24, but also the utmost simplicity and tenderness found in No. 7 and 11. There's also this hypnotic procession of repeated notes found in No. 6 and 15 as well. And one by one, this work of art becomes greater and greater, each prelude inhabiting its own very personal world, but coming together as something greater, unfolding in every tonality.
Do you have any plans to record the complete Brahms Intermezzi?
I would certainly like to do so one day – it's definitely music I feel very deeply moved by, but I think in due time... I highly respect the recording of Radu Lupu; it's definitely a tall task! I've performed Op. 118 many times in public, but have not yet learned 119.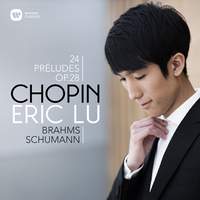 Eric Lu (piano)
Available Formats: CD, MP3, FLAC, Hi-Res FLAC, Hi-Res+ FLAC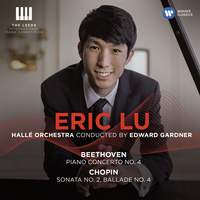 Eric Lu (piano), Hallé Orchestra, Edward Gardner
Available Formats: CD, MP3, FLAC, Hi-Res FLAC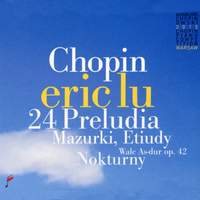 Live recording from the International Fryderyk Chopin Piano Competition, 2015
Available Format: 2 CDs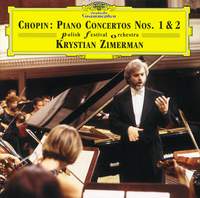 Krystian Zimerman (piano/conductor), Polish Festival Orchestra
Available Formats: 2 CDs, MP3, FLAC