3rd December 2012
 Recording of the Week

,

  Christmas roundup
With Christmas fast approaching I thought this might be a good week to give you a quick roundup of some of this year's seasonally themed discs which we've been particularly enjoying here in the office.
The Choir of King's College Cambridge
The annual Nine Lessons and Carols from King's College Cambridge remains the quintessential Christmas service for many, and this year's offering is a perfect blend of innovation and tradition. The centrepiece of their new disc (the first recording on the college's own label) is a new carol by John Rutter – 'All Bells In Paradise', which is surely set to become a firm Christmas favourite. Katherine was granted a sneak preview in the college chapel during one of the recording sessions, and immediately found herself feeling disconcertingly festive despite it being a beautiful June afternoon! There are also new works by Tansy Davies, Mark-Anthony Turnage and Gabriel Jackson as well as all the old favourites. You can watch a short video-clip of Stephen Cleobury speaking exclusively to Katherine about the new Rutter piece and the King's tradition of new carol commissions via the link below.
If you're looking for a Christmas-related disc of repertoire you probably don't have already, then the new Supraphon recording of Zelenka's Missa Nativitatis Domini is probably the thing for you. Czech Baroque composer Jan Dismas Zelenka became justifiably popular in Prague in the 1730s and was known and admired by J.S. Bach. It is hugely persuasive music and is performed here by the period instrument group Musica Florea under Marek Štryncl with real tenderness and commitment. Soloists and choir are in good voice, and the disc also contains a couple of world premières.
In preparation for 2013 Benjamin Britten year, Hyperion starts celebrating early with a disc of two of the composer's most popular choral works, both with a Christmas relevance – the Ceremony of Carols, and St Nicolas – from Trinity College Choir Cambridge under Stephen Layton. The ladies of the choir give a polished and fresh performance with a good amount of purity of sound, while Stephen Layton keeps the tempos moving convincingly. Women rather than boys may not be to everyone's taste but it is mightily impressive nonetheless. Meanwhile Allan Clayton makes a thoroughly excellent St Nicolas.
Australian Eloquence has done us a great service this year by returning a number of excellent but deleted festive titles to the catalogue. Top amongst my picks would be the two Monteverdi Choir and John Eliot Gardiner recordings 'Once, As I Remember…' and 'Christmas in Venice', Roger Norrington's 'Glad Tidings'; and a really fun disc entitled 'Sleigh Ride' from the Boston Pops Orchestra under Arthur Fiedler. There are eight titles in total to browse through from the link below and at excellent prices you can't go wrong with any of these.
And finally a new disc from Worcester College Choir, Oxford. We were in two minds as to whether to feature this or not, as being on the label Resonus Classics, it is only available as a download. However, the quality of their new 'This Christmas Night' disc is such that we felt we had no choice. It includes a dozen world premières, a highlight of which is Richard Allain's haunting setting of Balulalow. This mixed-voice choir has often been eclipsed in the past by the all-male choral foundations at Oxford, but the Worcester ladies are sounding rich and luminous here under their new director Stephen Farr and this accessible, intriguing collection is well worth checking out if you're suffering from a surfeit of traditional musical fare!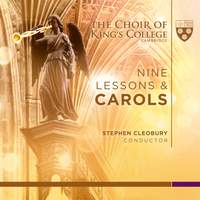 Choir of King's College Cambridge, Stephen Cleobury
Available Formats: 2 CDs, MP3, FLAC, Hi-Res FLAC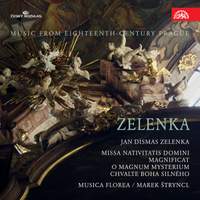 Barbora Sojková (soprano), Markéta Cukrová (alto) & Tomáš Král (bass), Musica Florea (on period instruments), Marek Štryncl
Available Format: CD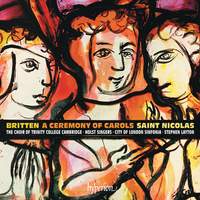 Trinity College Choir Cambridge, Stephen Layton
Available Formats: CD, MP3, FLAC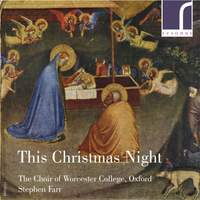 Stephen Farr (organ), Edward Turner (organ), Choir of Worcester College Oxford, Stephen Farr, Edward Turner
Available Formats: MP3, FLAC