19th September 2019
 Interview

,

  Ermonela Jaho on Le Willis
Written at top speed for a composition competition masterminded by the Italian publisher Edoardo Sonzogno in 1883, Puccini's early one-act opera Le Willis is the composer's only work to incorporate an explicitly supernatural element - based on a similar story to Adolphe Adam's ballet Giselle, its heroine Anna exacts posthumous revenge on her faithless lover Roberto by joining the ranks of the eponymous nymphs and forcing him to dance with her and her ghostly sisters until he drops dead from exhaustion. The young composer expanded the score into its more familiar two-act incarnation Le Villi shortly after the competition (which had stipulated that submissions must be in the one-act format) and the original version of the score received its first outing since the premiere only last November, in a concert performance conducted by Sir Mark Elder at the Royal Festival Hall.
Tomorrow sees the release of a studio recording on Opera Rara, made shortly before the London concert with the same forces; I spoke to Albanian soprano Ermonela Jaho (who sings the role of Anna) about the project earlier this year while she was in London for La traviata at Covent Garden.
As your repertoire includes Mimì, Butterfly, Suor Angelica and Liù, you've extensive experience with Puccini's death-scenes, but this is the first time you've portrayed a heroine who continues to sing from beyond the grave! How different is the music which Puccini gives to Anna before and after her death, and what are the main challenges of the role?
This is Puccini's first opera and whilst there's a sense of a young composer trying to find his way, his style is already so distinctive in many respects and his treatment of Anna's role is really imaginative. He does so much with colours, in that the music which he uses to introduce her at the beginning of the piece recurs later on when she reappears as a vengeful ghost, but clothed in so much sadness and darkness: when we first meet Anna as a shy, rather nervous young girl, the scoring is lighter (though even then there's a sense of foreboding in the music), but later on the same material is given much more dramatic treatment. The fact that Puccini was still quite inexperienced does present certain challenges for the singer, though: he doubles her line in the orchestra rather a lot, especially in the lower register, which is quite hard work vocally; the other difficulty was having so little time to build the character, especially in this one-act version which doesn't include the aria ['Se come voi piccina', included as an appendix on the recording]. That can be tough on the audience as well as on you as a performer, so my strategy was to have three imaginary previous acts in mind and to see this one as the climactic fourth one!
Thinking purely as a singer, I'd expected that this role would be easier and less tiring than a Butterfly or a Manon Lescaut, because it's so short, but once I started to go into the character in depth it was every bit as exhausting! I'd sung the opera three or four years ago in Paris but I was very aware that I wanted to find more detail in it before the concert-performance and recording, particularly in terms of how I portrayed Anna after her death, and for that I really have to thank the wonderful ballerina Natalia Osipova: the last time I was at Covent Garden I saw her dance Giselle, and the way she transformed herself between the two acts was astonishing and so emotionally truthful. Somehow I found a way to convey that in my own body-language, and after that I started working on finding the right vocal colours to bring a ghost to life, which was a completely new experience for me!
Do you see any connections with the other Puccini heroines in your repertoire?
Butterfly, Suor Angelica and Manon Lescaut are roles I sing a lot, and as soon as I started working on Anna I felt that same sense of abandonment and melancholy: Butterfly in particular really helped me when I was trying to find the key to understanding Anna. All of these characters are young girls living in a judgmental society, and experiencing those natural desires to feel beautiful, to receive attention, to be protected by their lovers; these sorts of universal human emotions are why these operas still resonate with us today, and despite the supernatural ending Le Willis is a very human story.
As well as those foreshadowings of his own mature operas, do you detect the influence of other composers whom the young Puccini particularly admired?
Puccini hero-worshipped Wagner at this stage in his life, and there are certain colours in the orchestration where you feel that admiration very clearly - especially in the scenes for the two lovers, which are full of the sort of abandon that you hear in Tristan und Isolde! There are flashes of Debussy as well, and other Italian influences: there are moments where you feel 'This isn't Puccini, it's Mascagni!'. Mascagni and Puccini studied at the Milan Conservatoire at the same time, and were even room-mates for a while; Puccini's success with Le Willis came first, but it was eventually Mascagni who really made the verismo opera in one act his own. They both absorbed so much from this Scuola Italiana, but Puccini added Debussy and Wagner into the mix, and it's so interesting that in this short original version of the opera you get such a clear snapshot of the period and the music that was surrounding him. It felt so exciting to present the public with the very beginning of the Puccini story: the composer we all know from Tosca, Butterfly and Trittico had to start from somewhere, and it's quite beautiful to see this very first step on the journey towards establishing his 'brand'.
Speaking of Mascagni, Anna's fatal vengeance on a man who's abandoned her is very similar to Santuzza in Cavalleria rusticana, and not a side of you which we see very often on stage… Was it a challenge to explore that dark side of the character?
Revenge doesn't come naturally to me, because I'm a very peaceful person: my nature is to accept that things go wrong and people make mistakes, so getting inside the mind of a woman who could hate a man she once loved so much that she could hound him to death was very painful for me. I had to work very hard to connect with it emotionally, and for me that involved watching a lot of movies and doing a lot of day-dreaming – quite dark day-dreams, though, because I had to force myself to imagine being so badly hurt that I would react with that kind of anger.
Maestro Mark Elder worked very hard with me on that aspect of things during the recording, too: this score was a discovery even for him, and he spent a lot of time trying to get me to sound as vehement and dark as possible without sounding 'witchy' or grotesque. When Anna comes back from beyond the grave, she exacts revenge on Roberto with precisely the same music which she sings with so much love earlier in the opera, and we rehearsed that passage more than the rest of the piece put together; I repeated that cry of 'Roberto!' so many times that I'd felt like I'd sung the whole of Manon Lescaut or Butterfly!
Would you now be tempted by Santuzza in the future?
I don't know whether I'll sing Santuzza one day or whether it will have to remain a dream for me… I've been asked, and the emotional extremity of the music really speaks to me: in the Balkan and Mediterranean countries we don't see so much difference between being in love and suffocating! But I have to be self-aware, and my voice isn't right for that repertoire (at least not yet), mainly because the orchestration is so heavy. Santuzza is another woman who is really tough, but it's a very different kind of toughness from Butterfly or Suor Angelica, and you have to be able to show that in your voice; I so admire the sopranos who have the volume and the vocal weight to do that. So yes, I'm tempted - but I check myself and say 'OK, don't ruin your vocal-cords: you have to wait, and just enjoy it like a movie!' But Mascagni is very special to me: I made my debut as Suzel in L'amico Fritz in Milan after winning my first big competition, but that's different because it's more lyrical. And I'll add Iris to my repertoire in 2020...
You also have Magda in La rondine and Anna Bolena coming up this season…
I sang Anna Bolena in Paris nine years ago in Moscow, and going back to it is always good: bel canto really helps with my later Italian repertoire, because you have to balance lyricism and drama. And Magda I've sung at Covent Garden, but to me every role is a 'new' role! Yesterday was Traviata No. 263 for me, and before I went on stage I looked in the mirror and thought 'Ermonela, did you ever sing this opera before?!'. I was shaking so much it might as well have been my role-debut, but I see that as a positive thing: the only thing that is ever sure in life is change, and as artists we have to embrace that every time we go on stage, in every phrase of every performance. Trying to replicate the same interpretation every night is boring for your audience, regardless of whether they've seen you perform the role before or not. But my next new new role will be Adriana Lecouvreur…
Do you see any kinship between Adriana Lecouvreur and Zazà, your other leading lady for Opera Rara?
It's actually because of my experience with Zazà that I felt comfortable about accepting Adriana Lecouvreur: the two operas are set in Paris at around the same time as well as being composed just two years apart, and in a sense I see Adriana as the continuation of Zazà as a character. Zazà was an amazing school for me, because I'm essentially quite a timid woman off-stage (and even on stage I gravitate to repertoire that's on the more intimate, romantic side), but everyone has some kind of fire inside them and Zazà really helped me to tap into that. She drained away my shyness and made me feel comfortable about taking on this diva personality, which is something I've never developed in my 25 years as an opera-singer! I'm so grateful to Opera Rara for the opportunity to work on these two roles: Zazà taught me to overcome my natural inhibitions, and Le Willis taught me how to die halfway through an opera and make it believable!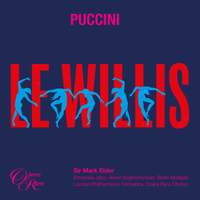 Ermonela Jaho (Anna), Arsen Soghomonyan (Roberto), Brian Mulligan (Guglielmo) Opera Rara Chorus, London Philharmonic Orchestra, Sir Mark Elder
Le Willis is released on Opera Rara on Friday.
Available Formats: CD, MP3, FLAC, Hi-Res FLAC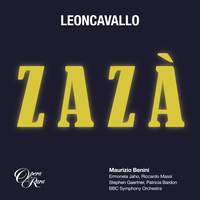 Ermonela Jaho (Zazà), Stephen Gaertner (Cascart), Riccardo Massi (Milio), Patricia Bardon (Anaide), David Stout (Bussy) BBC Symphony Orchestra, Maurizio Benini
'It's a perfect vehicle for Ermonela Jaho...With her impassioned lyricism tempered by a hint of steel, she brings Zaza as vividly to life as she did Puccini's tragic nun [Suor Angelica]'. (Sunday Times)
Available Formats: 2 CDs, MP3, FLAC, Hi-Res FLAC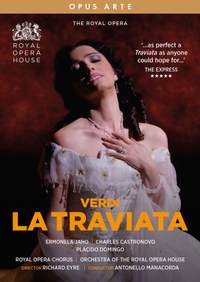 Ermonela Jaho (Violetta), Charles Castronovo (Alfredo), Placido Domingo (Germont); Orchestra of the Royal Opera House and Royal Opera Chorus, Antonella Manacorda, Richard Eyre (director)
The production of La traviata in which Ermonela Jaho was performing in when this interview took place is released on DVD and Blu-ray by Opus Arte on 1st November.
Available Format: DVD Video