20th November 2018
 Interview

,

  Choral Works by Owain Park
The name of Owain Park (b.1993) is becoming increasingly widely-known, particularly in the choral world; as a singer in his own right, as conductor of the Gesualdo Six, and indeed as a composer. It's this third facet of his musicianship that is the focus of a new disc with Trinity College Choir and Stephen Layton; I spoke to Owain about his approach to choral composition, and how his style has developed over the years.
John Rutter's introductory notes to this album list some styles that he hears in your music – Gregorian chant, Greek Orthodox liturgy and others. But he doesn't name any composers, either contemporary or historical, as influences. Who do you think has influenced your compositional style the most?
My compositions have always been influenced by the music I have been performing and listening to in during the writing period. An early example is when I was playing a lot of piano music by Debussy, and I wrote a piece called Sweet Day that used whole tone scales inspired by Voiles. Performing John Tavener's choral epic, The Veil of the Temple, had a real impact on me and is evidenced in works including Phos hilaron, with multi-layered choral sounds and drone textures. A composer I frequently return to is Benjamin Britten: I love his writing for voices and instruments, particularly the Serenade for Tenor, Horn and Strings and Canticles. He has a great way of varying the texture, as evidenced in the Hymn to Saint Cecilia, with magical fast writing amid static passages. He also pares the music right back when writing in unison – the purity of one or two notes which then expand, so the ear is not being constantly challenged; every note is not competing for its own place.
I enjoy programming works by other living composers in concerts for The Gesualdo Six, Cambridge Chorale and the BBC Singers, with recent pieces by Joanna Marsh, Joby Talbot and Cheryl Frances-Hoad; it is always revealing to get inside their scores when learning them for performance.
Can you tell us something about your relationship with John – did this extend beyond your undergraduate studies with him?
While at Cambridge, I studied composition with Richard Causton and Jeremy Thurlow, and orchestration with John Rutter (who kindly wrote the sleeve notes for this disc). John helped me when I was scoring two chamber operas, and has an encyclopaedic knowledge of the repertoire. I grew up singing and playing his music (the craftsmanship, especially the orchestrations, are just genius!), so to be welcomed into his home to learn from him was eye-opening and an immense privilege.
Many of the works recorded here are new settings of works which already have at least one well-known exemplar. In some cases, such as Ave maris stella, you've explicitly acknowledged the influence of other responses to these texts on your own, but do you find it difficult to dispel them from your mind and approach the words with a blank slate?
The more I have listened to or performed a piece, the trickier it is to disassociate the text with the music. That being said, certain texts have been set hundreds of times – e.g. settings of the Mass, evening canticles and even certain poems – and it is exciting to spin these words in a different way. When writing For the Fallen, I found it difficult to get away from the setting by Douglas Guest, particularly the magical chord he chose to colour the word 'remember'. In the end, my version is completely different to Guest's, with a constant mixing of major and minor through scales that fluctuate around a central point.
Much of the music on this album is challenging and subdivides the choir extensively. How much of a difference to your compositional approach does it make to be writing for a high-calibre choir such as Trinity College? Do you find it frees you from some practical restraints, or do you feel a sense of duty to push the edge of the envelope?
It is true that much of the music on this disc is large-textured scoring. I was fortunate that The Choir of Trinity College Cambridge choir relished intricate and challenging choral writing, and while at Trinity I was able to broaden my horizons. At the same time, I aimed to have a sense of counterpoint within the eight-part textures, and now often return to the simplicity of four-part writing, while trying to achieve textural variety and interest for the singers and listeners. Stephen Layton has been a massive influence on what I have done and I'm incredibly grateful for the many opportunities he afforded me when I was at Trinity.
Relatedly, do you worry that your advanced writing may hold your music back from being widely-known and performed by less ambitious choirs?
My style is constantly evolving, and even on the disc it is clear that I've been moving away from kaleidoscopic vocal textures to a more pared-down style. Judas mercator pessimus was written three years before Trinity Fauxbourdons, and to me it is clear that a gradual shift took place in this time. Even so, I hope that the repertoire on this disc stands together as a snapshot of my work at Trinity over the past few years, and I look forward to future releases of choral and instrumental works.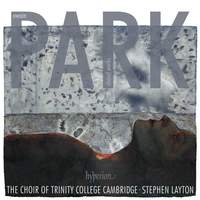 Trinity College Choir Cambridge, Stephen Layton
Stephen Layton and Trinity College Choir's album of choral works by Owain Park was released in August on Hyperion Records.
Available Formats: CD, MP3, FLAC, Hi-Res FLAC, Hi-Res+ FLAC