1st October 2018
Interview

,

Sean Shibe on softLOUD
The solo recording debut of the young Scottish guitarist Sean Shibe last summer immediately confirmed him as an artist of real significance: his recital of English guitar music, Dreams & Fancies, drew numerous comparisons with Julian Bream, was nominated for a BBC Music Magazine Award, and led to him being crowned as Young Artist of the Year at the 2018 Royal Philharmonic Society Awards.
For his second album softLOUD (released on Delphian on 21st September), he's cast the net considerably wider, with a programme of his own transcriptions which ranges from Scottish lute music of the seventeenth century to the searing, abrasive sound-world of David Lang's Killer and Julia Wolfe's LAD, taking in Steve Reich's Electric Counterpoint along the way. We met up in London just before the Gramophone Awards ceremony last month to discuss the connections between the very diverse set of works on the album, the challenges of arranging a work for nine bagpipes for the electric guitar, and why he thinks that classical musicians 'need to re-discover our radical heart'…
With music from seventeenth-century Scottish lute manuscripts sitting cheek-by jowl with Reich's Electric Counterpoint and works by a younger generation of American composers, this is an incredibly eclectic album - could you talk me through some of the ideas which draw it all together?
There are a couple of different strands, one being to show the versatility of the guitar as a portal into different musical worlds: all the pieces are essentially for different instruments, apart from Electric Counterpoint. The divertimentos are there to represent the English guitar; James Oswald was a Scottish composer from a very poor family who worked his way up in the world. He moved to London and re-named himself at various points according to the fashion of the day; for a time he took an Italian pseudonym, 'David Riccio', in order to be able to sell his works more easily. And in the Scottish Lute Manuscripts, the influences come from far and wide – Spain, Portugal, France, Italy, but actually not that much from England. Motet is even more exotic: one might even argue that it's closer to Turkish influences or Eastern Orthodox ideas. So it's a pretty cosmopolitan thing, and paints Scotland as a very outward-looking, European nation – if you look at English lute music of the time, it was much more insular and specific.
How much work needed to be done on the manuscripts before they were performance-ready?
Some of them were more accessible than others, but there's been an increasing amount of scholarship done on them by people like Rob MacKillop at the University of Edinburgh; they've been transcribed into manuscripts rather than tablature, so you can read them relatively easily.
And how does that idea of cross-cultural encounters play out in the twenty-first century works you've programmed?
James MacMillan's From Galloway is included partly because we felt that the album needed a tune, but also because we didn't want to reference every nation apart from England - we still wanted to have those connections there. Maxwell Davies's Farewell to Stromness would have fitted the bill quite nicely, but that was ruled out because I recorded it for Linn in 2015, and there's a five-year exclusivity. We harmonised the MacMillan from what's originally pretty much a solo clarinet line; it's essentially written in an English twentieth-century style, but still has an outward-looking feel to it.
So there's this multi-cultural strand running through the whole album: 'building bridges not walls', as the current cliché goes! Reich of course uses North African rhythms as well as jazz influences, and with Julia Wolfe's LAD (which I just came across on YouTube and arranged), I also rather liked the idea of being a Scot playing American music written by an American for a Scottish instrument, but again it's really referencing Scottish styles (the original version's for nine bagpipes!). It's an incredible piece, I think: there's something really destructive and terrible about it, but it also has a redemptive element too. My flatmate can't actually listen to it for too long because it has quite a stressful resonance, and having that vibrating on your ceiling can be a bit intense!
Everything on the album is performed in your own transcriptions, but it's a bit of a leap from arranging lute manuscripts to adapting a work for nine bagpipes for electric guitar..!
Yes! That all came about because Svend Brown, who runs the East Neuk Festival, asked if I wanted to do a project in 2017, around the time I discovered LAD. We batted ideas around and he said 'Well, you obviously really like this piece: is that possible to arrange?', so we looked into all the technical aspects of putting something that's essentially very linear onto the guitar. It's really been quite liberating, because there are all these little objects and tools you can use on the electric guitar – on the classical guitar you're always trying to make up for a lack of dynamics and sustain and colour, but with the electric guitar it's much more literal in that I can just turn the volume up, or I can use an electro-magnetic field in my hand.
Would you ever consider doing an entire disc of American minimalism?
The big question at the back of my mind was 'what do you programme alongside Electric Counterpoint?'. I would need to find repertoire that has enough contrast for that to work... In the right context minimalism can be startlingly effective, but I didn't want to get pigeon-holed as 'the new minimalist guitarist guy', so I need to make sure that I included something extremely serious and even confrontational to counterweight that. After coming across LAD, I went down a sort of Bang On A Can black hole, and that was where I found David Lang's Killer.
You've done quite a few live performances of this programme – what's the reception been like? I can imagine doing something like this at a venue like Wigmore Hall would be interesting…
(That's actually happening next year!) Sometimes one half of the room just won't clap, and that's kind of awesome! Studying music in a conservatoire doesn't really prepare you for that, but I just wanted to do something that was more confrontational and galvanising, something that would really polarise audiences. The classical guitar is so often associated with quiet nineteenth-century Spanish romantic miniatures, which is fine if it's done really well: that's something really sweet that sells loads of discs, but it wasn't what I wanted to do at this moment in time. I just think we need to re-discover our radical heart: fascism is literally back, the world's burning, and I'm never going to own a house! Classical music really used to represent political events and emotional responses to those events (take something like the Eroica Symphony), but then in the twentieth century you get Bernstein writing after the assassination of JFK that our response to violence should be that we should play more beautifully and more tenderly and more passionately than ever before…well, that's only the beginning of what needs to be done. It's easy to rest on your laurels when you have that kind of inspirational meme, but making music (or making any form of art) shouldn't be reduced to that! It puts me in mind of that Kierkegaard quotation where the clown comes on stage and announces that the theatre's burning, and the audience think it's a joke and everybody burns to death – this is the way that the world will end, instead of with people getting out of the theatre and tangibly doing something!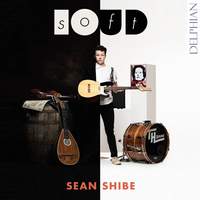 softLOUD was released on Delphian on 21st September.
Available Formats: CD, MP3, FLAC, Hi-Res FLAC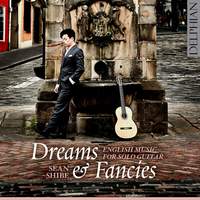 'Shibe is another Bream, or something close. His playing unites finesse and poetry, and beautifully suggests a continuity of idiom.' (Sunday Times)
Available Formats: CD, MP3, FLAC, Hi-Res FLAC