14th August 2018
 Interview

,

  Christian Lindberg on Stenhammar
Conductor and trombonist Christian Lindberg has amassed an extensive discography over the years, encompassing Milhaud, Bernstein, Tchaikovsky and more. At the same time, he always has an eye on his native Sweden - as his series of symphonies by Allan Pettersson (1911-1980) shows.
His latest disc continues this focus - comprising the second symphony of the Romantic composer Wilhelm Stenhammar, in which he sought to subject himself to extreme academic rigour out of a sense of inadequacy as a composer, and a collection of his incidental music to the Strindberg play Ett drömspel.
I spoke to Christian about these works, and about Stenhammar's legacy today.
The young Stenhammar was by all accounts a rather Wagnerian-Brucknerian composer until an encounter with Sibelius' music caused a radical rethinking of his style. Do you think his Symphony No. 2 is actually part of a deliberate effort to de-Germanise his music, or is it just a question of him generally maturing as a composer?
No, I don't think he's trying to get rid of it. He studied composition, but then when he heard Sibelius' music he rejected a lot of his own works and felt he wasn't good enough. I think there are still some Wagnerian elements in this symphony, so I don't think he was 100% trying to put that style away. But certainly he's influenced by Sibelius, there's no question about that.
Major appreciation of this symphony waited until 1927, the year of Stenhammar's death; critics struggled in particular with the dense counterpoint. Do you think he, like others before him such as Beethoven, was simply ahead of his time, writing music that was too "advanced" for the public to handle?
Possibly, but for the time it's not that avant-garde. It may have been more to do with the fact that it's a pretty difficult piece for the orchestra, so it could have been simply that it didn't sound very good at the premiere! It's difficult to say. Certainly he was very under-appreciated in his time as a Swede, compared to how they treated Sibelius; he actually had quite a tough time.
It's also a long symphony, particularly the final movement, with long phrases in the counterpoint; I wonder if maybe that was difficult for audiences? But conversely there are some musical jokes in the last movement as well. It's a very tricky question; after all, in a sense everyone is "ahead of their time". Maybe it's more that the critics were behind the times!
Although Sweden was not directly involved in the First World War, the reverberations of that conflict must have been felt even in neutral states. This symphony was completed during the War; do you think it bears any hints of the psychological upheaval that the war was causing across Europe, or is it still a relatively innocent work?
Definitely, especially in the second movement. You can really feel the melancholy and the tragic element, and I definitely think you can read into this a connection with the War. That's Stenhammar at his best. I think composers like him, or Rachmaninov or Tchaikovsky, we usually treat as being over-Romantic, but with that second movement I really felt it to be a much stricter, melancholy sadness. It has a sense of destiny about it and that's connected with the War.
Then of course comes the Scherzo, which in a sense is very positive; but then again the opening of the last movement and the theme of the fugue, these are very dramatic and again have that feeling of destiny.
Despite being nominally in G minor, the symphony is dominated by the Dorian mode; what (if anything) do you think the choice of a modal feel is intended to evoke? Are there shades here of the church modes, or maybe of folk idioms?
What is he trying to do? I think – this is just my speculation – he was in a mood where he felt he wasn't good enough, and wanted to be very strict and disciplined in his composing. That might be why he used the Dorian mode – going back to older techniques that he'd studied. He wanted to be very tough with himself, almost like setting himself an exercise with these limits to make it more difficult.
And the tragic thing about it is that he evidently thought he'd failed in some respect because he didn't then write a third symphony, he wrote a Serenade instead – the opposite of what Brahms did! Brahms wrote Serenades when he thought he wasn't good enough and then later started composing symphonies.
Stenhammar was incredibly tough on himself; but the Swedish critics were also terrible to him – so much so that it's stupid. Bo Wallner wrote an amazing book about Stenhammar (Wilhelm Stenhammar och hans tid) and it's incredible to read how the critics simply slaughtered him during his time.
Stenhammar is not particularly widely known today, yet arguably deserves to be mentioned in the same breath as Dvořák, Grieg and Sibelius. Why do you think his reputation has languished in comparison to those much more famous composers?
Sweden as a country never had a great war, so we had no reason to have that kind of coming-together – because for us the world seems so free and peaceful! We've never had to fight together against an outside enemy and prove ourselves. So there was very little interest. The difference with Britain, and particularly with Finland in the form of Sibelius, is enormous. No-one has ever addressed it – even today. It was Neeme Järvi who first introduced this symphony to Sweden and made it known; there were just a few recordings of rather mediocre Swedish conductors who'd felt obliged to do it because it was Swedish, but nobody ever seriously promoted it. Neeme did, because he was at Gothenburg (conducting the orchestra Stenhammar had conducted between 1906 and 1922), and he felt he really had to.
With Ett Drömspel, it's particularly interesting; it was never played; we didn't even have the parts! That little twelve-minute piece put together from the play is, I think, astoundingly beautiful. There is so much great undiscovered music by Stenhammar. The piece I think is the greatest he ever wrote is The Song, a cantata which is rather like a Swedish Beethoven 9. He's an amazing composer and I think his time is coming.
With the release of this album I had been assuming that there wouldn't be very much interest, as I found with some of my recordings of Allan Pettersson, so I was very happy to see the level of interest in them, particular among download customers.
Some of our readers may be more familiar with your previous incarnation as a trombonist, before you took up the baton; I recall when I was younger listening with amazement to your recording of Sandstrøm's Motorbike Concerto. Do you miss the days of being primarily a trombone soloist?
No, not at all. I still play and I'm still writing pieces. But for me the trombone is just a piece of metal. With an orchestra, you make music in exactly the same way: it's just that instead of lips buzzing, you're moving your hands! And rehearsing the orchestra is how you practise; for me, it's exactly the same. I do keep the trombone alive; music itself is unbelievable, and that's why I did it; I happened to stumble on the trombone, but now being a conductor and composer I feel that the trombone was hard work. I don't miss it; I still have it, and I feel just as involved with the physical side of music when I'm conducting.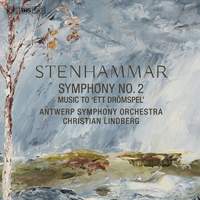 Antwerp Symphony Orchestra, Christian Lindberg
Christian Lindberg's recording of Stenhammar's Second Symphony with the Antwerp Symphony Orchestra is released on BIS on 31st August.
Available Formats: SACD, MP3, FLAC, Hi-Res FLAC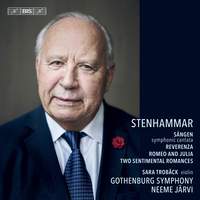 Neeme Järvi, Gothenburg Symphony Orchestra
Neeme Järvi's recording of Stenhammar's huge choral epic Sången is, by a happy coincidence, released on the same day as Lindberg's account of the Second Symphony!
Available Formats: SACD, MP3, FLAC, Hi-Res FLAC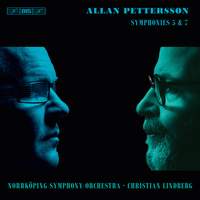 Norrköping Symphony Orchestra, Christian Lindberg
The most recent of Lindberg's recordings of the orchestral works of the Swedish composer Allan Pettersson, including his most famous symphony, the brooding No. 7 - released in April 2018 on BIS.
Available Formats: SACD, MP3, FLAC, Hi-Res FLAC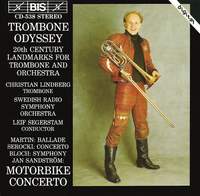 Christian Lindberg (trombone), Swedish Radio Symphony Orchestra, Leif Segerstam
Leif Segerstam and the Swedish Radio Symphony Orchestra accompany Lindberg in a selection of twentieth-century masterpieces for the trombone, including the once-heard, never-forgotten Motorbike Concerto by Jan Sandstrøm (best known for his luminous Christmas setting of Det är en ros utsprungen).
Available Formats: CD, MP3, FLAC