13th December 2010
 Recording of the Week

,

  Robert Schumann
As 2010 draws towards a close I realise that I haven't yet featured one of this year's major composer anniversaries, that of Robert Schumann who was born two hundred years ago in 1810. So it is quite fortuitous for me that arguably two of the finest Schumann releases of the year have only recently come out and therefore tie in perfectly with a feature on Schumann this week!
Piotr Anderszewski
Robert Schumann's life was not an easy one. His intention to pursue a career as a virtuoso pianist was halted by a finger injury in the early 1830s and from then on he devoted himself instead to composition. He then had a long and acrimonious legal battle with his piano teacher Friedrich Wieck for the right to marry his daughter Clara. This was only resolved in 1840 when she became old enough to no longer require her father's consent.
As he grew older, Schumann suffered from mental instability and in 1854 he attempted suicide, throwing himself from a bridge into the River Rhine. He was rescued but, scared he may harm his beloved Clara, he insisted that he was taken to a mental asylum, where he remained until his death two years later.
Until the age of 30 he composed only piano music and this repertoire occupies a central place in his output, often being inspired by and portraying the troubles in his life. On his new disc, Polish-Hungarian pianist Piotr Anderszewski chooses three relatively rare piano works. The Humoreske, dating from 1839, is far more substantial both in length as well as complexity than its title suggests. I consider it to be one of the composer's finest works and Anderszewski's performance is one of the best I've heard - capturing the mood and character changes brilliantly. He has plenty of power where necessary, but is also imaginative and poetic. The disc also contains the Gesänge der Frühe, which was the composer's last completed piano work, and Six Studies in Canonic form. It is a very fine disc, and is well worth hearing.
Mark Padmore and Kristian Bezuidenhout
1840 was a big year for Schumann as not only did he marry the love of his life, but he also started writing songs, and in that year alone he wrote an astonishing 168 of them. Two of the more famous cycles from that year are Dichterliebe and Liederkreis, Op. 24 which have both recently been recorded by Mark Padmore with fortepiano specialist Kristian Bezuidenhout. It is a fabulous disc, and although I'm not normally a big fortepiano fan, I have to admit Bezuidenhout gets a wonderful sound out of his 1837 Erard. There is clarity and crispness, but it never sounds brittle. Meanwhile he achieves a richness of sound and colour which I didn't think possible from such an instrument. Padmore is in excellent voice and both performers seem in perfect unity – Bezuidenhout feeling and breathing like a singer, and Padmore sensitive to all the subtle harmonies and modulations in the piano part.
Like the Anderszewski disc, Padmore and Bezuidenhout come thoroughly recommended and if you haven't made the most of Schumann year then these two recordings would both help redress the balance.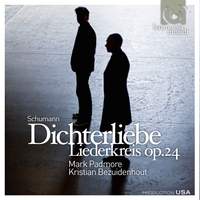 Mark Padmore (tenor) & Kristian Bezuidenhout (fortepiano)
Available Formats: MP3, FLAC